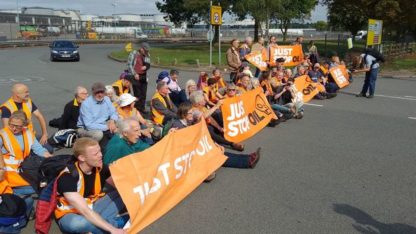 Regular action has been taken by Just Stop Oil throughout this year, with several weeks of coordinated protest at oil terminals and other oil infrastructure from April. Pausing oil terminal protests over the summer, actions continued with pitch invasions at football matches, trespassing on the track at the British grand prix, and gluing themselves to famous artworks in galleries.
With late summer seeing the resumption of protests at oil terminals, oil distribution companies and local government responded by obtaining high court injunctions banning protest activity around a number of sites in order to protect the supply chain and ensure the safety of workers and the public in and around this critical infrastructure.
'Ordinary' protesting has not worked
However, in a change of tactic, the protesters are now deliberately breaking these injunctions in a bid to "fill up the police and court time" with those arrested confirming that the new action is "part of a strategy, because ordinary protesting had not worked."
On Wednesday 14 September, 51 protesters who took part in a mass civil resistance protest outside the Kingsbury depot were arrested and jailed as they failed to comply with court proceedings. When they appeared in court on Thursday, September 15, some stood on court furniture and others turned their back on the judge.
Holly Exley, one of those remanded to prison for at least a week explained the change of approach: "By breaking the law, by getting arrested, by going through the courts, by spending time in prison, we're putting pressure on the pillars of support, such as the police and the judiciary, which prop-up the current system which is doing us harm," she said.
"What I say next might sound a bit harsh, but I just want to remind people that the people who have the power to stop this, and the power to change this, and the people that are allowing this to continue, are not looking at your cardboard sign," she added. "They are not threatened by it, they are not convinced by it."
Government 'doubling down' on fossil fuel
The action comes as sources in Downing Street reveal new Prime Minister Liz Truss is set to signal the end of a moratorium on fracking, and in a speech also said the UK should return to extract more North Sea oil and gas.
Holly continued: "In the UK it feels like things have got a bit worse, politically at least we have a new right-wing PM who seems to view a habitable future through the lens of the culture wars. She used to work for Shell and she's promised that she will issue 130 new oil and gas licences, which is really brilliant news for BP and Shell, but really terrible news for everyone else.
"It's decisions like this that lock us into fossil fuel dependency for decades to come and that's really scary. The international Energy Agency has said there can be no new fossil fuel extraction, the General Secretary of the UN has said there can be no new fossil fuel extraction. Climate scientists around the world are saying there can be no new fossil fuel extraction in increasingly grave terms. And yet all around the world in the global north, in the rich nations, we are planning for extracting even more – and the emissions are still rising."
In a statement, the group said: "As the government doubles down on fossil fuel energy by "ramping up supply" and breaks its manifesto commitment on fracking, Just Stop Oil supporters will continue to take nonviolent direct action."
Since April, when the group began blocking oil terminals, there have been more than 1,350 arrests as well as reports of fuel shortages around the region and there are now 54 Just Stop Oil protesters in prison. The government recently stated that the group's protests had cost police £5.9m already so far in 2022.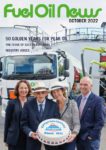 This article originally appeared in the October 2022 issue of Fuel Oil News magazine.
View the magazine