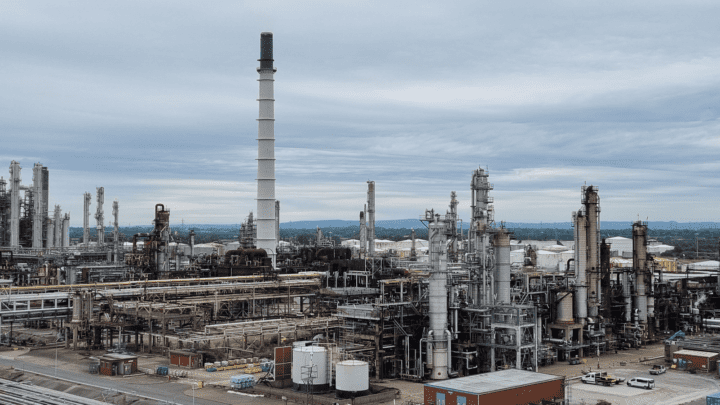 A story of growth and change
"I think that we have a fascinating story about growth. We all acknowledge and recognise that we are in the middle of energy transition. We embrace the challenge and see the opportunities in that," Carlos Rojas shares.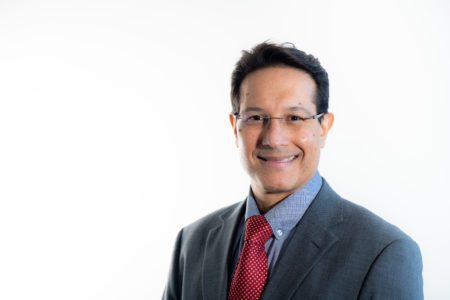 Speaking confidently on the direction of Essar Oil UK, Carlos is clear about what he believes the future holds: "It's all about developing the future low carbon, integrated energy solutions whilst meeting current energy needs.
"This is all about a transition. We play a critical role in ensuring energy supply security in this country and we take that seriously."
Essar is one of the leading downstream energy companies and operates in different sectors as Carlos explained: "We have our direct business on the retail side, we also deal directly with the aviation industry and a big portion of our commercial business is B2B & wholesale which is, largely, the Fuel Oil News community. We have a solid relationship with these resellers. The Essar brand is trusted; we know that our customers value the security of supply and quality of fuels that we offer."
Security of supply is paramount
Given the recent supply challenges experienced, Carlos wanted to reassure distributors that Essar places the utmost importance on security of supply for contracted customers and provides regular updates on operations and supply as he explained: "We are always very upfront with our customers; we pride ourselves on our relationships with them and actively manage the demand to make sure that we have enough supply for everyone. We are very pro-active in our communication to our customer base when planned events occur.
However, there will always be unplanned events that we cannot predict, so we have robust contingency plans. We can use alternative terminals, alternative modes of delivery, either by ship, road, pipeline, etc. We have resilience."
Margaret was keen to hear Essar's thoughts on the importance of distributors being contracted for supply, especially in such challenging market conditions. Industry experts recommend at least 60% of a distributor's supply requirements should be contracted and Carlos confirms that he also supports this view: "We place a lot of value on our contracted customer relationships, and they are, of course, always our priority.
"We have full respect for the deep understanding of the distributor community. They know that the price fluctuates, and I fully appreciate their frustrations with recent situations but, if you buy 100% spot, then that is likely to cause challenges in a very volatile market.
"As everyone says, pricing is important, but it's more important to ensure that the customer has a usable product. Security of supply is paramount."
Pricing
There has been much discussion within the industry and the wider press around the subject of the oil industry potentially profiteering in the current market. Carlos was keen to clarify Essar's position: "Refineries are not the price setters. We buy crude, and we sell products based on international price benchmarks.
The market is influenced by macro-economic forces over which we have no influence. The humanitarian crisis in Ukraine, as a result of the current conflict, is an example of this.
"It's a very cyclical business. Through covid, refineries were loss-making. Our business, in particular, had a difficult 18 months as was well reported in the press. We are grateful for the support we received support from the government, and this has all now been repaid.
"The other key point to highlight is that the UK market is extremely competitive. There are six refineries and several importers, and this ensures that the customer always has competitive options."
The importance of infrastructure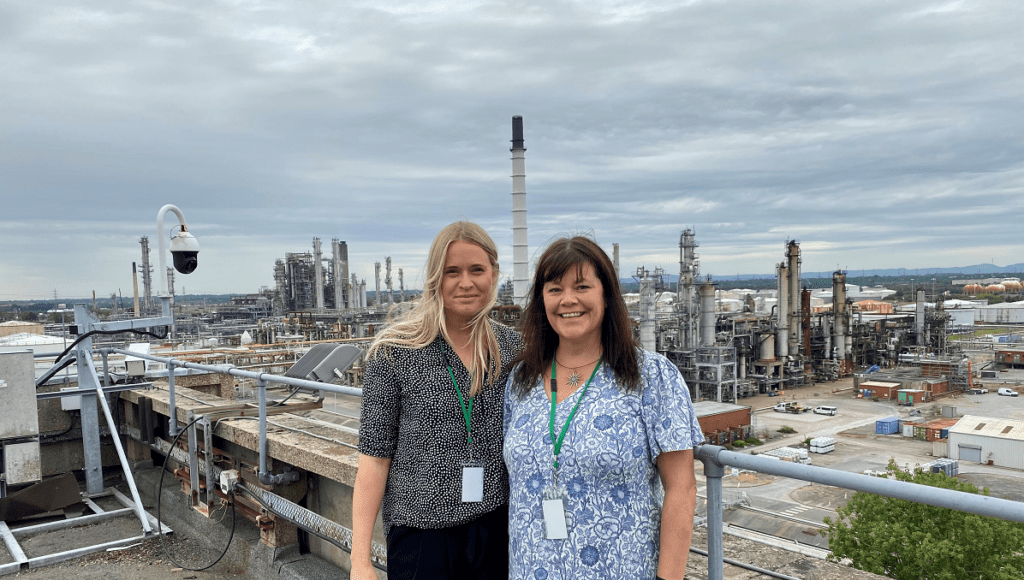 Surveying Stanlow from the Essar office rooftop, Margaret and Claudia got a great perspective on the vastness of the site, with an incredible amount of infrastructure in place to support the supply of energy to the country.
Carlos elaborated: "Our footprint is the refinery, but we also have a state-of-the-art terminal here that is capable of loading 26 million litres of oil per day – it's a massive terminal! We have pipeline connectivity to Manchester airport, to Carrington (a site in Manchester where we can put our chemical products) and to our terminals in the midlands. We have three terminals, Northampton, Kingsbury and Stanlow.
"We have the pipeline connectivity that helps us to reach the market with the distribution network underpinning everything here. There is also Tranmere Terminal, which is a deep-water terminal where some of the biggest vessels in the world can dock."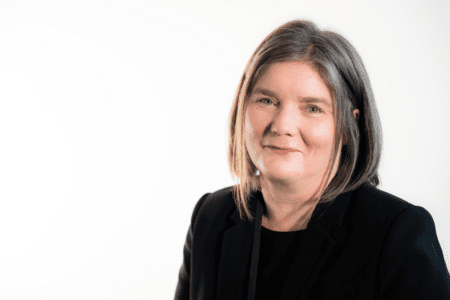 Recognising the importance of shared infrastructure, collaboration and support between businesses, Michelle explained the transition of the Stanlow site: "We are now seeing the transition from a manufacturing complex to energy park. There are three businesses all based here (at Stanlow) that are really focussed on transforming for tomorrow and committed to decarbonisation with exciting synergies.
"Alongside Essar Oil UK are Vertex Hydrogen and Stanlow Terminals. Vertex is building a hydrogen production plant and some of that will be supplied to Essar to help us with decarbonising our processes as well as supporting other neighbouring companies with decarbonisation.
"We also have Stanlow Terminals who are superb at storing, blending, and distributing fuels and chemicals. Previously a vital part of Essar Oil UK, it became clear that they can provide that service for others too. It's very outward looking. We aren't looking inwards; this is very much about using the infrastructure that has served this refinery so well – that could serve others well too."
Neatly summarising the opportunity Michelle explained: "The best location for providing the future of fuels is where you've always done it, using the people, the infrastructure and the knowledge that is there. Transitioning towards a greener future is then totally achievable."
The three-step plan to net zero
Michelle was keen to explain further the company plans to achieve net zero.
"We have a very ambitious plan in place to decarbonise the refinery. We plan to achieve net zero fully by 2040 but now believe we may be able to eliminate about 90% of emissions by 2030. That's 2 million tonnes of carbon a year.
"We have a clear three-step strategy for this. The first step is energy efficiency, the second is using hydrogen in our production processes and the third step is carbon capture.
"The carbon that can't be removed by energy efficiency or replaced by using hydrogen, can be captured using the infrastructure being developed by HyNet."
Carlos continued: "Essar is investing heavily in new, alternative fuels with hydrogen being our main focus. We are part of HyNet, the government-supported project that will see the decarbonisation of our operations and the surrounding businesses in the area. We also have organic investments in decarbonising our own site.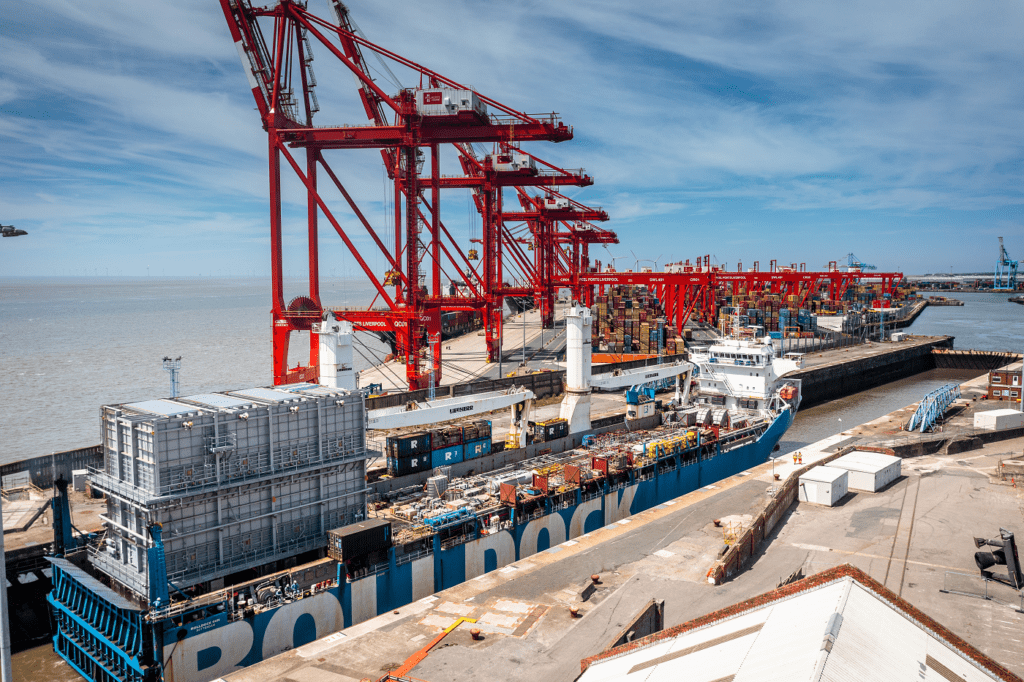 "We have just taken delivery of our new hydrogen furnace. This will run 100% on hydrogen when it is operational next year, and will reduce our emissions by 200,000 tonnes of carbon a year."
Transitioning towards decarbonisation
Michelle explained how the strategy is viewed by consumers and the local community: "Consumers understand that there must be an energy transition, actively buying EVs for example, and they are keen to adapt to new processes. There is an energy revolution happening.
"As part of the transition, we may need to blend different fuels, such is the case with sustainable aviation fuel (SAF)."
This is a fuel in which Essar sees a big opportunity as Carlos added: "We are already working on SAF and Fulcrum Northpoint plans to build a facility at Stanlow that will reuse household waste and transform that into SAF. Airlines are keen for it and the demand is very much there. This is a very promising future fuel.
"The local community around Stanlow is extremely supportive and very well informed and we've also got a highly skilled workforce. We celebrate the contribution that we've made in the past, but we are now extremely excited and focussed on our future."
This future also presents an opportunity for the next generation of energy producers as Carlos enthuses: "We've just sent out acceptance letters to 21 apprentices, and we are also recruiting 10 graduates – that's 30 young people coming into the business this year. They are the people who will learn and explore the best ways to continue a successful energy transition.
"We are proud of the history of Stanlow Manufacturing Complex and the role it has played in successfully fuelling the country for so long, but now we are looking forward to another 60 great years – fuelling it in a very different way."
With a clear strategy for growth on its path to net zero, Essar has already made significant progress towards decarbonisation. We will continue to follow their journey with interest.
In our October issue we will find out more about the reason for the emergence of Stanlow Terminals and the benefits it will offer across the whole fuel distribution sector.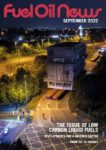 This article originally appeared in the September 2022 issue of Fuel Oil News magazine.
View the magazine