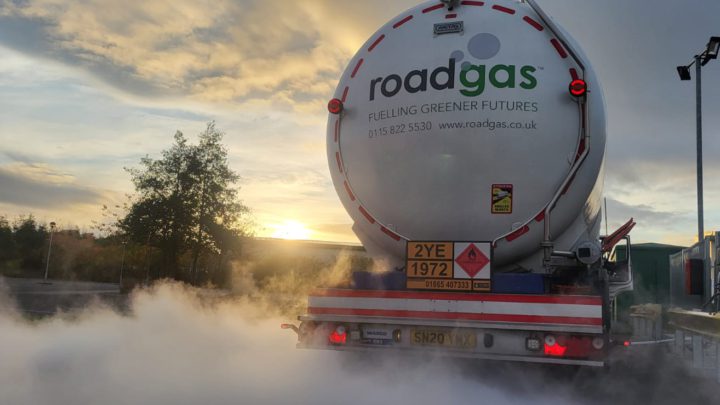 Following on from the excellent panel discussion: 'The Future for Trucks – what should distributors choose and when?' presented at the UKIFDA show and conference in Coventry last month, we look at the current options available for the fuel distribution sector in detail.
Government policy
The government's Renewable Transport Fuel Obligation (RTFO) supports its own policy on decarbonising transport by encouraging the production and use of renewable fuels that do not damage the environment.
The policy reads: "Under the RTFO, suppliers of relevant transport fuel in the UK must be able to show that a percentage of the fuel they supply comes from renewable and sustainable sources."
Obligated fuel suppliers – those who sell more than 450,000 litres of applicable fuels – do this by redeeming Renewable Transport Fuel Certificates (RTFCs) or by paying a fixed sum for each litre of fuel for which they wish to 'buy-out' of their obligation.
The Renewable Transport Fuel Obligation (RTFO) is already set to increase biofuel content to 14.6% by 2032, which is only 9 years away.
The Government has also pledged that all new HGVs sold in the UK will be zero-emission by 2040, with a deadline of 2035 for those weighing 26 tonnes or less. The current lack of clarity over future fuel pathways leaves fleet managers little time to plan for these rapidly approaching deadlines.
What should you be investing in?
Should you be investing in hydrogen, electric, fuel cell or biogas fuelled tanker replacements?
Tankers are a huge investment for this industry, often costing upwards of £200k per tanker with long lead times for delivery. Fuel Oil News has spoken to experts in the industry to find out more.
Commercial trucks were an emissions problem waiting to be solved
Asher Bennett, the CEO and founder of Tevva Hydrogen Electric Trucks, states: "Commercial trucks were an emissions problem waiting to be solved."
Tevva is a leading British technology company and truck manufacturer, best known for its zero-emission battery electric vehicles (BEV) and hydrogen fuel cell range-extended vehicles.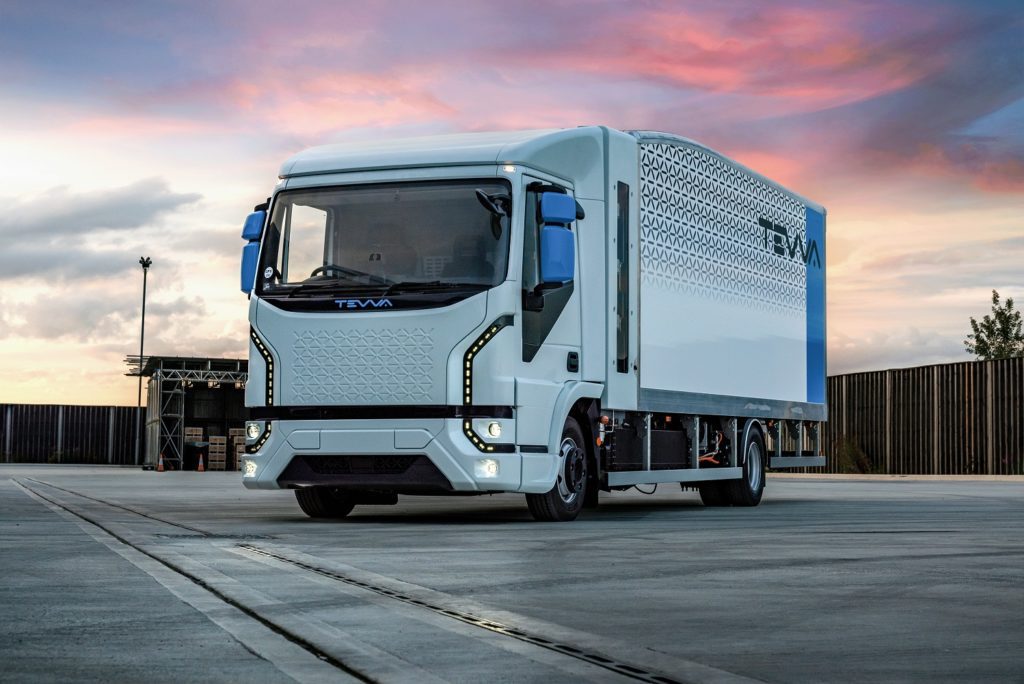 Tevva is facilitating a rapid shift to electrification for medium and heavy-duty urban freight and logistics operators with a range of vehicle weights that meet a wide range of duty cycles and applications.
The Tevva trucks have a 140-miles range from a 105kWh battery, which is nearly double the size of those used in a standard electric car.
Tevva, which is backed by investors including the Indian conglomerate Bharat Forge, is also planning to build hydrogen-powered lorries that would be capable of refilling more quickly than battery lorries can charge, potentially allowing them to tackle longer distances.
Those lorries would come in 12- and 19-tonne models, with production of the latter scheduled to start in 2024.
The future is hydrogen fuelled…partly
David Thackray, strategic relations officer at Tevva, was one of the keynote speakers during 'The Future for Trucks' presentation at the UKIFDA show and conference in Coventry last month. David's enthusiasm for the industry was obvious. He is passionate about the work that Tevva is doing, calling upon the government to invest more into future fuels, and was clear that much more needs to be done in the sector – and soon.
"The future is hydrogen fuelled…partly," David begins. "Hydrogen should be seen as the battery's ally not its nemesis. A blended energy solution maximises the economic benefits of zero emission trucks through the optimisation of the triple constraint of range, payload, and total operating cost."
Fuel Oil News also spoke with Harsh Pershad, head of hydrogen at Tevva, to learn more about their plans and how hydrogen can impact the industry:
"The UK Hydrogen Strategy estimates that to meet net zero aims by 2050, hydrogen will make up 20-35% of the UK's final energy demand (250-460 TWh a year). Hydrogen therefore has a critical role to play in the decarbonisation of industry, power, heat, and transport."
Is the UK really doing all it can to grown momentum and realise opportunities?
"In a recent report, the UK Hydrogen Champion found that there is a need for greater clarity on upcoming policy decisions for hydrogen users, the funding available and overall delivery of the hydrogen roadmap to 2030 and beyond.
"Tevva's area of expertise – transport – will have a critical role to play in our country's decarbonisation goals. Worldwide around a fifth of CO2 emissions comes from trucks, and both McKinsey and the Hydrogen Council believe the most competitive use of hydrogen lies in decarbonising trucks. Trucks using batteries or hydrogen fuel cells instead of diesel engines will indeed need to make up the vast majority of new sales by 2040 under plans to reduce CO2 emissions from medium- and heavy-duty vehicles. Yet only around 700 trucks that run on batteries or fuel cells were sold in Europe last year – about 0.2% of the total.
"The good news is that the economics of owning and operating electric and hydrogen trucks – total cost of ownership or TCO – are improving rapidly. And with diesel truck prices set to increase with Euro 7, electrification of our sector could happen sooner than previously thought.
"Yet there are still serious challenges around the lack of hydrogen refuelling stations and the fact that most fleet operators have no experience of hydrogen and many hydrogen suppliers have no experience of truck fleets.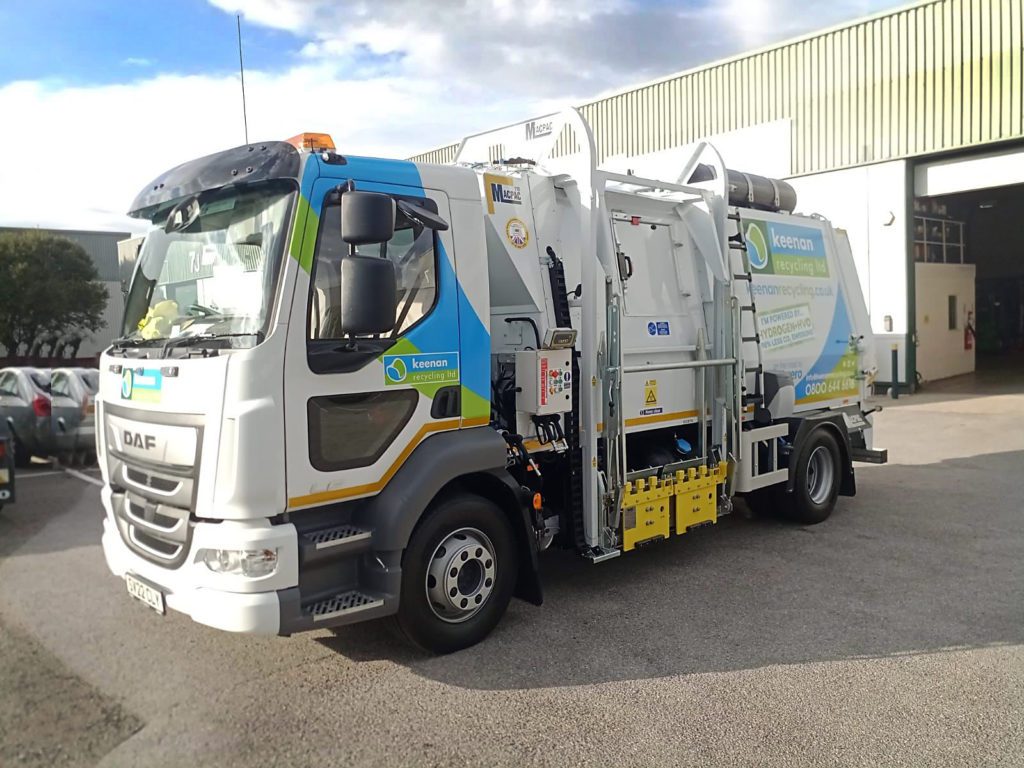 An early adopter and developer of hydrogen technology
Harsh continued: "Tevva is playing a key role in demonstrating the potential for hydrogen electric trucks. We showcased our concept prototype 7.5t and 19t hydrogen electric trucks at the IAA in Hanover last year and have been encouraged by the high level of interest in these dual energy vehicles.
"In January we took the 7.5t prototype on a 'border run' to Berwick-on-Tweed, England's northernmost town. On the way up we stopped at an Element 2 refuelling station in Teesside, and the return journey saw us cover almost 350 miles without needing to stop at all. This was made possible by the truck's hydrogen fuel cell which tops up the range-extended vehicle's lithium battery when needed.
"Still, there is an urgent need for a more comprehensive hydrogen refuelling network in the UK, and the speed and scalability of hydrogen refuelling systems will be crucial to adoption while keeping costs under control. Element 2 is doing great work in this space. They are in the process of putting a skeleton network in place with 100 miles between each refuelling station, giving confidence to any haulage company that is considering hydrogen electric trucks.
"Today the UK has pockets of Megawatt (MW)-scale hydrogen activities that are evolving alongside ambitious proposals for Gigawatt (GW)-scale low carbon hydrogen clusters by 2030. Learning from initiatives in Europe, Asia and North America, as well as the UK's own experiences, coordination is vital to minimise costs and maximise the benefits of hydrogen infrastructure. The opportunity is now for UK central, regional, and local government bodies and industry to plan and invest jointly to grow hydrogen transport systems holistically.
"The UK does have a supportive and growing hydrogen ecosystem with many public bodies, new and established companies, universities, and others building their hydrogen capabilities and strategies. However, the experience of individual organisations and maturity of cross-industry collaboration in dealing with hydrogen systems is typically orders of magnitude lower than for traditional fossil fuel systems. Therefore, in the short-term early adopters need more support to overcome the limited infrastructure and complexity of supply chains, higher unit costs, and long or uncertain lead times for hydrogen products and services.
"As low-carbon hydrogen becomes cheaper and more widely available, hydrogen refuelling has the potential to become as simple as diesel refuelling is today. We are committed to making hydrogen convenient, affordable, and sustainable for truck fleet operators. Achieving the UK's net zero goals depends on it."
One size will NOT fit all
Similar thoughts on hydrogen were shared by Amanda Lyne, managing director at ULEMCo Ltd. Claudia sat down with Amanda, at the UKIFDA show and conference, to discuss her recommendations for the future for trucks. ULEMCo Ltd are global pioneers of technology that enables commercial vehicles to convert the fuel they run on to include hydrogen.
They collaborate with operators who have fleets of HGVs and LGVs to deploy hydrogen-powered vehicles, using zero emission hydrogen fuel as part of their strategies to reduce transport-related carbon emissions.
Amanda was a keynote speaker at the UKIFDA show and conference. She joined the panel to discuss 'The Future for Trucks' and stated that 99.4% of heavy-duty vehicles and machines are still powered by diesel engines. Recognising that there is an urgent need for change, Amanda was also keen to highlight that a "one size fits all" approach would not work.
The UK needs hydrogen to achieve its net zero goals
"Hydrogen has structural advantages versus battery alternatives in heavy duty and high utilisation use cases," Amanda explained. "The benefits of using hydrogen over battery includes faster refuelling, better range, higher payload, and it's environmentally cleaner."
"Hydrogen offers lots of positives and real opportunity for the wider energy system," continued Amanda. "So many businesses and companies are wishing to decarbonise. There is huge demand for a reduction in C02 emissions; the social responsibility is there. ULEMCo Ltd is already working with a variety of companies who are wishing to decarbonise at scale such as Siemens, Balfour Beatty, JCB and various councils across the country."
"Hydrogen will need producing near to where renewable energy is created so next to wind or solar farms. It will then need to be distributed in a close radius to production so regional locations will be a necessity. Local hydrogen hub facilities will be used for refuelling, repairing and maintenance. For trucks to fill up quickly with hydrogen, high pressure storage will be needed at each facility. It is clear that the fuelling process will need to be improved. The task ahead is huge, it's vast, but it is possible.
"There is a massive need for innovation in the distribution side for hydrogen. We need those people in the industry, with their experience and knowledge, to help innovate for the future. Hydrogen is here, ready, right now, but there is a long way to go. Hydrogen is going to happen in the next 5-10 years but there is absolute need for innovation in the storage and distribution side right now to path the way. I believe hydrogen will be used in volume by 2035."
Amanda is clearly passionate about the environmental impact ULEMCo Ltd is having and excited for the future, but she made it clear that more investment and innovation is urgently needed.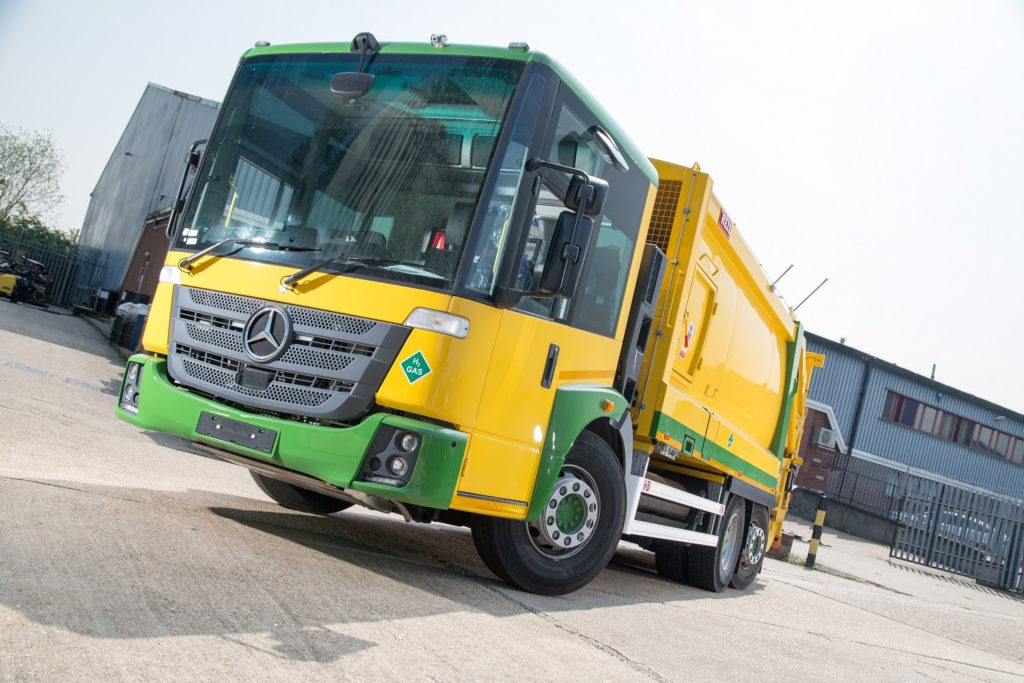 The future role of biomethane
Peter Eaton, sales and business development director at CNG Fuels, was also a keynote speaker at the UKIFDA show and conference. CNG Fuels are Europe's largest supplier of 100% biomethane to transport.
CNG Fuels develops, owns, and operates CNG refuelling infrastructure and sources 100% renewable biomethane for its stations. They are rolling out a UK wide network of reliable and convenient refuelling facilities to supply customers' heavy fleets. The Bio-CNG is biomethane 100% sourced from waste products including food, animal, and wastewater and is approved for transports Renewable Transport Fuel Obligation (RTFO).
Peter was keen to highlight that biomethane as a transport fuel can play a critical role in achieving net zero in an economical and sustainable way:
100% renewable and sustainable fuel – easily scalable to meet growing demand.
An attractive cost profile for vehicles and fuel.
Circular economy – a positive impact on the local economy and agriculture.
Minimises geopolitical risks and security of supply issues.
CNG Fuels already has a wide customer base and is rapidly growing. Waitrose currently has over 300 CNG trucks on the road, with plans for more. CNG is so confident in their product that they offer a demo truck for businesses to borrow for 3-4 weeks to see how easily the change can be made.
Roadgas
Claudia also caught up with Becky Rix, marketing director at Roadgas, a company that supplies compressed and liquified gas refuelling infrastructure and equipment for dispensing biomethane in the industrial and transport sectors.
Becky explained more about the business: "The company's focus for growth concentrates on the use of green gases – biomethane, biogas and ultimately hydrogen to drive net zero emissions and decarbonisation plans for UK fleets in light of the UK Government's net zero 2050 targets.
"Roadgas has a progressive leadership team. The company has a strong strategic vision for growth in the next 5-7 years and is excited to be at the forefront of the UK's green recovery.
The UK transport sector is focussed on reaching net zero 2050 and is fundamentally technology agnostic
"The car and light vehicle sector are being electrified but this won't work for heavy transport," Becky continues. "Biomethane HGVs are available from several manufacturers, have been widely adopted by a number of blue-chip organisations and offer a solution for the here and now.

"In contrast to fossil fuel derived methane, which is simply pumped from the ground, biomethane is produced from organic matter. It can occur naturally or as part of an industrial process to intentionally create biomethane as a fuel. This is the most planet friendly way to create a renewable fuel. Typically, a biomethane powered truck compared to a conventional diesel engine will directly reduce fuel cost by around 30-35% over time. Biomethane also reduces emissions at tail pipe by around 84% and particulates by over 98%.
"At Roadgas we offer two types of biomethane – compressed natural gas (CNG) and liquified natural gas (LNG). We recommend that fleets with long range and trunking operations with 6 x 2 chassis use LNG. Bio-LNG has a high energy density and can travel up to 1000km before refilling, making it suitable for long haul transport.
"Bio-CNG has a shorter range and is traditionally used for local transport, such as distribution in city environments. This is because it is easier to handle and more stable, however requires refuelling more often due to the gas taking up more space in the vehicle compared to LNG. We recommend using trucks with a 4 x 2 chassis for this. Deploying biomethane into fleets helps to meet net zero 2050 targets. With over 2000 vehicles on UK roads and a growing infrastructure, biomethane leads the way to decarbonisation."
The future for trucks
It is clear that there won't be one single solution for future trucks and the likely outcome of a choice of fuels or a blended energy solution will enable fuel distributors to select what works for them, in their region and for their customers.
This is a topic that Fuel Oil News will continue to discuss so, if you have questions or would like to contribute your thoughts about the future for trucks, then please do get in touch: claudia@andpublishing.co.uk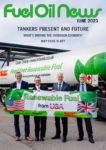 This article originally appeared in the June 2023 issue of Fuel Oil News magazine.
View the magazine