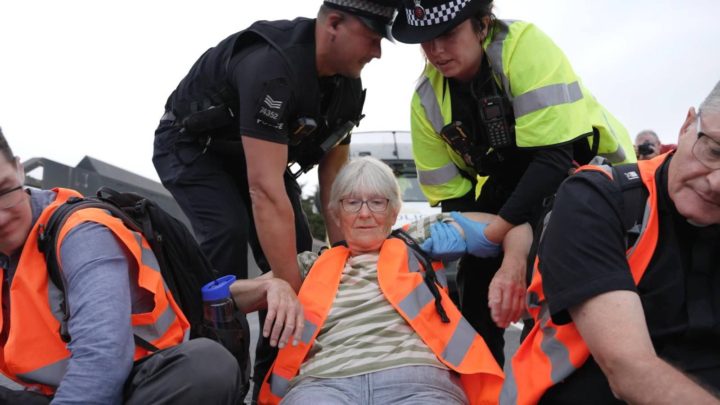 With dozens of environmental protesters blocking critical oil infrastructure, police were 'working to resolve the situations quickly and safely' with a spokesperson assuring: "We have plans in place to deal with incidents like these and have acted swiftly. Road disruption is currently minimal and I'd like to thank local drivers, workers, and business for their patience."
Tuesday morning saw around 50 people taking part in protests targeting the three oil terminals. About 30 targeted Grays and Thurrock, blocking a road leading to the Navigator oil terminal, with others occupying tunnels dug beneath terminal access roads.
At Grays a small group of protesters trespassed onto the site in the early hours, climbed up into the loading bays and then on up into pipework, where they attached themselves with glue.
A specialist heights team were deployed by the police to remove them.
The campaign also claimed to have had about 20 people blocking access roads to Kingsbury oil terminal with others occupying two tunnels near that site.
The protest group, Just Stop Oil, said the tunnels resulted in a "total block of access to Kingsbury and Navigator oil terminals".
In separate protests the group also targeted three series stations on the M25 disrupting fuel availability by vandalising pumps. No fuel was available at Clacket Lane whilst there is some availability at Cobham with several pumps remaining unusable due to the damage.
Ongoing protests
Recent months have seen regular action taken by Just Stop Oil with several weeks of coordinated protest actions at oil terminals and other oil infrastructure in the Midlands and south of England from April. Pausing oil terminal protests over the summer, actions continued with pitch invasions at football matches, trespassing on the track at the British grand prix, and gluing themselves to famous artworks in galleries.
There have been hundreds of arrests as well as reports of fuel shortages around the region as a result of their actions. The government recently stated that the group's protests had cost police £5.9m already so far in 2022.
Oil distribution companies and local government responded to the protests by obtaining high court injunctions banning protest activity around a number of sites.