Inver is able to supply competitively priced Hydrotreated Vegetable Oil (HVO) nationwide to support customers in reducing their emissions and has made the low carbon liquid fuel, which reduces net carbon emissions by up to 90%, available at selected forecourts.
A significant step
The first three forecourts have begun sales, with HVO now available at Inver Fermoy in Co. Cork, Inver Johnstown in Co. Kilkenny and Inver Castletroy in Co. Limerick with further sites to follow. HVO fuel purchases can be made with Inver's fuel card, which operates across the DCI network.
John O'Leary, managing director, said: 'We are committed to providing our customers with a range of low carbon fuels that will help them reduce their carbon emissions and help support Ireland's decarbonisation targets. Making HVO available at forecourts marks a significant step in meeting the rising demands for reliable supply of low carbon fuels closer to our customers.'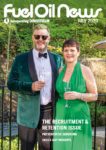 This article originally appeared in the July 2023 issue of Fuel Oil News magazine.
View the magazine