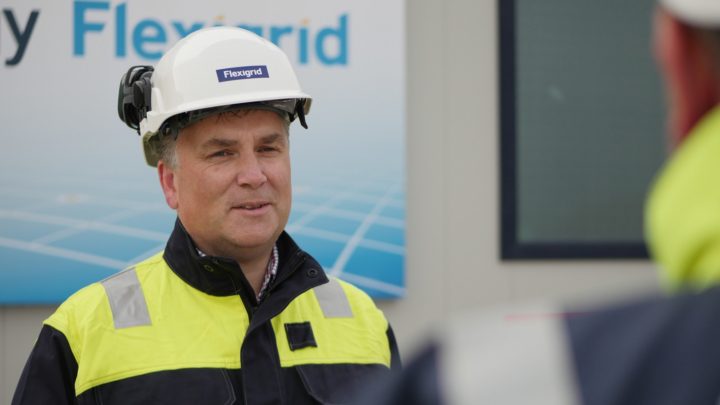 With long roots in the sector and a current role heading up the logistics arm of Greenergy Adam Franklin, CEO of Greenergy Flexigrid considers the current status of this vital part of our industry, sharing his thoughts with Margaret Major, managing editor of Fuel Oil News.
Can you give us a potted history of your background and how you came into your current role?
After attending university, I chose a career in logistics as something that I felt was a 'real' and vital industry for the UK economy and which offered multiple potential routes for development.
I joined the National Freight Consortium as part of their graduate scheme, before moving into the world of bulk transportation with Tankfreight. Progressing through a number of account, operational and functional roles (including IT and Safety), I was lucky enough to become a director of the business before picking up other sectors of what was then Exel Logistics and subsequently DHL, eventually becoming MD of the Industrial division covering customers in the utilities, engineering, construction, industrial manufacturing, publishing, and energy sectors.
Just over six years ago, I got the opportunity to join Greenergy, facing a completely new challenge working for a privately owned and highly entrepreneurial business, and taking on their in-house haulage business, Flexigrid. The strategy was to take a relatively small but very capable in-house operation and develop and scale it to support Greenergy's ambitious growth plans and to build a strong service-based and cost-effective culture underpinning our customer relationships.
Alongside this, the challenge was to develop a long-term business strategy that maximises the opportunities for both Greenergy's delivered-in product offer and those in the third-party logistics (3PL) market utilising Flexigrid's reach and capabilities as well as navigating through the energy transition and creating opportunities for our business.
What does your role involve?
My focus is leading the business to deliver its strategy whilst ensuring that great service comes as standard for all our clients – internal and external. A key component to achieving this is continually setting the right tone and culture with Flexigrid's leadership team, with a strong focus on supporting the team to perform to their potential.
In a practical sense, each day consists of supporting the operational teams to review and set daily service targets, making sure the management team have the guidance they need to ensure we are delivering the essentials and meeting the needs of our customers.
I engage in as much face-to-face activity as possible – whether by travelling round the country to host driver reviews, engaging with our NNC teams or developing other means to encourage open and honest two-way communication.
An open-door policy is essential, as is ensuring everyone has a sense of our direction and purpose, and that we pick up on employee's ongoing and legitimate concerns and do something about them.
What's the best business advice you've ever been given?
Take your opportunities and recognise you're only as good as the team you build around you.
I believe this is your 7th year with Greenergy Flexigrid – what are the main developments you have seen in fuel logistics over that time?
It's certainly been an interesting period, especially with nearly two years 'lost' to Covid and the distractions and challenges this brought. However, in this time we've managed our way through driver, LGV Technician and equipment shortages, Just Stop Oil protests, a fuel crisis and the impact of the war in the Ukraine with the move away from Russian oil and the supply fragility this brought, along with sharply escalating prices and costs – seemingly from every direction.
Running alongside this, and gaining pace, is the drive towards decarbonisation and the transition to new, cleaner energy technologies.
These have all influenced this sector, with some reduction in capacity and capability, together with an increased customer sense of the value of reliable, resilient and flexible delivery capability. It's of no value to save some pence per litre on distribution costs if you haven't got any product.
The driver shortage has changed the face of the industry, not only by pushing up costs but also altering perspectives on risk and benefits of change, as well as making it imperative to get the most out of an essentially fixed cost base.
For the right businesses, this brings opportunity, even through the energy transition.
How have you been impacted by the problem of driver shortages?
We were fortunate not to be heavily impacted by the shortages thanks to our strong reputation and proposition for drivers.
However, driver shortages elsewhere prompted the fuel crisis of late 2021 and led to wage inflation, which no company in this sector has been immune to.
What role do telematics play in fleet management?
They're now a vital everyday part of the business for many, if not most, operators in this sector.
From the essential vehicle tracking through to in-cab forward facing cameras and the use of telematics to provide useful MI and support performance management tools, it's difficult to imagine winding the clock back to the days without it.
Have customer priorities changed over time? What tops their list of 'wants' from logistics provision?
At a micro level, the absolute basics still apply – right product, on time and in full, and delivered safely – and preferably with as little noise or drama as possible.
On a broader level, clients are looking for increased security of supply but aligned to an ability to move with the inevitable shifts in this sector, especially as supply from time to time will remain tight. Everyone wants cost certainty – which is tough with current inflationary pressures. The lack of clarity and certainty in the energy transition space is another key challenge that customers are seeking answers to.
It's been exciting to follow Greenergy's journey as an early driver of lower carbon fuel to being at the forefront of the energy transition in the transport sector. What role is Flexigrid playing in delivering this transition?
Flexigrid has an important role in helping test and prove technologies wherever we can, to help Greenergy provide carbon reduction solutions to customers.
The challenge for many businesses is how to do something now, whilst future emission-free technologies develop to the point where they are truly viable options. Low carbon fuels have a key part to play in the here and now.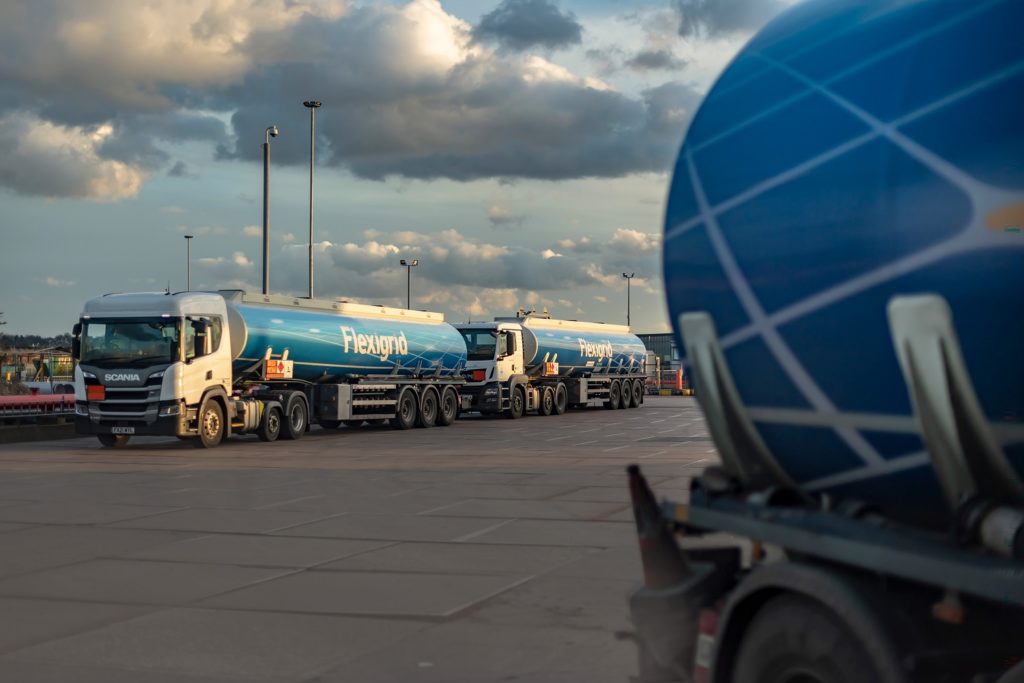 For over a year, Flexigrid has been running a fleet of vehicles in the south-east on B20 high bio blend diesel to demonstrate the technology and operational effectiveness and establish real life costs, which, in turn, Greenergy can offer to customers. This has demonstrated that, with some nominal increased costs from more frequent maintenance (oil and filter change) intervals that are offset by improved fuel cost, this can deliver a 13% carbon improvement on a broadly cost neutral basis for LGV operators looking for CO2 savings today. We are rolling this out progressively across our fleet of over 200 trucks as well as investigating options for even higher bio blend percentages e.g. B30 to B50.
The other role Flexigrid plays is in supporting our Next Generation Renewables team, as they develop new waste-derived, renewable fuels, with logistics capability and inbound and outbound solutions. A good example is the capability and technical support for hydrogen distribution that has been developed.
Indeed! Congratulations on the recent Octopus Hydrogen partnership and the deliveries of the Nanosun units that have already taken place. What further developments do you see for Flexigrid in transportation of future fuels such as hydrogen?
It remains to be seen exactly what role hydrogen will play in the mobility sector, but it will undoubtedly form part of the new energy picture.
We're working hard with a number of partners to develop scalable and flexible solutions that will help this sector grow.
The technology is moving on apace and, in many ways, the dilemma for many is investing in today's technology that will rapidly becomes yesterday's technology, as well as working out exactly where the opportunity and growth will lie.
Beyond hydrogen, we will definitely see the development of more sustainable fuels, which we may or may not be able to leverage through current infrastructure. It's vital we have a business strategy that can evolve and flex in this fast-moving part of the energy sector, and we continue to invest in our core business to ensure it remains as efficient and customer-focused as ever.
Liquid fuels, from whatever origin, will be here for some time yet.
In your experience is the rate of the energy transition increasing and where do you think more can be done to make a difference now?
The rate is definitely increasing, though it will probably be many years before we see the inversion point, especially in the heavy haulage sector. Equally, in the fuels sector, it would be great to see the compliance regimes in oil terminals developing at a faster pace to consider how to support adoption of the new technologies.
As Chair of the RHA Tanker Group, I get to hear, and engage with, the thoughts of many operators, large and small. It's really difficult for hauliers, who enjoy an average 2-to-3-year contract life, to work out what technology to invest in, given the pace of change and the cost of investment in current BEV or hybrid technologies, all of which are assets with typical 5-7 year operational lives.
The things companies crave are certainty and direction – I've not heard a single haulier who doesn't want to be part of the energy transition, they're just unsure about which way to turn. I think that the growing gap between aspiration and reality will require further sources of new products to help achieve a zero-emission future.
Which fuels do you see having the biggest role to play in the decarbonisation of heavy transport?
As outlined above, sustainable biofuels have a key part to play whilst, in time, I believe we will see viable BEVs as well as, potentially, BEVs with Hydrogen Fuel Cell range extenders and possibly even Hydrogen ICE vehicles.
HVO can play a role, particularly in lower mileage operations where the relative cost increase is less impactful. High bio blend diesel fuels can offer access to immediate CO2 savings on a much better cost position.
Longer term, the focus must be on new sources of raw materials – particularly from waste – to create sources of sustainable fuel production – such as the end-of-life project the Greenergy team are developing.
What are your hopes for the next 5 years?
To continue to help Greenergy, and all our clients, to grow – even in a declining market, whilst also continuing to diversify services to ensure we maintain an efficient cost base and provide a long-term future for everyone.
We have just signed our first contract to provide bitumen distribution, building on our success in hydrogen and aviation distribution. This is the sort of 'near market' growth that helps to underpin the existing business and grow the capability of Flexigrid for all our clients.
And what does Flexigrid offer to the fuel distribution sector?
A strategic partner able to deliver reliability, quality and safety with UK scale and real resourcing flexibility; all from a company that is here for the long term and committed to the sector and supporting clients with the energy transition.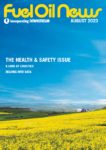 This article originally appeared in the August 2023 issue of Fuel Oil News magazine.
View the magazine