The well-known Hull group, which supplies low carbon fuels including HVO and provides services to the offshore wind industry, has purchased Driffield firm J Foley Electrical Ltd for an undisclosed sum in a deal that will see the company renamed as Rix Energy Services Ltd, initially serving domestic and commercial customers across East Yorkshire.
James Foley, founder of J Foley Electrical Ltd, which specialises in sustainable energy technologies for consumers and businesses including solar panels, batteries, electric vehicle charging points, and low energy lighting, has been appointed to head up the new company.
Committed to energy provision
Rory Clarke, managing director of J.R Rix & Sons, said the acquisition was part of an ongoing strategy of investment into sustainable energy provision commenting: "For more than a century the Rix brand has been synonymous with providing the fuel to keep homes and families warm, to power businesses, and to keep vehicles moving.
"We are as committed to doing this today as we have been throughout our 150-year history.
"However, the world is moving away from traditional hydrocarbon fuels and we, as a group, are committed to making that move as well, to help create a more sustainable, environmentally friendly world.
"The acquisition of J Foley Electrical enables us to further achieve this by helping our customers decarbonise their homes and their businesses. It is a very exciting move."
Reducing cost and carbon
The new business will be closely aligned with new companies within the Rix group including Leasemate which is focused on the supply of primarily electric and hybrid vehicles and Accountabl which offers expense management and carbon accounting.
These latest developments are part of J.R. Rix & Sons' ongoing strategy to help businesses and consumers lower their carbon footprint and their energy spend.
James Foley said the decision to sell the business he had built had not been an easy one, but it had been prompted by his mother's decision to retire from carrying out a business administration role in the company at Christmas.
Shared values
He added that, as a family-owned business, J.R. Rix & Sons shares the same values of service and integrity as his own, and that was an important factor in deciding to sell to the group.
James said: "As a long-established and substantial business, Rix will be able to provide the administrative support, finance and access to the best products that will give me the ability to realise my ambition and vision to grow the business."
The new business will be overseen by Duncan Lambert, J.R. Rix & Son's board director and managing director of Rix Petroleum.
Mr Lambert said he was looking forward to helping the company's domestic and business clients reduce their energy bills and their carbon footprint.
"This is a very exciting acquisition that will enable us to bring significant benefits to our customers," he said.
Image shows James Foley (L), founder of J Foley Electrical Ltd, shaking hands with Duncan Lambert, Managing Director of Rix Petroleum, to celebrate J.R. Rix & Sons' latest acquisition.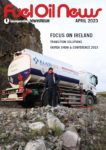 This article originally appeared in the April 2023 issue of Fuel Oil News magazine.
View the magazine