Claudia Weeks, content editor of Fuel Oil News, speaks with Eddie O'Brien, managing director for Retail & Oil, who joined the company 10 years ago, initially as managing director for oil, then for retail, oil and fuel cards, to understand more about DCC's goals and ambitions and its plans for Ireland and for energy transition.
Ten years of exciting growth
Eddie looks back over his time with the business so far: "I joined 10 years ago in 2012; it's been a short 10 years! At the time, DCC Energy was starting to grow its business into mainland Europe, and, over those 10 years, we've really grown – about three-fold – into 8 countries now in Europe. It's been an interesting journey for me. I started as a managing director for oil, and now I am divisional managing director for DCC Retail & Oil.
"The ten years have gone by quickly, been exciting, and involved lots of growth and development. The biggest change in that time has been the number of products that we sell. When I started in the business, we were simply selling 4 or 5 products like heating oil, diesel, and petrol. Now, with energy transition we're selling more renewable products, more solutions, digital products, parking for trucks…it's a much broader business and that evolution has been a big change."
Culture the constant
"In terms of my own role, as the business grew and we became more international, my job was less about driving the business and more about leading the business, setting direction, finding the people and talent to run and grow the businesses. A lot has changed within what I've been doing but some things haven't changed.
"The focus on people, the focus on growth, being a humble organisation; they are all the constants in the culture at DCC."
The upsides and downsides
Asked what he enjoys most about operating in the retail and oil industry, Eddie replies: "I think it's pretty simple – it's a great industry! For a business that should be so simple in its aim, delivering energy products to people, it's constantly changing and evolving. There's always something new, something dynamic and I find that enjoyable."
"As of December 2021, DCC Retail & Oil employs 3,700 people. It's a big team with lots of people covering 24/7 operations across 5 or 6 markets, ensuring our customers have the products and services they need. It's a lot of people, a lot of great people, focussed on great customer service."
People are the biggest positive
"Over the last two years, through the Covid pandemic, our people have been amazing, supportive, and incredibly adaptive in finding new ways of working and maintaining the essential services our customers need. They have been proud of what they've been doing and worked hard on the front line to keep everyone with the energy and services needed through the pandemic."
Recognising the high levels of collaboration, teamwork and respect that make it such an enjoyable industry to be part of Eddie continues: "Across the industry, the level of collaboration that goes on in supply chains is impressive. It's been the same people in the industry for years, you meet the same faces, people are facing the same challenges and are very open.
"I think the people, the evolution and the change within the industry make it an interesting place to work and the future is exciting, especially for new people coming into the industry. People get into the industry and realise that there's more to it than you think. The trust between customers and their oil distributors is huge and it makes sense that people trust those that can lead them on their journey through energy transition."
Despite so many positives, we were sure that something must keep Eddie awake at night.
"Health and safety is the big thing that comes to mind," he replies after some thought. "When you have 3,700 people working in an industry, many of whom are working with a product that is inherently dangerous, you need to make sure people go home every day without injury. We also need to ensure that we don't cause any risks to the communities we work in from an environmental point of view. These are the things that matter. Making sure people are safe and doing their jobs in safest way possible."
Ask the stupid question!
When asked for the best advice received in his career Eddie replies: "It may sound like a cliché, but two pieces of advice have stuck with me from very early on in my career. A mentor from early in my career always said to go and look at the business physically. You should never look at a business on a spread sheet or on a PowerPoint. A business is always about the people and what they're doing.
"In a distribution business like ours, everything is simpler if you can see how the business works, you can see what people are really doing. Having a physical presence, being on the front line regularly, talking to the customers, and seeing how the business operates is essential.
"The more cliched advice was to never be afraid to ask the stupid question! I'm a great believer in two things – curiosity and challenge. If you're willing to ask the questions, be curious, you want to learn and you're willing to challenge by asking the questions – those things are great skills to have. I received that advice early in my career, never be afraid to ask the simple questions because sometimes the simple questions are the most insightful."
Developing solutions in Europe
Already operating in eight counties in Europe, DCC continues to grow there, developing new businesses finding future energy solutions.
"We have recently added a convenience business in Luxembourg in November 2021. It's an attractive business which works well alongside our French interests. Across the rest of the European market, we've been developing organically, finding solutions for our customers, such as installing EV chargers in France, Denmark, and Norway.
"We have also recently introduced HVO, second generation diesel, to the UK and Ireland in addition to Austria, Norway and Sweden.
"We also have other solutions that may not be so synonymous with oil distribution. Our SNAP business in the UK is a completely digital business that provides parking for European hauliers. We can provide secure parking in the UK, France, and Germany. Current regulations mean that truck drivers can't park illegally on the sides of the roads anymore making access to parking and secure parking much more important, so the SNAP business has been very successful for us."
Future plans for Ireland
"We've made a number of significant investments in Ireland over the last couple of years with the acquisitions of Campus Oil and Jones Oil, so we've been working hard to integrate those businesses," Eddie began, in an update on DCC's plans for Ireland. "It has given the Irish business a national footprint in distribution.
"At the same time, we have acquired Tesco's forecourts in Ireland, launching the CERTA brand. This partnership allows our customers to use the Tesco loyalty scheme gaining additional loyalty benefits on our retail network in Ireland.
"Ireland is an interesting market in terms of energy transition since many of the homes are still heated with fossil fuel. The opportunity for us is making sure that we offer energy solutions which are affordable and practical across all energies – a lot of the focus is on electrification which we think is a good thing as it allows solutions like heat pumps and other sustainable developments to come into the market. We're also keen to build renewable heating oil into our supply base and, hopefully, get the support of the Government to help decarbonise the off-grid sector as we make the journey through energy transition."
The importance of brand.
With DCC growing its footprint through acquisition, we asked Eddie about the importance of the brand to consumers.
"DCC, the brand, is very much our corporate brand from an investor point of view," Eddie explains. We don't bring the DCC brand to the consumer end, we tend to partner with established brands, and we've acquired a lot of great local brands too. We've also developed our own brands like Certas Energy in the UK.
"We tend to operate through customer brands that are in the local market, so whatever the relevant brand is for the local market is the way we operate. DCC is more the corporate brand in the background and there are no plans to rebrand everyone and push that to the front end.
The move to sustainability
"Sustainability has always been a core part of our business – it's not something new for us. We're focussed on growing by leading energy transition, helping our customers on their path to net zero. We have very strong relationships with our customers and partners and believe we're one of the key enablers of energy transition because we'll be able to bring the renewable solutions. With customers in several different sectors such as commercial, industrial, domestic and mobility, we are thinking about energy transition and sustainability in each of those sectors, our customers need to transition.
"Mobility, and the electrification of transport is a big part of the journey in Europe. We're pretty focussed on investing in EV fast chargers in several of our markets. For example, in January this year, we outlined a deal for a 360-degree solution in Denmark where we will be able to install home chargers, install chargers in the workplace, and have our own fast EV chargers on the forecourt. By putting in these solutions together, we're able to offer a 360-degree digitally enabled service to our customers in Denmark on mobility which we think is exciting.
"In the future, you will predominately charge your car at home but there will be days when you're commuting into a city, and you will need a fast charge. People are anxious that the EV chargers won't be available when they travel, we need to solve that problem, so people don't need to worry about where they're going to get a charge – it's a huge opportunity for us. We need to use our mobility experience through our retail forecourts to plug that gap.
"In the other parts of the mobility sector, some of the markets are supporting or incentivising a multi-energy solution on mobility. We've rolled out a lot of E85 in France so people are buying flexi-fuel, or 85% ethanol and we can complement that with our e-charging offerings in France.
"With our domestic customers we are trialling HVO in domestic boilers, we think it's an elegant solution. In an off-grid sector, where it's hard and expensive to insulate homes, we think bringing in renewable heating oil solutions, through existing infrastructure, is a key part of the transition over the next few years. We think there's a real opportunity for governments to think how we can incentivise that transition, not just on heat pumps and electric solutions but also how they can support some of the more difficult energy transition sectors like off-grid, by using lower carbon renewable fuels.
"Lastly, we are clearly very focussed on our own carbon emissions and are on track to achieve 20% reduction in emissions from our operations by 2025. We've been pushing HVO which is 100% renewable diesel. In Sweden pretty much the whole fleet is on HVO, and we have plans to bring that solution to our other markets. By next year, close to 50% of the UK fleet will have access to HVO and, in Ireland, we already have vehicles running on HVO.
Sustainability for us is about providing solutions to help our customers to decarbonise on their long-term journey to net zero.
Looking to the industry's future
Eddie considers what he believes the major future challenges will be for the industry: "There are going to be three main challenges in the next few years – navigating energy transition, demonstrating that the industry is serious on making progress, and improving diversity across the workplace.
There is lots to be positive about. If we work to improve in those three areas, it will create a lot of opportunity.
Navigating energy transition is going to be key in the industry over the next few years. The first challenge is setting the direction of transition. I think we need to ensure that policy reflects the key role that energy distributors have in energy transition so that people don't dismiss distributors. Distributors are crucial in bringing solutions to all parts of society.
The second challenge is demonstrating that our industry is making real progress in providing solutions which not only support energy transition but also accelerate our customers towards net zero. I think our credibility, as a provider of solutions and having a fundamental role in the transition, rather than being perceived as fossil fuel distributors, will be key.
DCC also wants to focus on workforce diversity, and we must constantly challenge ourselves to bring more diversity into the workplace. We need to make sure our business reflects society, whether in gender or ethnicity. Access to talent is a challenge and pushing the diversity agenda across the organisation is a huge positive because it opens many more doors for getting talent into the organisation to enable people of all backgrounds to support our journey.
The future for DCC
Asked what he believes the future holds for DCC, Eddie was clear: "DCC has done a lot of work on purpose development over the last few years. Having a purposeful leadership and direction for the company has been key.
"DCC wants to enable its people and businesses to grow and progress. For energy specifically, our goal is to grow by leading our customers through energy transition and by putting the energy needs of our customers at the forefront. Energy needs are growing, and we want to provide solutions for that whilst rising to the challenge of net zero. We're very excited about the future, we have a lot of growth planned and we know that we can do that it in a sustainable way. We're really looking forward to being around for a long time to come."
With plans for growth and development and a clear strategy for forging the path to net zero, there is a bright future ahead for DCC and Eddie O'Brien. Fuel Oil News looks forward to following this journey with interest.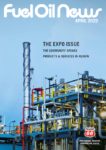 This article originally appeared in the April 2022 issue of Fuel Oil News magazine.
View the magazine