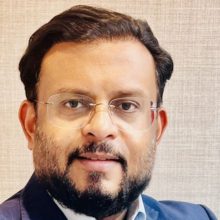 Jay begins by explaining his own route into the energy sector: "I graduated in Singapore and joined Shell at their Singapore trading desk. A few years of trading in Singapore and London, both at investment banks and energy houses, saw me moving to corporate management in 2018.
"Prior to joining Mabanaft I was head of risk at Intercontinental Exchange overseeing their global energy risk portfolio."
How does energy compare with other trading sectors?
"There has been a paradigm shift in the way energy distribution has evolved. From being a market with information asymmetry 10 years back, information is now equally available to traders, wholesalers and household customers, eliminating the high profit margins previously seen.
"The move to zero carbon will see another upheaval in the distribution sector over the next 10 years with various energy sources competing to become a dominant fuel. Hydrogen, electricity, e-fuels – all are in the mix which will create a period of volatile markets in the near future."
Challenge and change
Joining Mabanaft as head of risk in April 2020, Jay took a key role when CEO Jon Perkins initiated a programme to transform the group from oil company to an energy one. Assuming the role of head of UK last summer Jay's remit was to maintain business continuity while developing a low carbon portfolio. Jay reflects on the variety of roles he has had as he considers the highlight of his time with the company so far.
"I have been fortunate enough to have experienced multiple roles at Mabanaft. I joined at the peak of the covid crisis when crude oil prices were falling through the roof and trading desks around the world were either making a lot of money or losing a lot of money and Mabanaft was no exception.
"My first role was as head of risk, a role that carries a responsibility to ensure there are controls and limits in place around trading such that the overall risk at a company stays within pre-agreed limits relative to the balance sheet. Soon after I moved internally, taking on the role of chief of staff, responsible for governance, board agenda, projects and implementing overall strategy for the group which was a steep learning curve for me, but an exciting period.
"A change within the UK business, resulted in me heading up the UK division as well as overseeing the Scandinavian and UK operations of the Mabanaft group – a role that was both very challenging and very fulfilling and a great learning opportunity.
Currently, I am the managing director of Mabanaft UK and Onroute truckstops, which is our commercial road transport division. Responsible for business development, acquisitions and strategic direction, I also develop our next generation of leaders either internally or by recruiting in the best talent.
Life at Mabanaft is always exciting. We are going through a massive reorganisation within the group, and we are also in the midst of a heightened geopolitical risk scenario. This obviously creates challenges, but also delivers opportunities for the group to lead the way into the new fuel era.
"As Jon explained in his interview (Fuel Oil News September 2023), our strategy is to invest in the right assets, bring in the best talent and expand our fuel portfolio to continue to meet our customers' future energy needs.
A changing sector
"The energy distribution sector is undergoing its biggest change since the advent of fossil fuel. Over the next 10 years we will see a plethora of fuels offered to, and tested in, the market. We believe electricity and hydrogen will play a huge role, with one becoming the dominant fuel for the retail sector and the other for commercial road transport.
"A successful and sustainable decarbonisation strategy for transport, heat and commercial is highly likely to involve a diverse mix of renewable energy sources and energy storage technologies. However, there are some strong contenders to be major future players.
"Electricity from green sources is likely to power the majority of personal use vehicles in the future due to the favourable regulatory environment and reduction in the price of battery technology in recent years. There will also be a seismic shift in the commercial real estate sector where the primary energy source will move from fossil/electric to electric/hydrogen or other fuels. Similarly, I believe the high consuming commercial transport sector will go through a staged transition with electricity being a major source over the next few years followed by green hydrogen in the longer term.
"That's why, for me, electricity and hydrogen will lead the emerging fuel pack.
"Market consolidation will continue as well as new firms emerging in line with emerging fuels. With the advent of AI, I also expect technological upheaval with significant automation of sector processes delivering efficiency gains."
Against this backdrop of change, Jay considers his own direction: "As someone motivated to deliver long-term strategies, more than day-to-day or near-term, I see myself moving into a business development role more focussed on the long-term horizon. But, first, I need to make sure we have the right team in place and aligned with Mabanaft group objectives to take over the day to day."
Collaboration key to inclusion and diversity
There was a lot of activity in the sector this year around International Women's Day, but the industry remains on the back foot in terms of both inclusion and diversity. As someone who places a high importance on attracting and retaining the best talent and creating the strongest teams Jay sees this as issues the industry must urgently address and considers which comes first – inclusion or diversity.
"I believe both are equally important. To effectively address the challenges and biases in the energy industry, it is crucial to foster both diversity and inclusion simultaneously. However, in terms of prioritisation, I think creating an inclusive environment should come first, mainly because inclusion drives engagement and productivity which, in turn, supports diversity retention.
"I believe that having an inclusive workforce amplifies the benefits of diversity which can lead to organisational change. Make no mistake though, even though inclusion should come first, it's important to note that diversity and inclusion are interconnected and mutually reinforcing."
"I think the main obstacles to achieving greater inclusion and diversity are related to lack of awareness and understanding, combined with insufficient representation in leadership. This problem is exacerbated with a lack of a diverse talent pipeline.
"Collaboration among industry stakeholders is vital to accelerate progress. Industry associations, networks, and advocacy groups can work together to share best practice, develop industry-wide initiatives, and hold organisations accountable. Transparency and public reporting of diversity metrics can also drive accountability and promote healthy competition among organisations to improve their inclusivity.
"Work-force diversity is hugely important to Mabanaft, and the company has a defined inclusion and diversity framework. We have a diverse workforce, with people from a very broad range of backgrounds and have industry-leading women heading up Mabanaft's sister companies, Thomas Silvey Ltd. and BWOC.
"However, there is always more we need to do to get us nearer to the benchmarks we would demand of ourselves, and we are working to ensure that our future talent pipeline reflects a diverse and inclusive workforce to continue to transform our organisation."
Facilitating future fuels
As well as planning for delivery of the future workforce, Mabanaft UK, as a key player in the energy distribution industry, has a significant role to play in facilitating the shift to future fuels as Jay explains.
"We have an immense opportunity to play a pivotal role in driving the industry's transition to future fuels. We are investing in infrastructure across the UK to facilitate their provision. Our Truckstop portfolio increases every year, and we are working to deliver continued strategic growth as well as discussing partnerships with technology firms investing in hydrogen refuelling and electric charging. Our active regulatory engagement and advocacy will also influence development of supportive policies and regulations for future fuels."
Mabanaft is clearly working hard on many different fronts to facilitate the transition, but many other factors impact on progress as Jay highlights.
"Current global, political and economic conditions have affected the transition to future fuels. The shift towards renewable energy sources and adoption of new energy technologies largely depends on the policies and regulations set by government, as well as availability of funding and incentives for research and development.
"Economic conditions, such as the price of oil and other fossil fuels also play a significant role in determining the feasibility and competitiveness of alternative energy sources. Additionally, geopolitical tensions and changing international relations can impact exports and imports, further shaping the transition."
Commitment to the customer journey
Resonating with the direction of the sector, sustainability frames the Mabanaft brand and Jay emphasises the importance of this being experienced by customers.
"I believe that sustainability being a customer-facing aspect of the Mabanaft brand is vital to meet customer expectations, build trust and loyalty, differentiate us from competitors, attract new customers, enhance brand reputation, and meet stakeholder expectations. This can only be achieved through effective communication to ensure our customers are also aware of our investment in delivering a sustainable future.
"One of the best pieces of advice I have received is: 'Be a good listener and treat others as you would like to be treated.' It's a powerful reminder of the importance of kindness and empathy in our interactions with others. By treating others with respect, compassion and dignity and being a good listener, we can cultivate long lasting relationships, build trust and grow as an individual.
"With a desire to listen, I am looking forward to attending industry events to meet with customers as well as collaborate with industry experts and to being actively involved in shaping the regulations and policies around the energy distribution in the UK.
"We value our customers and strive to deliver exceptional service that exceeds their expectations. Our commitment is to provide services tailored to our customers' needs and to walk with them on their fuel transition journey."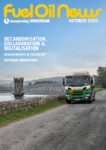 This article originally appeared in the October 2023 issue of Fuel Oil News magazine.
View the magazine