TSG UK has launched a new Driver Controlled Delivery (DCD) System that allows fuel to be delivered 24 hours a day, seven days a week, regardless of whether on-site staff are in attendance.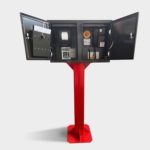 For forecourts, and other sites requiring fuel deliveries – such as military bases and haulage depots – the DCD System saves on out-of-hours staffing costs and ensures no hold-up in supply.
Thanks to the in-built Tank Monitoring System, information about the status of the tank can be accessed at any time, with an illuminated external display showing how much fuel can safely be delivered.
How does the DCD System work?
The DCD System communicates directly with the Tank Gauge System at the start of the delivery, confirming with the tanker driver that there is enough space in the tank to allow the fuel to be inputted safely. An internal printer retains a hard copy of this information which can be printed out on successful completion, showing the volume of fuel added to each tank.
In the event of an emergency, the DCD System incorporates a stop switch and telephone as well as a floodlight circuit.
Bill Bowers, TSG's product manager, said: "Automated solutions, such as TSG's DCD System, provide greater flexibility and lower staffing costs, saving businesses money and contributing to safer, more efficient operations – the perfect accompaniment to our range of equipment and services for the fuel retail and commercial fleet fuelling industries."
More DCD System features & benefits
Fuel delivery 24 hours a day, seven days a week
Fuel can be delivered at the most convenient time
Tank Monitoring System allows information about the tank to be obtained at any time
Details of tank ullage shown on illuminated display unit
DCD cabinet available with pedestal or wall-mounting bracket
Exact amount of fuel delivered recorded
Audible overfill alarm