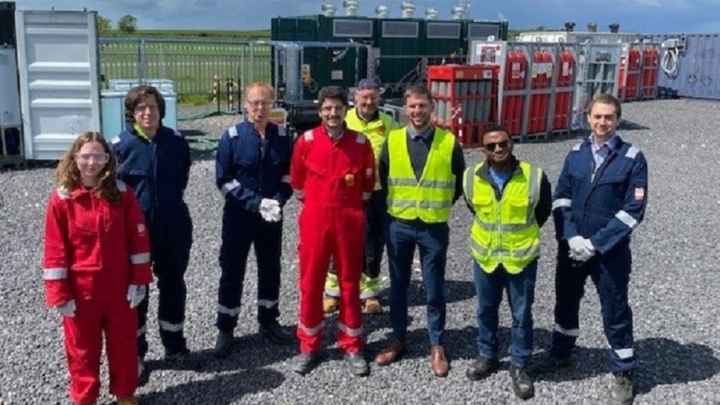 Hydrogen is increasingly being acknowledged as a green energy source for decarbonising the heavy-duty transport sector. However, scale-up and consistent refuelling of hydrogen vehicles currently requires expensive cooling technology.
In 2021, NanoSUN was awarded £170k funding by the DfT in partnership with Innovate UK, to design and develop an alternative cooling process for rapid refuelling of hydrogen road freight vehicles. NanoSUN's Research & Development team have since devised a cost-effective and appropriate cooling solution to support the delivery of an efficient and reliable refuelling infrastructure for hydrogen vehicles.  
NanoSUN's new Coolth Engine technology differs from conventional mechanical refrigeration methods, in that it offers operators an eco-friendly solution that is always ready to go; requiring zero downtime. This enables the delivery of consecutive vehicle refuelling operations, whilst eliminating large power usage to reduce energy costs and limit the impact of global warming.
Overcoming conventional cooling problems
Conventional approaches to cooling hydrogen are either very slow to fill vehicle tanks or require a chiller, which are energy intensive and expensive. Current methods are therefore problematic, in that they are operationally unfavourable and undermine the benefit of fuel cell electric vehicles (FCEVs) over long-charging battery electric vehicles (BEVs).
NanoSUN's novel Coolth Engine technology tackles this issue by eliminating the need for moving parts & the operating costs of conventional chillers. Presenting a low-cost, low-maintenance option that facilitates fast hydrogen refuels for the end user.
This May, the team were delighted to complete a successful demonstration of the new Coolth Engine for Innovate UK, with the technology now ready for use in the hydrogen and transportation markets.
More desirable cooling
Dean O'Connor, NanoSUN's CEO, commented: "If we are to develop a reliable hydrogen refuelling infrastructure that end users can rely on, it's crucial that we deliver a more desirable cooling method that operators of refuelling stations can confidently utilise at a lower cost. NanoSUN's ability to deliver this new, eco-friendly solution, demonstrates the team's continuous expertise and drive dedicated to supporting the transportation industry in transitioning to a green future."
Michael Fritchley, impact and performance manager at Innovate UK, said: "Developing technology for the rapid refuelling of hydrogen vehicles is essential to decarbonise the heavy-duty transport sector. This project takes an important step in achieving this, by demonstrating a cost-effective, innovative cooling solution which enhances the process of H2 refuelling.
"Innovate UK is proud to have supported this project in partnership with the Department for Transport."