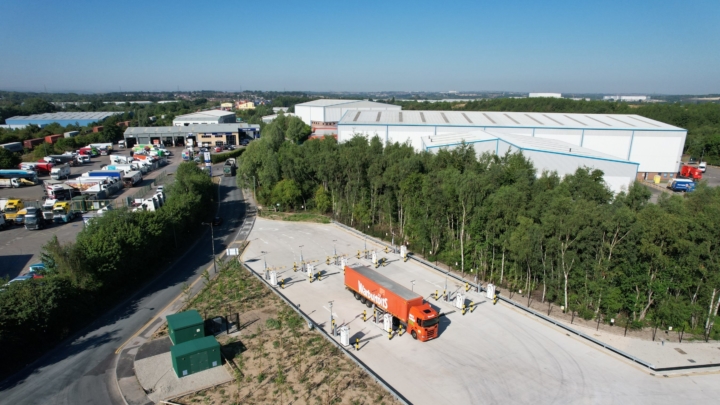 Huge CO2 saving
The new station means that CNG Fuels can now refuel 5000 HGVs across the UK daily, saving up to 1,600 tonnes of CO2 every day, or 584,000 tonnes of CO2 annually, when compared to diesel – equivalent to powering over 113,000 homes for an entire year.
HGVs account for 4.2% of UK carbon emissions, putting the sector at the core of the UK's goal of achieving net zero by 2050. Last year, the UK government set out plans to ban the sale of new petrol and diesel HGV from 2040, heightening the urgency for fleets across the country to find alternative solutions to petrol and diesel HGVs.
Renewable biomethane – derived from food waste and manure by CNG Fuels – is the lowest carbon, most cost-effective alternative fuel to diesel available to HGVs today, cutting emissions by over 90% whilst providing up to a 40% lifetime fuel cost saving.
The new station in Castleford is the company's 10th operational site, extending the range of low-carbon deliveries into North East England. The site can refuel up to 500 HGVs per day, cutting 67,500 tonnes of greenhouse gas emissions annually when fully utilised – equivalent to the annual emissions of over 40,000 cars. Most of the UK is already within a 300-mile round trip of a CNG Fuels renewable biomethane refuelling station and the site will put Leeds, Hull, and Wakefield within its range, serving local and passing fleets using the M1, A1 and M18.
Located in the Normanton Industrial Estate, CNG Fuels' newest station will give multiple existing CNG Fuels customers, including major household brands and new local fleet operators, access to low carbon biomethane.
Philip Fjeld, CEO of CNG Fuels, said: "Fleet operators around the world are urgently seeking ways to cut emissions from their fleets. In the UK, fleet operators can do so today by adopting biomethane. Our fast-growing network of refuelling infrastructure has made biomethane more accessible than ever before, and fleets – ranging from local hauliers through to major household brands – are dramatically cutting emissions every day. Our newest station in Castleford is building on our existing network, enabling low carbon deliveries all the way from Inverness to Cornwall."
Another key brand adopts biomethane
Aldi, the UK's fifth-largest supermarket, as the latest major brand to adopt bio-CNG HGVs, will cut emissions by over 90% and save up to 40% on lifetime fuel costs and joins many other household brands, including Royal Mail, Waitrose, and Warburtons to use CNG Fuels' newest site.
Liz Fox, National Corporate Responsibility Director, UK at Aldi, said: "Aldi is committed to reducing our carbon footprint, and adopting bio-CNG HGVs is another step forward in our plans to cut emissions from our UK fleets. CNG Fuels' latest station in Castleford opens the door to major transport networks into the North East, and their growing network will only continue to extend the number of low carbon deliveries that we can make across the country every day."
Rapidly accelerating demand
Demand for the fuel from fleet operators is growing at around 100% per annum, and CNG Fuels forecasts the demand to continue to accelerate, with around 10% of the UK's high-mileage HGV fleet expected to run on Bio-CNG by 2025. CNG Fuels has seen rapid growth in demand since the start of 2022 as the benefits of Bio-CNG begins to reach the mass market. Orders for 6×2 Iveco trials – one of the latest CNG-ready HGVs to be launched to the market – have reached an all-time high as the market moves away from early adopting large fleets, to fleets of all sizes.
The Castleford station joins nine other refuelling stations operated by CNG Fuels across the UK, including the world's largest public access biomethane refuelling station in Avonmouth near Bristol. The company plans to have 20 large public access stations in operation by the end of 2023, with sites in Newton Aycliffe and Corby entering the construction phase at the end of July 2022.
Hydrogen in sight
Last year the company announced plans to host hydrogen fuel trials across its sites to ensure stations are ready to support a multi-fuel future as different technologies develop and become commercially viable. The first hydrogen trails are due to begin this year and by 2025, CNG Fuels plans to allocate 100 acres of its land to public access hydrogen refuelling.
CNG Fuels was recently announced as the winner of the British Renewable Energy Award for Low Carbon Transport by the REA (The Association for Renewable Energy & Clean Technology), a recognition of the company's role in enabling fleets across the UK to drastically reduce emissions from road transport.