Europump Maintenance Ltd has extended its partnership with global fuel and lubricant dispensing solutions company Hytek by becoming an approved verifier for its fuelling equipment.
The inclusion of the Hytek products in the Section 11A certificate issued by The Office for Product Safety and Standards means that Europump Maintenance Ltd has authority to carry out initial verification and in -service verification on the Pumptronics Alpha and C Series range of fuel dispensers.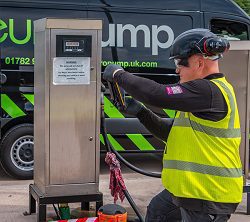 "This is a great move for all parties concerned as it means our engineers can commission and verify the dispensers during the same visit, undertake any in service reverification following repairs, providing a cost effective solution to the customer " explained Martyn Gent, Business Development Manager at Europump Maintenance Ltd.
Europump Maintenance Ltd has also welcomed the news that Hytek has purchased OLE Gauges.
OLE provides a wide range of high accuracy tank gauge equipment for the aviation, commercial fuel, petro-chemical, and road transport sectors.
"This is good news for us as it gives us easier access to the products," Martyn Gent commented. "OLE gauges are renowned for their quality and accuracy – two things that are vital in our industry. Their accuracy is second to none and they come with ATEX approval."