UKIFDA says off grid homeowners across Great Britain are seeing prices of heating oil drop by up to 27% since the same time last year, according to the latest figures from Sutherland Tables, a provider of comparative home heating costs for the most common fuels in the UK and Republic of Ireland.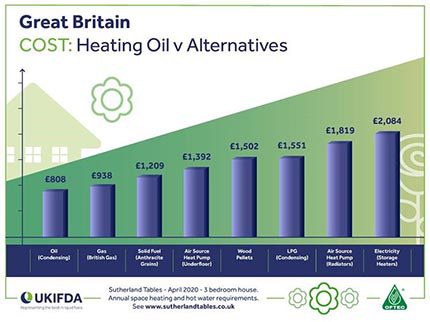 This drop has prompted UKIFDA to urge households who use oil to heat their home to reap the rewards of using liquid fuel as their heating source and to consider how they can benefit from these low prices and also consider their future energy options.
Guy Pulham, CEO of UKIFDA comments; "The Sutherland Tables data is fantastic news for everyone using heating oil as it confirms that this form of energy is the cheapest right now. The price of oil has continued to fall over the last quarter and the cost of home heating using oil is now cheaper than gas heating, regardless of the type of property you live in or whether you have a conventional or condensing boiler. The latest data shows that families in an average 3-bedroom house with an oil boiler in Great Britain are paying around £808 a year for heating and hot water, compared to £938 for those using a gas boiler, £1392 for those using air source heat pumps with underfloor heating, £1502 for wood pellets, £1551 for those using LPG, £1819 for those with air source heat pump with radiators and £2084 per annum for those on Electric.
"At the same time as enjoying low prices we do want to help domestic consumers of oil in the UK and Ireland understand how the decarbonisation of off-gas grid home heating could impact their home and impact the choices they need to make either now or in the future. As a result, we have over the last year been working with our Members and other trade associations on a pathway to decarbonising liquid fuel to help consumers find a personal pathway that fits the finances of the household but still contributes to lower carbon emissions in a timescale that meets net zero goals."