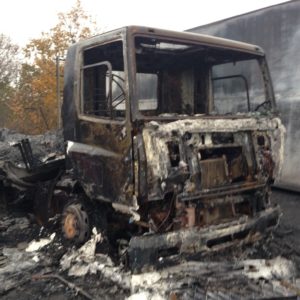 A deliberate fire started at the Ukay Fuels depot in Hadleigh, Suffolk, destroyed three tankers – but it's still "business as usual".
The incident, which took place last Friday night, destroyed three tankers containing a total of 35,750 litres of kerosene, gas oil and diesel.
Luckily, the fuel storage tank did not catch alight, as the fire brigade controlled the blaze.
The police have launched an investigation and are treating the incident as suspicious.
Ukay Fuels managing director, Anthony Iameo, said: "All three tankers were burning at the same level and at the same time which shouldn't happen naturally – especially as the vehicles were new with all the relevant health and safety checks.
"We're not sure if it was a personal attack on ourselves or GB Oils, because there was another attack on an ordinary vehicle one or two nights before the incident."
He added: "We have managed to keep the business running and were out delivering on Monday. We arranged with GB Oils to be able collect oil from the Ipswich depot.
"It's business as usual, and it's important that people are getting their oil on time, and that customers can keep warm!"