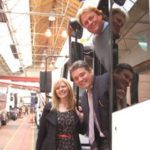 Wakefield-based tanker manufacturer, Tasca Tankers is on track for further expansion after acquiring the business and assets of Maidment Tankers.

"It was with regret that we learned of the difficulties faced by Maidment Tankers, a long established family business," said Shaun Harte. "With a steadfast reputation for quality and service in the south of England, which mirrored Tasca's reputation in the North, it was a natural move for Tasca to acquire Maidment from the administrator.

"The intention is to continue with tanker sales, service, commercial painting and repair at the Maidment facility in Littlehampton. This should bring the well-recognised qualities, that Tasca and Paint Shop Northern are renowned for, to the existing and, hopefully new, customer base in the south of England."

Plans are also in the pipeline to boost the Wakefield workforce by approximately 20 new recruits this year. The company will also honour its annual commitment to Wakefield College, taking on three new apprentices.

Established in 1996 and now employing 100 staff at the company's Diamond Business Park headquarters, Tasca Tankers makes tankers for a wide range of industries. The company's sales turnover has increased from £4.6m in 2009 to an estimated £7m last year and staff levels rose by 50-60% during the same period. Tasca's customers include Otley-based Tate Fuel Oils, Peak Fuels from Derbyshire and GB Oils.

.