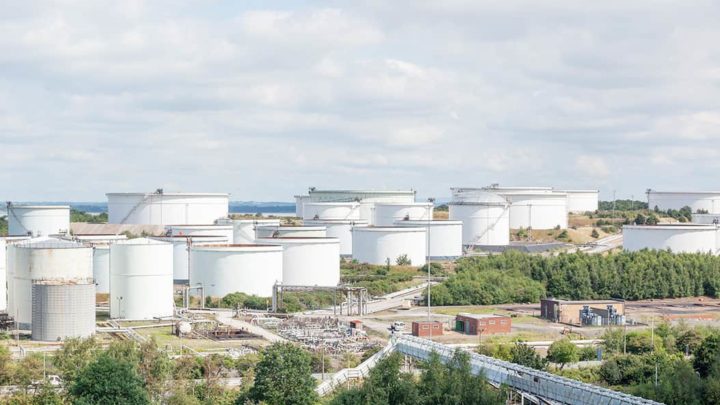 The energy hub will provide vital infrastructure for a secure green ammonia supply chain to help decarbonise UK energy.
The new terminal, an expansion of Stanlow Terminals' existing facilities, will enable significant volumes of green ammonia to be imported, contributing to Essar's ambition to be a major hub of low carbon energy innovation and global leader in production.
A significant contribution
Green ammonia is a highly effective liquid carrier of hydrogen, which allows for the safe and cost-efficient transport of green hydrogen at scale. The new terminal will enable the import and storage of more than one million tonnes per year of green ammonia for onwards distribution into the UK or conversion back to green hydrogen for supply to the North West's industrial customers.
The green hydrogen produced will be used by a wide range of industries in the region, including as a sustainable fuel for marine shipping and to help decarbonise energy usage and, in doing so, contribute significantly to the UK's net zero ambitions.
Fully connected
Green ammonia is a crucial component in the development of the global hydrogen economy and is expected to develop into one of the world's major sustainable energy commodities. Once operational, the new terminal will put Stanlow Terminals at the heart of the global hydrogen energy market, with ready access to large scale international green ammonia imports including Essar's own 1 GW green ammonia project in Gujarat, India.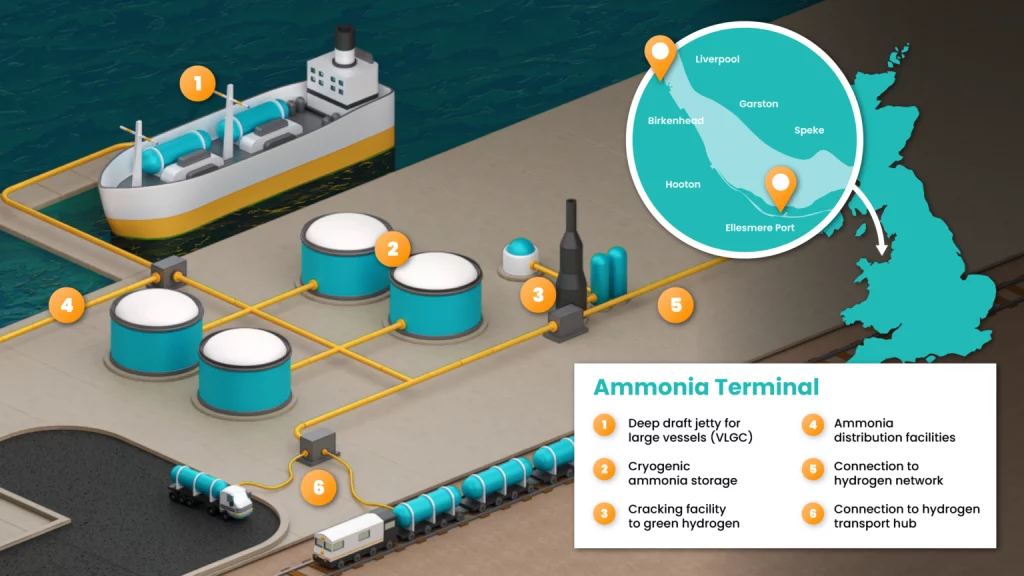 The new terminal will benefit from the Port's location, deep water access and maritime infrastructure which is capable of handling the largest gas carrier vessels, as well as direct connectivity with Hynet, the UK's leading low carbon hydrogen project.
Feasibility studies are currently being undertaken, with operations at the terminal currently scheduled to commence in 2027.
The development of the green ammonia terminal is the latest phase in Stanlow Terminals' long-term plan to become the UK's largest bulk liquid storage and energy infrastructure solutions provider.
Leading the transition
Prashant Ruia, director Essar Capital, said: "Essar Energy Transition is putting the UK at the forefront of the low carbon energy transition. We're excited to be sharing more detail of our investment plans.
"The new terminal, provides the connecting infrastructure to enable Essar' ambition to be a major hub of low carbon energy innovation and a leader in production globally."
Michael Gaynon, chief executive, Stanlow Terminals, added: "This new terminal is the latest milestone in Stanlow Terminal's and Essar's ongoing commitment to leading the UK's low carbon transformation.
"By investing in new energies infrastructure and building a secure supply chain of green ammonia into the UK, we are building on our expertise in storing and blending of bulk liquids to put the North West economy at the forefront of the UK's energy transition to net zero."