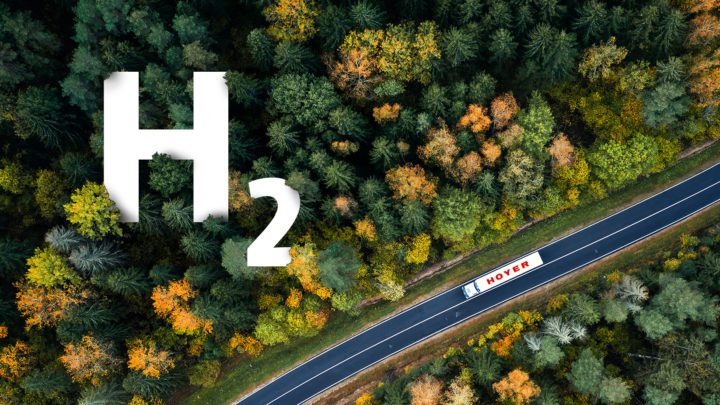 Interestingly, existing hydrogen demand scenarios show estimates for future use of the fuel vary between 6% and 25% of final worldwide energy consumption by 2050, or between 150 and 600 million MT by 2050, depending on how hydrogen will compete with other clean solutions, such as battery storage.
Despite the fact that many countries are looking at how to develop a 'hydrogen economy'—by becoming suppliers, or charting pathways for hydrogen use in domestic industries—the initial challenge is scaling up hydrogen, first and foremost to reduce the production cost of green hydrogen from the current $5- 6/kg to around $1-2/kg, to be able to compete with other energy sources.
This notwithstanding, a number of countries have already developed strategies for production capacity to be achieved by 2030 – the 3 largest targets being:
EU – 40 GW
Netherlands -15GW
Germany – 14GW
In comparison to the above, the UK's target is a more modest 10GW, only recently increased from 5GW, and made up of 50/50 green/blue hydrogen.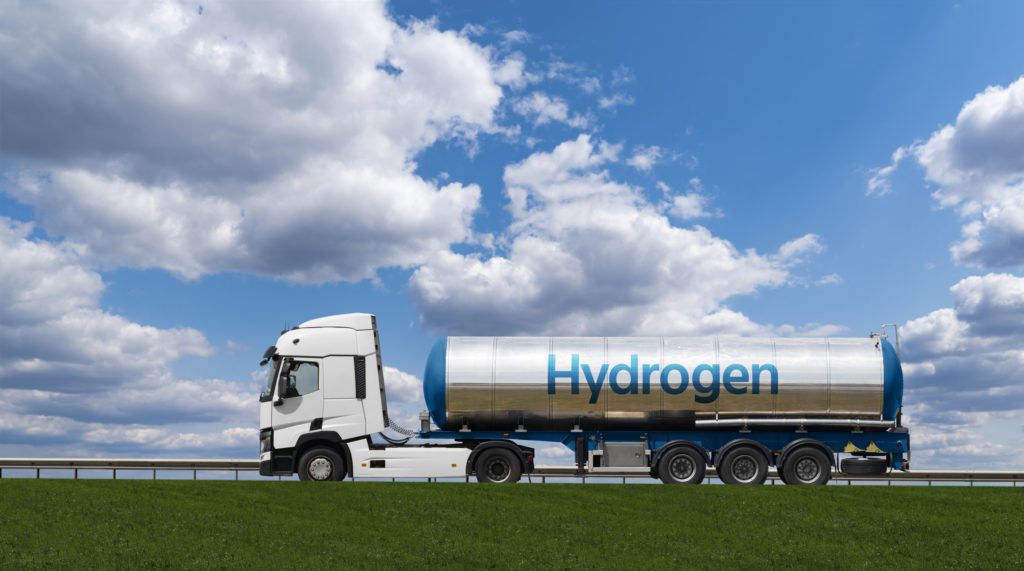 More progress still needs to be made on the demand side and in the sectors that will play a significant role in the future hydrogen market, but which are not yet ready to accept low carbon hydrogen for decarbonisation.
Ongoing developments in the UK.
UK progress with hydrogen strategy: In August last year, the UK Government unveiled its hydrogen strategy, describing it as 'a roadmap of future policies, reports, infrastructure plans, and feasibility studies that will detail exactly how the government will deliver on its ambitions'.
While many of the details are yet to be announced, its broad approach is relatively clear. In particular, there is the ambition to become a global leader on hydrogen by 2030. It is assessed that adoption of the strategy could support over 9,000 UK jobs and unlock £4 billion investment by 2030.
The main thrust is broadly in line with the goals and targets set out in its Sixth Carbon Budget. The government projected that reaching its original goal of 5 gigawatts (GW) of low carbon hydrogen production by 2030 would reduce industrial emissions by 24% by 2050, shipping emissions by 29%, and those in fuel supply production by 7%. In April the govt. doubled this commitment and further aims to have identified two low carbon industrial clusters for deployment by the mid-2020s and four by 2030 which, it hopes, will become significant hubs of hydrogen demand. An early example of these is the East Coast Cluster, which includes the Humber region, source of the UK's largest industrial emissions.
Other measures supporting the strategy
outlining a 'twin track' approach to supporting multiple technologies including 'green' (electrolytic) and 'blue' (carbon capture-enabled) hydrogen production, and committing to providing further detail, in 2022, on government's production strategy
collaborating with industry to develop a UK standard for low carbon hydrogen, giving certainty to producers and users that the hydrogen the UK produces is consistent with net zero while supporting the deployment of hydrogen across the country
undertaking a review to support the development of the necessary network and storage infrastructure to underpin a thriving hydrogen sector
working with industry to assess the safety, technical feasibility, and cost effectiveness of mixing 20% hydrogen into the existing gas supply. Doing so could deliver a 7% emissions reduction on natural gas
launching a hydrogen sector development action plan in 2022 setting out how the government will support companies to secure supply chain opportunities, skills and jobs in hydrogen
To help drive the strategy, the government launched a public consultation to identify a hydrogen business model best designed to overcome the cost gap between low carbon hydrogen and fossil fuels, helping the costs of low-carbon alternatives to fall quickly, as hydrogen comes to play an increasing role. Its analysis suggests that 20-35% of the UK's energy consumption by 2050 could be hydrogen-based and this new energy source could be critical to meet the overarching target of net zero emissions by 2050 and cutting emissions by 78% by 2035.
Clearly, the outcome of the consultations will help to provide clarity and fill in some of the details around certain policies, in particular the fiscal support offered to the low carbon hydrogen sector. There is optimism that the country is on course to achieve 4.6GW of low carbon hydrogen production by 2030 through projects that have already been proposed c.f. the original 5GW target for that date.
However, the target itself fell well short of those adopted by certain other European countries and, with that in mind, the Govt. announced, in April, a doubling of the target to 10GW, comprising 50% green hydrogen and 50% blue hydrogen.
The business model for a hydrogen 'economy'
Intrinsic to the success of a 'hydrogen economy' is development of a supporting business model. The below schematic, produced by the US Hydrogen & Fuel Cell Technologies Office, gives a flavour of its main constituent parts.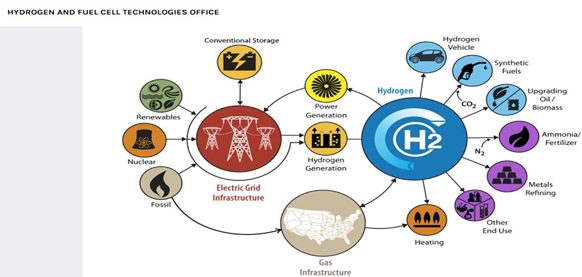 This enables identification of what are, probably, the two major challenges to be addressed:
Scaling up production of green hydrogen to levels that make it competitive with other energy sources, and
Building or developing demand levels in the sectors highlighted in the schematic that will support emission reduction targets associated with decarbonisation goals.
There's still a long way to go, with numerous hurdles to surmount – not least being the stimulation and encouragement of a market and demand from those energy intensive sectors which offer the greatest opportunities for emission reductions, such as steelmaking, cement manufacture and transport.
There is also a substantial resource commitment required. The UK strategy marks a beginning on this journey by providing a roadmap. While its intentions and ambition cannot be faulted, the key to success will lie in the actions that ensue, as well as the timelines and associated urgency, or otherwise, of their implementation.
ROD PROWSE, worked for 30 years across the full spectrum of the downstream oil sector, in both the UK and USA, which has included leadership positions in both retail and wholesale fuels businesses. Rod draws on his extensive knowledge of this global industry to bring us 'Industry Insights'.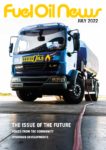 This article originally appeared in the July 2022 issue of Fuel Oil News magazine.
View the magazine