The company is a national supplier of residential and commercial fuels which includes: HVO, a 100 per cent renewable diesel alternative that reduces CO2e by up to ninety per cent. The latest division, Greenarc Energy, supports the decarbonisation of homes and businesses by providing customers with the knowledge and advice on their journey to achieving carbon neutrality.
Chairman Chris Bingham founded the West Yorkshire-based company following on from the success of fuel distributor Craggs Energy. Greenarc is ranked fourteenth in the UK on the list, the company employs 10 people and achieved sales of £17.8 million in 2021.
Embracing future opportunities
Chris Bingham said: "We are so proud to be recognised on such a prestigious list alongside other fantastic growing businesses, especially to be ranking in the top 20. It's been a difficult few years for many businesses, but luckily due to the dedication of our teams and sustained growth we've emerged bigger and stronger than ever before. We are looking forward to the future opportunities and rewards Greenarc will bring to our Craggs Energy Group of businesses."
The ranking of Greenarc Ltd in the top 20 of the fastest-growing private companies recognises the business for its sustained growth, creation of jobs and profitability. The league table takes on the baton from The Sunday Times Fast Track 100 series, which celebrated the country's leading entrepreneurs for 24 years.
The 2022 league table is supported by Barclays Private Bank and DHL Express.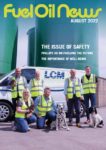 This article originally appeared in the August 2022 issue of Fuel Oil News magazine.
View the magazine