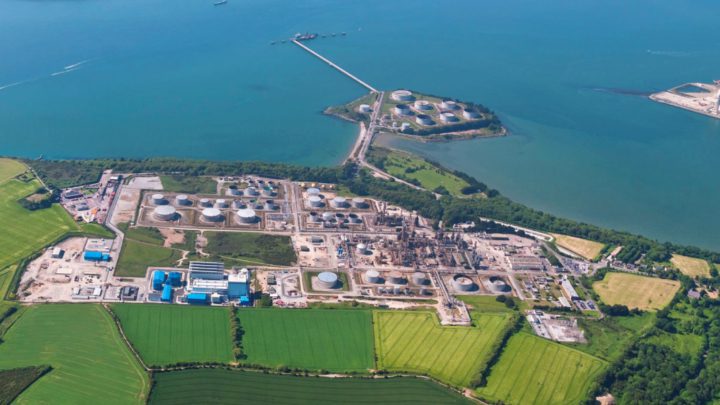 Against this backdrop of unprecedented change, we consider how in Ireland, as in many developed economies, the process of change has been characterised by consolidation in the competitive landscape accompanied by rationalisation of logistics arrangements.
The pace of the energy transition will be the major determining factor in the evolving, and future, shape of the competitive landscape, especially given the relatively, and absolutely, large measure of dependency that Ireland has on oil as a primary energy source.
We will begin with a look back at some of the more notable developments that have affected the landscape since the start of the current millennium.
Significant developments:
Republic of Ireland
Competitive landscape
The chart below summarises how the competitive landscape has evolved since 2000: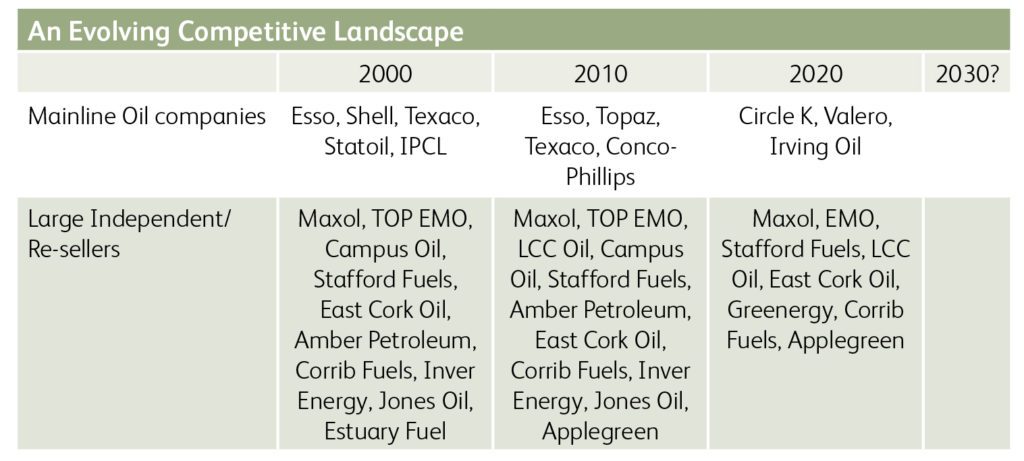 There have been two major developments in the landscape since the start of the millennium, which are:
In 2001 the government sold Whitegate refinery, operated by the Irish Petroleum Company Ltd. (IPCL) to US company, Tosco Corporation, which was acquired shortly after by Phillips Petroleum which, in turn, merged with Conoco in 2002.
ConocoPhillips demerged into separate upstream and downstream entities in 2012, when the refinery came under the ownership of the downstream entity, Phillips 66, who sold it, in 2016, to family-owned Canadian oil company, Irving Oil. In 2018, Irving Oil acquired large independent, Tedcastle Oil Products (TOP), providing it with a distribution terminal in Dublin as well as a substantially expanded market reach.
The refinery supplies around one third of the inland oil products market, predominantly in the South and South West of the country.
In 2005 a new legal entity, Topaz Energy, was set up by private equity interests to acquire firstly the Shell business, in 2005, followed, a year later, by Statoil and, in 2014, by Esso. In 2016, Topaz was acquired by Canadian convenience group, Alimentation Couche Tard, which has replaced the Topaz brand with its own Circle K brand. The combined entity constitutes, by far, the largest market participant, with a share in excess of 30%.
Two further noteworthy developments have been:
In 2017 Greenergy acquired Inver Energy and, in 2020, bought Amber Petroleum
In 2020 DCC acquired Campus Oil and Jones Oil.
The move towards electrification
There are currently about 1,800 vehicle electric charging points, of which 1,385 are run by
the ESB (Electricity Supply Board) and it is projected that the country will need close to 30,000 by 2030 if the goals of decarbonising the transport sector are to be met.
Logistics
On the logistics front there have been three developments in the current millennium:
The commissioning, in 2010, of a new multi-products independent storage facility, with a capacity of 81,000M3, at Foynes (nr. Limerick), by the Atlantic Fuels Storage Company – a joint venture between East Cork Oils and Greenergy.
The commissioning, in 2009, of a new 51,000M3 storage facility in Galway by Enwest, replacing two former facilities and operated by Circle K.
Sale of the Whiddy Island 'entrepot' facility in 2014 by Phillips 66 to US-based Zenith Energy Management LLC , with total storage for crude oil and refined oil products of 1.4 million M3 and capability to load/unload tankers from 20,000DWT to 320,000DWT.
Ireland has an unusually high dependency on oil in its total energy mix, with oil accounting for 50% of primary energy consumption, compared with an EU average of 35%. In addition, even with just under 40% of households relying on oil for central heating, transport is by far the largest oil using sector, at 72% ( followed by residential use, at 15%). The supporting retail infrastructure comprises around 1,500 filling stations.
Just over half of the country's oil products requirements are routed through the three storage facilities in Dublin port, with the lion's share of these being sourced from the Valero, Pembroke refinery.
Northern Ireland
Competitive landscape
This territory has an even higher dependency on oil as a primary source of energy, at around 60% of the total, with transport again accounting for the largest share of oil use, at 71%, and a supporting filling station network of about 700 sites.
Oil plays an even larger role than in the South as a heating source, being used by just over 60% of households. Consequently, the competitive landscape is dominated by a well- established network of distributors/re-sellers, ranging in size from a few million litres per year to several hundred million litres.
The five largest distributors, by tanker numbers, are:
Nicholl Oils
LCC Oil
Bangor Fuels
Carlisle Fuels
Patterson Oil
Two noteworthy developments in the competitive landscape in this millennium have been:
The exit of three 'majors', Esso, Shell and Conoco/Jet from the market
The joint acquisition of the BP Belfast terminal in 2016 by Puma Energy and Nicholl Oils with BP remaining an active market participant.
Electrification
There are currently around 400 vehicle electric charging points, owned and operated by the ESB, plus another 4 at the Tesco, Craigavon store.
Logistics
LCC Group, in a JV with Statoil, commissioned a 110,000M3 storage facility in Derry in 2005, servicing the north west and western parts of the country and also delivering in to the Republic; LCC took over full ownership in 2016.
The principal oil products supply sources are out of the Valero, Pembroke refinery and Petroineos, Grangemouth, via Finnart, delivering products to the Puma Energy/Nicholl Oils, Inter Terminals and Valero facilities in Belfast.
The relatively high degree of dependency on oil as a primary energy source across the island of Ireland will present some serious challenges to the downstream sector through the 2020s as the energy transition unfolds. This process will be a, if not the, primary determinant of its future shape. The progressive decline in oil products demand is likely to create continuing pressure towards further consolidation. With challenges come opportunities to pursue and develop new and different earnings streams – in areas such as, for example, electricity supply, hydrogen and low carbon liquid fuels; there will doubtless be others!
Rod Prowse worked for 30 years across the full spectrum of the downstream oil sector, in both the UK and USA, which has included leadership positions in both retail and wholesale fuels businesses. Rod draws on his extensive knowledge of this global industry to bring us 'Industry Insights'.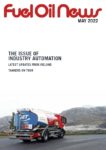 This article originally appeared in the May 2022 issue of Fuel Oil News magazine.
View the magazine