Holt, who previously worked in Refining and Commercial before becoming manager, European value chain strategy and optimisation will, in his new role, be responsible for advancing the Phillips 66 European business in the areas of renewable fuels, batteries, hydrogen and carbon capture.
Nassiri, who was previously supply optimisation manager, will now lead strategy and business development for lower carbon products within the marketing group including: renewable fuels, EV charging and hydrogen.
Tree, who joins Phillips 66 from the UK Petroleum Industry Association, will lead communications for Emerging Energy.
Commenting on the new roles Renee Semiz, managing director, UK Marketing, Phillips 66 Limited says: "Emerging energy and innovation is a key focus – not only for Phillips 66 but for the entire industry. In Simon and Pez, we have two exceptional experts who richly deserve their promotions and we are delighted to welcome communications expert Callan to the business. I am confident that together, they will help steer us towards a lower-carbon future."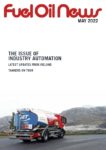 This article originally appeared in the May 2022 issue of Fuel Oil News magazine.
View the magazine