With Fair Fuel UK backtracking on its earlier claims that 1 in 3 forecourts in the South were without fuel, the group's founder, Howard Cox, issued an update saying: "I am convinced that the fuel supply shortage is minimal and patchy."
A UKPIA spokesperson said: "There have been protests at fuel depots that have interrupted delivery, but fuels continue to be delivered, meaning stocks are being replenished. The ongoing protest activity is affecting some deliveries, but disruptions are localised and short-term only. The industry is working hard to ensure fuels are being delivered as quickly as possible."
Arrests continue
The protests by anti-fossil fuel groups Just Stop Oil and Extinction Rebellion, which began on April 1, continued over the weekend, with police officers continuing to make arrests. Since the protests began, officers in Essex have made 356 arrests with the cost to the force 'in excess of £1m' and Warwickshire Police said that a further 29 arrests have been made this weekend in connection with ongoing protests at Kingsbury Oil Terminal taking the total number of arrests to 180 since the protests began.
Those in custody have been arrested for offences including criminal damage, conspiracy to cause criminal damage and conspiracy to commit public nuisance in what Assistant Chief Constable Ben Smith described as 'another busy weekend' for the force.
Potentially catastrophic behaviour
After more than 20 protesters arrived at Exolum Storage in Grays, Essex on Sunday morning, Assistant Chief Constable for Essex Police, Glen Pavelin, said: "We cannot stand by while criminal acts are being committed, and lives are being put at risk, in the name of protest.
Rachel Nolan, also Assistant Chief Constable for the force, added: "As the protests enter their second week, I and my colleagues, want to reiterate that we are not anti-protest.
"But we have been dealing with people who are trespassing into restricted areas holding flammable chemicals, posing dangers to themselves and others and its totally unacceptable.
"Their risky behaviour cannot be allowed to take place in such critical locations which could be catastrophic if there were accidental or deliberate actions causing leakage or fire.
The PRA's executive director Gordon Balmer said that despite the action at depots such as Kingsbury, Grays and Buncefield, he didn't believe there were a lot of shortages on forecourts, as everyone was focused on minimising any disruption to supplies: "We are aware of protests at several fuel supply sites; however, the majority are unaffected.
"Fuel suppliers are working hard to ensure fuels are being delivered as quickly as possible and our members are working closely with them and following their advice."
Is your supply being impacted? Contact margaret@fueloilnews.co.uk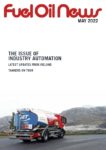 This article originally appeared in the May 2022 issue of Fuel Oil News magazine.
View the magazine