Planning to maintain success – Road Tankers Armagh
"It has been another unbelievably busy year," reports RTA's Mark Skelton. "For us, as always, it's all about ensuring top quality builds and meeting delivery times. Despite all the challenges faced over the last couple of years it seems that the industry need for new tankers knows no limit, which has certainly kept us on our toes, but I am extremely proud to say that, for the whole of 2021, we didn't let a single customer down on delivery times."
"With our order books for both 2022 and 2023 already filling rapidly, we are doing what we always do to ensure we maintain our record of delivering to time. We are aware of challenges in the supply chain, with chassis delivery a particular issue which is common across the market, as well as unpredictable problems with supply of some parts. But our premises allow us to keep a good level of stock holding of genuine original manufactured spare parts which has enabled us to increase production, reduce lead times, and more importantly fulfil our customers' needs.
"When it comes to tanker orders, we pre-order everything that is needed to fulfil our commitments, and this is why it pays to get orders in early. The days of ordering a chassis and getting it built in the same year are proving to be more and more difficult and we are already seeing a rapidly filling order book for the year ahead."
"One of our most recent deliveries was a 20,000 litre, 5 compartment, BLVR aluminium, 6-wheel road tanker to Tinney's Oil. Equipped with a full Emco Wheaton package and built to ADR standard, the tanker is finished in Tinney's unmistakeable red livery."
The phrase springs to mind 'If you fail to plan you plan to fail' and it's clear that the team at RTA plan everything very carefully to maintain their 100% record of meeting delivery times and surpassing expectations.
Exceptional – RTN Group
The RTN Group offered a very positive update: "We enjoyed another exceptional year in 2021 with investment in our new websites. The old website was a little outdated and not mobile friendly which is extremely important to our export customers, so a new, modern website has been custom designed with input from our sales team and is now available to view at www.rtnltd.co.uk
"We have also launched a new parts website so customers can now log into www.rtntankerparts.com and order any one of 800 tanker parts from air fittings up to hose reels."
On the sales side, Adrian Mason, retail sales executive, was pleased to report: "2021 was another very strong year and 2022 has followed suit with orders already into 2023 for rigids. Trailers have some availability for later this year with potential of some stock builds.
"Price fluctuations and availability of raw materials have, again, made pricing extremely difficult, especially when quoting for 2023 builds, but our parts team are working closely with suppliers to keep production flowing without affecting quality.
"We are excited to be exhibiting at this year's UKIFDA Expo 2022 which marks the return of some sort of normality to the industry so call over and say hello."
Best year to date – Cobo Tankers and Services
"Cobo Tankers and Services continues to grow in market share and 2021 has proven to be our best year for tanker deliveries to date," comments Joby Clark. "The semitrailer market has remained strong. With more people working from home during the pandemic there may have been a slight decrease in fuel used, but this has been made up for by the amount used for home heating and this has been seen with orders of rigid tankers increasing.
"Now having taken our 4th or 5th orders from some customers, these rigid tankers are being well received into the marketplace and not only by customers – we are also thrilled to have won the Fuel Oil News Tanker of the Year 2021.
"With no customer visits happening for the last 2 years we are hoping to be able to start these soon and showcase the factory and to continue to grow our customer base."
Meeting specialist demands – Volvo
Petrochemical transportation requires maximum safety and payload, whilst responding to a demanding set of operational safety standards. The Volvo range boasts some of the most versatile trucks on the market, from the 10-tonne FL to the 44-tonne FH. With a range of cab styles and high load capabilities, all vehicles can be configured in chassis layouts from a 4×2 to an 8×4. Add to this engine options from 210hp to 750hp, together with the industry leading I-Shift automated or I-Shift dual clutch transmission and you will find a model to suit every aspect of the tanker market.
All Volvo FL, FE, FM and FH vehicles are available with a factory-fitted ADR package and can be further supplemented locally with a safe loading pass package to meet these unique UK demands. With additional options including factory-fitted PTO's and pumps, Volvo can meet specialist requirements across a vast range of applications. Tanker manufacturers can have access to the rollover stability calculation programme to verify the complete vehicle for ADR on the Volvo body builder website.
As all sectors of the industry struggle to employ and retain drivers, Volvo can also offer the market-leading I-Shift gearbox on FE, FM and FH models.
Are you a distributor looking to expand or update your fleet or a tanker manufacturer working to meet demand? Let us know your thoughts on the market: margaret@fueloilnews.co.uk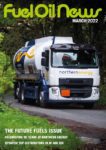 This article originally appeared in the March 2022 issue of Fuel Oil News magazine.
View the magazine