One company that has witnessed huge changes over the years is Tyne & Wear-based, Par Petroleum. "The industry as a whole has changed," says managing director, Leanne Hardy. "When we started 30 years ago, a typical fuel distributor was independent and operator- owned. Large company acquisitions changed the structure of our industry and, today, most fuel distributors are large companies with multi-site operations. The increased legislation affecting fuel depots could have partly fuelled this change.
"In a world with far greater accountability, depots nowadays are typically cleaner, more environmentally secure and safer places to work. And standards tend to be more consistent through the country; it's commonplace for a distributor to be audited regularly by customers, suppliers and third parties such as UKIFDA."
Ford Fuels' depot manager, Rob Robinson, is based at the company's Gloucester depot, but also manages its Prestigne, Defford and Finmere sites. In his six years at Ford Fuels, he's also noticed a sizeable shift at depot level: "During my time, more emphasis has been placed on energy overall, rather than just supplying an individual fuel. The period of change is in the here and now and will continue for many years."
UK-wide, there are numerous reports of new depots opening and of existing ones being decommissioned as the sector consolidates, but how is this affecting businesses at ground level?
In the North East there are very few new wet depots being established, as Leanne explains: "In our region we are seeing new start-up businesses, but rarely with wet depots. Decommissioning of sites is commonplace due to acquisitions and consolidations and these sites are costly to re-commission due to the rate of change since they have been mothballed."
For Rob, the number of depots owned is not always an accurate reflection of the size of the business or, indeed, the sector as a whole. He believes that "all businesses are looking to work smarter, utilise technology and continue to grow."
The dream depot
That said, the statistics don't lie, and new depots are springing up all the time. So what do distributors look for in a new depot?
"The basic requirements for a fuel depot are standard across the board – bulk fuel storage, loading facilities and delivery tankers," says Rob. "Big considerations would be the supply of product to the depot and positioning a depot that has multiple options."
Leanne agrees that location is key but adds that there can be fierce competition for the best sites: "Space in the UK is at a premium, with house building very much taking priority on brownfield sites. A distributor would typically look for a strategically located site, close to transport links, as would a housing developer."
And when it comes to depot equipment, Kiran Shaw, director of sales and operations at IFC Inflow, believes there is a simple tick list of essential items that every distributor needs: "A reliable electronic bottom loading skid, an accurate electronic tank gauge, a bunkering dispenser with fuel management and a depot automation system."
For Liquip owner, Mike Green, other must- haves include "fully-approved, safe, easy-to- operate loading arms, earth overfill equipment, like our RM140E, which has been in the field since 2010, robust and accurate three and four inch PD meters and electronic presets".
The role of the depot manager
Every depot (new or old) needs a good manager, but how difficult is it to get the right fit?
Recruiting a new depot manager is always a challenge, even more so in the current climate, but could the answer be promoting from within?
Leanne certainly thinks so: "The role of a depot manager differs greatly from company to company depending on the size and structure of the business. With our background as a family business, the depot manager role, historically, would sit adjacent to the management of the company as a whole. As we grow, we have actively started to create a company structure which supports existing team members to develop their skills to become future depot managers, but this is a time- consuming approach.
"A good depot manager needs to have a strong understanding of the products and processes. He/she can learn to work to systems and processes, however it's still essential that they can manage the team within the depot."
For Rob it's all about choosing the right person: "Finding a depot manager is not a significant challenge: finding a capable depot manager who can perform to a high standard, is much more of a challenge.
"There's no substitute for experience. Academic or theory-based training will provide a base level of knowledge, but no amount of training can prepare you for a pandemic, crisis or an emergency. A manager should have
an adequate understanding of all aspects of the business for which they are responsible. Managers start their training in other roles, possibly in other industries, and draw upon their own experiences when they step into the role."
And when it comes to skills, Rob considers that: "Utilising a combination of skills is far more important than being biased towards a particular skillset. Salespeople who have no consideration for operations create challenges for a business, as do operations people who have no consideration for sales.
"A depot manager needs to be aware of these challenges and how they affect the day- to-day running of the depot. The directional focus of a depot should change according to the needs of the business and its customers, and a depot manager must have the ability to make these changes without affecting the fluid running of the depot."
Equipped for change
And it's not just depots that have changed, equipment has also evolved massively over the last twenty years.
At IFC, Kiran has seen "a noticeable shift towards electronic loading skids". He says: "When I first started in the industry, almost all the skids we supplied were fitted with mechanical registers and paper ticket printers. This year 80% of the skids we built were fitted with electronic pre-set controllers. And the same can be said for our provisions of tank gauging and bunkering dispensing systems. These systems have become electronic, with remote capture of the data and online access to it now becoming standard."
Mike Green agrees, citing the transition from top to bottom loading and mechanical to electric presets, as the two biggest changes in the depot equipment industry. "Bottom loading is far safer than top loading, while electronic presets such as our Vega T offer so much more in terms of security against theft, accounting reports, driver identity and transactional history."
For Kiran there are several factors behind these developments – the need to future-proof sites, integration with accounting and stock management systems, and added security. "Many distributors recognise that their businesses will face changes in the coming years. So, when making long-term investments such as buying a new skid or upgrading equipment, it's best to choose a system which will be able to adapt to any changes that come along.
"Electronic skids can give accurate electronic data on fuel movements between bulk storage tanks and road tankers. This provides essential information for wet stock management. They also provide added levels of security including pin code access and the capture of driver and vehicle data."
Reliability is also a big focus for depot owners. "The old-style mechanical registers are prone to wear and tear in winter-weather conditions, causing issues such as frozen buttons, moisture in the printer head and tickets getting stuck, all of which can prevent them from working properly."
Driving innovation
Product development is also driven partly by customer demand.
"New products take a long time to bring to market and the improvement of existing products is led by customers where possible," comments Mike. "The development of our Lynx bottom loading coupler was a direct result of questions to customers worldwide. The result was the lightweight, very easy-to-service simple coupling, which uses a stainless-steel outer cover to give a robust long-lasting coupler. The Liquip LBM800 loading arm has been given a much longer reach of up to 2.7m by using a double bearing arrangement for more rigidity. This was customer-led to allow greater freedom of movement for tanker drivers between tanker barrels and electronic presets in main terminals."
At IFC, product innovation is often a result of thinking ahead: "While we try to always fulfil the needs of our customers, often innovation means bringing customers solutions they didn't know they needed," says Kiran. "So, while progress in technology is definitely driven by customers wanting more from their equipment, innovation is driven by new ideas and fresh thinking at a manufacturer or distributor level."
It's also driven by the need to be more environmentally conscious. "The industry is moving towards low carbon fuels, such as HVO, and we are ensuring that our loading skids and bulk fuel transfer equipment are all HVO ready," says Kiran.
At Ford Fuels, Rob is also looking ahead. "There are significant changes on the horizon, be that through duty or emissions. HVO is a product we have bought into. It offers customers a choice for a fuel that is greener than more established products."
Rising to challenges
But the move towards future fuels isn't without its problems as Leanne points out: "Expanding depot storage is, in itself, a challenge due to space and planning restrictions. It is frustrating that more public sector support and encouragement is not available to help distributors to harness future fuels and rise to the challenge of a smooth transition for the customers who remain reliant of liquid fuels. Throughout this transition, traditional and future fuels will need to be stocked side by side, meaning extra storage and more loading arms."
And this is where the equipment suppliers come in. "We have built a lot of skids this year with extra space for an additional product, giving the site the flexibility to accommodate new products," explains Kiran. "Customers
also want to control their stocks more closely and remote access via web-based software is becoming increasingly common. Depot automation software, which can combine tank gauging, tanker loading and bunker dispensing to provide a complete view of the site's wet stock is also becoming more popular.
"The industry is facing challenges in the coming years with changes to fuels and energy supplies. It is encouraging that our customers are facing these challenges head on and continue to invest in new equipment for their depots. To support this, we are committed to developing our products to ensure we continue to provide the solutions that our customers need."
Have you invested in a new depot recently? We'd love to hear from you. Please get in touch with: liz@fueloilnews.co.uk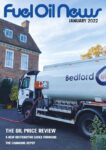 This article originally appeared in the January 2022 issue of Fuel Oil News magazine.
View the magazine