Elizabeth will be joining from Logistics UK, where she has been director of policy since 2017 having held previous roles at the Rail Delivery Group and the Department for Transport.
Responding to the appointment, Elizabeth de Jong said: "I am delighted to be joining the UKPIA team and our growing membership as its new chief executive. Society at large is going through a historic change with the need to deliver new, sustainable ways of working. UKPIA supports the Paris Goals, and our members are already on the path towards net zero.
"As my predecessor made clear, by working collaboratively with all our members, government, and other sectors, there is a significant and positive role that UKPIA's members can play in delivering the transformation needed to reach net zero. I look forward to building on the progress already made to encourage a competitive, reliable and ultimately transformed downstream sector."
A changing downstream sector
Stephen Marcos Jones said "I am confident that Elizabeth will be an excellent leader for UKPIA. The role of the downstream sector is changing and the opportunities and challenges for the sector to be part of the solution to net zero are clear. I look forward to seeing how UKPIA and the sector will continue to play a central role in delivering a net zero carbon UK economy."
Darren Cunningham, UKPIA President, general manager of Humber Refinery and Phillips 66 lead executive in the UK said: "We are excited for Elizabeth to join us. UKPIA's members and I look forward to working with her at such a challenging time for the industry. She brings a wealth of highly relevant experience including working with and in government. Elizabeth will lead our collaboration work with policymakers to provide an attractive investment environment. It is vital for us that government offers certainty and the right policy levers if we are to make the energy transition a smooth one."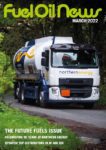 This article originally appeared in the March 2022 issue of Fuel Oil News magazine.
View the magazine