RTN was founded by Frank Newell in 1991 with little more than a small office and telephone, rapid growth followed. By 1993 the company was building over 80 new road tankers a year and RTN is now the UK's leading tanker manufacturer, making over 450 tankers a year.
A new venture for an established business
The launch of RTN's Tanker Parts website sees Frank and his sons move into their next venture as RTN expands its offering. This three-generation family business has over 40 years' experience of tanker building, and RTN is the UK's largest supplier of Petroleum and LPG tankers.
Solutions for sourcing unidentified or obsolete parts
The website offers thousands of parts for petroleum and LPG tankers and creating an account is simple. The unique parts identification feature allows you to send the highly knowledgeable sales team a picture of an unidentified part to source for you.
The dedicated parts sales team has over 60 years' experience within the industry which means that their knowledge for not only identifying parts but also offering alternatives for obsolete items is second to none.
RTN Tanker Parts carries a wide range of parts in stock, from all leading manufacturers, to minimise tanker downtime and, by leveraging relationships with the manufacturers and buying in bulk, offers extremely competitive prices.
Looking ahead, RTN have plans to grow the site further in the coming months, by adding parts for ADR and PED Vacuum Waste tankers.
For more information or to purchase tanker parts head over to the website or contact sales@rtntankerparts.com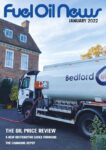 This article originally appeared in the January 2022 issue of Fuel Oil News magazine.
View the magazine