Commenting on the new Transport Decarbonisation Plan (TDP), Kevin Bell, transport and infrastructure partner at law firm Womble Bond Dickinson, comments: "The Government's ground breaking and world first 'greenprint' launched today details plans to decarbonise all modes of domestic transport and sets out a pathway for the whole transport sector to reach net zero by 2050.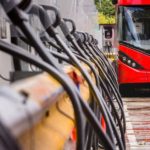 Part of the Prime Minister's Ten Point Plan, the measures look to achieve cleaner air, healthier communities, and new 'green' jobs through:
Consulting on ending the sale of all new polluting heavy goods vehicles by 2040, with a commitment from the Government to electrify its own entire fleet of cars and vans by 2027 (three years earlier than previously planned)
Creating a net zero rail network by 2050
Leading the transition to green shipping
Targeting net zero domestic aviation emissions by 2050, supported by the recently announced £3 million Zero Emission Flight Infrastructure competition to boost the development of infrastructure for electric and hydrogen aircraft
Support from the industry
In response to the release of the TDP, the downstream oil sector – the supplier of 96% of the UK's transport fuels – confirms its commitment to working with the UK Government to decarbonise the transport system, recognising that the carbon footprint of transport emissions extends far beyond what is emitted from a vehicle's tailpipe.
The announced changes to the Renewable Transport Fuels Obligation (RTFO), will see a steady increase in renewable fuel content blended in fuels throughout the 2020s, which UKPIA supports, with the association welcoming the announcement by DfT to develop a strategy for low carbon fuels. UKPIA sees the opportunity for low carbon fuels to reduce emissions with today's vehicle fleet, making efficient use of the strong existing infrastructure in the supply chain, while infrastructure for EVs and hydrogen vehicles is developed.
In March, UKPIA released its "Future of Mobility in the UK" report, which outlined the significance of the downstream sector as a major contributor to decarbonising transport. Pivotal to reducing emissions in the transport sector will be a systems-based approach to decarbonisation as well as a fundamental paradigm shift in how we use transport.
UKPIA director-general, Stephen Marcos Jones, commented: "UKPIA member companies are already developing and retailing products vital to reaching net zero in transport. Whether it be the millions of litres of biofuels supplied, equivalent to removing 2.5 million cars' emissions per year, producing graphite for electric vehicle (EV) battery production, or the development of sustainable aviation fuels – the downstream sector is already contributing to lowering transport emissions.
"Today's recognition by the DfT of the significant role that low carbon fuels will and must play in the decarbonisation of transport is welcomed. With the announcement of a much-needed strategy for low carbon fuels, this feels like a watershed moment for the future of low carbon fuels in this country and we look forward to working with DfT on the strategy's development.
"UKPIA and its members know that a range of technologies – including EVs, hydrogen and low carbon liquid fuels – have a major role to play in the future of transport provision. We will continue to work in partnership with the UK Government to ensure that policies support an efficient and timely transition based on a full lifecycle assessment of decarbonisation options."
Enthusiasm in the industry
Kevin Bell commented: "There seems to be a great deal of enthusiasm and optimism around new technologies to allow for emission-free travel in the not so distant future. Companies like Velocys, for example, are already leading the way in innovation that enables sustainable fuels made from waste materials to be used for aviation and heavy goods transport.
"The Transport Decarbonisation Plan should also be seen as good news for airports who will be pivotal in the journey towards net zero and will undoubtedly continue to be important economic wealth generators if sustainable methods of air travel can be developed quickly. There is no mention of stopping airport expansions or capping growth in passenger numbers. Instead, the Secretary of State has commented 'It's not about stopping people doing things: it's about doing the same things differently. We will still fly on holiday, but in more efficient aircraft, using sustainable fuel.' Forgive me for suggesting, however, that our airports would be happy for any flights, at the moment.
"Originally planned for 2030, the proposed phasing out of the sale of new diesel and petrol heavy goods vehicles is now expected for 2040, and this delay may underline the challenges electric vehicles currently present in terms of range and distance (particularly when considering that freight trucks may be required to run for eight to twelve hours a day, across varied routes and environments). Perhaps this points to hydrogen as a more realistic option for the future?
A good start
Whilst agreeing that the TDP has laid out the plans to drive forward the Government's net zero mission, other sectors relying on the outcome of this plan highlighted areas for improvement.
Eamonn Ives, CPS head of energy and environment, said: "The Transport Decarbonisation Plan was a great opportunity to drive forward the Government's net zero mission. Some of its policies were certainly welcome and have been long-standing CPS policy proposals. The promised consultation on reforming the Bus Service Operators Grant, for example, could and the subsidy penalty against hydrogen or electric buses.
"But the Plan missed the chance to test other initiatives. Road pricing was the notable omission. This would be a much fairer and more efficient way to tax motoring, while also cracking down on carbon emissions and air pollution, as people are incentivised to switch to zero-emission vehicles.
"It's good to see the Government thinking boldly about how to deliver a cleaner, better transport system. The Plan gets us part of the way there, but conspicuously avoids other challenges which lie on the horizon."
Kevin Bell concluded: "The Transport Decarbonisation Plan is an important part of the UK Government's rapidly accelerating decarbonisation agenda. Transport is believed to be the single biggest contributor of carbon dioxide emissions in the UK and the plans announced today need to be lauded as they seek to make the UK a hub for green transport technology and innovation.
"However, there seems to be much reliance on the development of new technology and whilst new 'green' innovation will no doubt continue to materialise over the coming years, the Government still needs to focus on how the UK's power grid infrastructure will deliver the extra power required to deliver these ambitious plans without reliance on fossil fuels. Otherwise, we run the risk of stalling when we should instead be putting our foot on the accelerator."