North West fuel supplier Crown Oil is now running its entire fleet on renewable diesel fuel as it commits to reduce its direct CO2 greenhouse gas emissions by 90 per cent.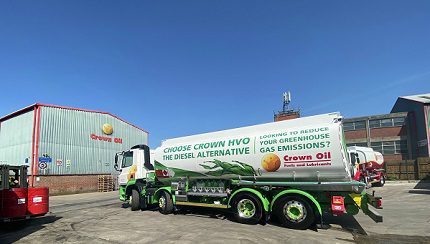 The Greater Manchester business, part of the £420m-turnover Crown Oil family of companies, believes it is the first supplier in the UK to run all of its oil delivery vehicles on hydrotreated vegetable oil (HVO).
Crown Oil, based in Bury, has now called on the UK government to introduce tax relief on fuels such as HVO to encourage greater uptake.
The family-owned business predicts a saving of around 3,080 tonnes of CO2 in 12 months from running its 85 delivery vehicles on HVO compared to standard diesel. To put this into context, one tonne of carbon dioxide is the average emission of one passenger on a return flight between Paris and New York.
Crown's fleet is made up of HGVs, pickups, trailers and vans which are all approved to run on HVO fuel without technical adjustments or any reduction in vehicle performance.
HVO offers a fast and simple step towards net zero without the need for electrification or vehicle modifications, reducing net CO2 emissions by 90 per cent and nitrogen oxide emissions by up to 27 per cent.
Managing director Matthew Greensmith said it was important for Crown Oil to set the standard as it aims to become the UK's leading alternative fuels supplier. The move showcases the fuel's ability to perform faultlessly as a diesel alternative, he said, and will enable the business to significantly reduce its direct greenhouse gas emissions.
Matthew said: "We can't expect others to make a change without leading by example, and we're proud to run our entire fleet on HVO.
"We believe we're currently the first and only UK supplier to power our vehicles with the renewable diesel and we hope it encourages businesses to go green with their fleets too."
Since heavily investing in HVO in 2018, Crown's customers have saved 18,945 tonnes of CO2 by switching over to the renewable diesel. Crown HVO can be used in vehicles, commercial boilers (running on gas oil), tractors, generators, machinery and inland waterway vessels.
The oil supplier is pioneering change within the industry and has called on the UK government to follow the example of Sweden by introducing duty relief on fuels such as HVO to encourage uptake.
Matthew added: "When it comes to reducing greenhouse gas emissions, we hope the government will adopt a multi-point strategy to include the use of high-content renewable fuels in addition to the development of the electric vehicle market.
"In 2017, the Swedish government passed a bill that enabled biofuels to be subject to tax exemption, which led to a 124% increase in HVO sales in October 2017 compared with the previous year.
"The UK government is planning to scrap red diesel duty relief for many sectors from 1 April 2022 to encourage the use of cleaner alternatives and we are calling for duty relief on fuels such as HVO to help encourage uptake."