The January issue of Fuel Oil News magazine looked at the evolution of tanker design and production. Here, we look ahead and consider the future of the tanker and how it may change to reflect the changing face of fuel.
Previous feedback strongly suggested that there haven't been any significant changes for some time as Dave Rowlands, technical services director, Wincanton, confirms:
"There have been no ground-breaking changes for some time now, however there have been step changes embracing technology and product development which are slowly evolving the blueprint."
Despite there being few significant design changes, Adrian Mason of Road Tankers Northern spoke to us to explain the continuous review of its manufacturing and design processes:
"We are always looking at improving the manufacturing and design of our tankers working in collaboration with our partners; Sheffield Hallam University, the Welding Institute and the Department of Transport. Over the years we have continually looked to improve our tank designs from what is already a well-respected product.
"One example of this is our unique ring-design rigid tanker driven in part by the HSE's strict enforcement of the Manual Handling and Working in Confined Spaces regulations means that we can now build a rigid tanker which is part assembled by CNC machines and then automatically welded by computer-controlled welding heads.
"The end result? A robust tank design that we have no hesitation in giving an enhanced warranty to, designed to withstand the toughest operating conditions and reduce downtime to a minimum when compared to existing methods of tank construction."
Now we look ahead and consider the future of the tanker and how design and production may change to reflect the changing face of fuel.
Despite the recent challenges, the future looks busy
Ben Firth, Tasca Tankers commented on how the company continued to produce during the challenges of last year:
"2020 was an extremely difficult and challenging time for everybody and at Tasca Tankers, it was no different. Having the majority of our workforce furloughed, to protect the health and safety of employees and customers, had an impact on production. However, over the 12 months of 2020 the hard and dedicated work of all involved at Tasca meant that the number of new vehicles produced and delivered to our valued customers dropped by just 10%.
"Our order book represents the quality of build we pride ourselves on here at Tascas, with 2021 and 2022 shaping up to be as busy, if not busier than previous years. Both existing and new customers are placing orders knowing the current lead times, but also safe in the knowledge that the product they receive will be the best on the market. We are grateful for the understanding shown by customers during the unprecedented times we are all experiencing, and we assure them that we are working hard to keep up with the demand on new vehicles."
Mark Skelton, Road Tankers Armagh, also commented on a challenging yet successful year:
"Despite the obvious challenges, 2020 was a good year for Road Tankers Armagh. We continued to produce and fulfil orders whilst keeping the safety of our customers and staff at the forefront of operations.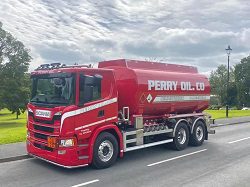 "In terms of future changes for tankers, we expect it to be less about design and more about the products transported. As always, we look forward to working with our customers to achieve their specifications with prompt delivery time and continue to look ahead to more 'normal' times."
Commenting on how last year impacted on methods of communication, Joby Clark, Cobo Tanker Services, told Fuel Oil News about success and growth amidst the challenges of last year:
"With no visits to the factory last year we had to rely on electronic communication to ensure the new tankers we built were completed to customers specification and also for the correct builds for the equipment fitted. Whilst this was a challenge, we proved it possible and had a very successful year bringing on more new rigid tanker customers and a good year for semi-trailer builds as well.
"The rigid tanker program was highly successful last year, and many new customers were brought on board with repeat orders being placed already for this year. Our customers in the home heating oil business also generally had a good year and this will probably be reflected in new truck orders for 2021, whilst we envisage that with less personal car travel the semi-trailer market will be a little quieter this year.
Implications of alternative fuels for vehicle certification
When reading submissions for Tanker of the Year, it was interesting to see several tankers not only built to transport alternative fuels but also fuelled by them.
Duncan Seaman, field sales engineer, Volvo Trucks comments:
"LNG, as a power source, has been recognised in ADR for some time. This, along with the Economic Commission for Europe of the United Nations (UN ECE) regulations, allow us as manufacturers to type approve and register these powertrain vehicles for the carriage of dangerous goods.
"The relevant UN ECE regulations that are required are:
Reg. 110 for the approval of: I. specific components and installation of motor vehicles using CNG and/or LNG.
Reg. 105 for the approval of vehicles intended for the carriage of dangerous goods with regard to their specific constructional features.
"Therefore, as a manufacturer with a current recognised conformity of production, we are permitted to build and issue certificates for these vehicle types."
Duncan continued:
"We are also working with the Safe Loading Pass user group who are, in turn, working with the Energy Institute Road Tanker panel, to have what most are calling "alternative drivetrains", such as natural gas powered vehicles, recognised for loading at fuel terminals, as there is an acceptance that these vehicles are likely to become more mainstream in the coming near future.
"There has been an assessment study carried out on the risk and impact of such vehicles entering and working within hazardous storage locations. For example, electric powertrains are being assessed, again it is likely only those built and approved to UN ECE Reg. 100 for the approval of vehicles with regard to specific requirements for the electric power train, will be considered.
"In all cases, how these types of vehicle will be able to be adapted to suit the fuel collection and delivery operations will need more partner involvement. For example, we have already had LNG tractor units adapted to the Safe Loading Pass scheme build requirements, but now await to see how these will be able to be issued with an actual pass for loading."
Looking ahead
Speaking on the biggest developments to happen in tanker production, Dave Rowlands, WIncanton highlights:
"ADR, type approval, advancements in manufacturing processes for production quality and efficiency, use of specialist steels such as Xtral and Duplex, introduction of seal and gasket materials more compatible with a wider range of modern fuels/blends. In terms of future developments, traction will follow the lead. Tanker development may embrace the use of alternative methods to power pumping and discharging systems for offloading."
Joby considered how the future is looking from Cobo's point of view:
"For the next few years we feel we are likely to see a trend that the semi-trailer market will not be quite as buoyant as the drive towards EV and other fuel sources for transport moves the fuels transport from traditional petroleum semi-trailers to LPG and LNG. As this develops, we see a plethora of vehicle types with the vehicle being specified for a specific function i.e battery for city centres, gas for fridge and general A to B haulage and diesel for 44 tonne loads eg sugar, cement etc. We also have to remember that for these vehicles we will also need diesel power to enter the refineries to avoid spark ignition engines."
We look forward to continuing our conversation with Joby about the broader developments at Cobo Tanker Services in our March issue but, in a final comment on the possibilities of changing tanker design, Joby concluded:
"We don't think there will be any major changes to the tanker design, I think that the metering systems for rigid tankers will be more integrated into trucks with CANBUS. There may be certain aspects of some tankers that are standardised in some European countries that we see – such as doors over API's that we may start to see for some customers but generally we feel tanker design will stay as is."
Keep up to date with the latest fuel oil industry news and receive our print magazine directly to your door. Subscribe here.