Following the publication of a report by the Sustainable Energy Association (SEA) UKIFDA is looking forward to "digesting the detail" and "working with SEA on lobbying government to engage on these plans"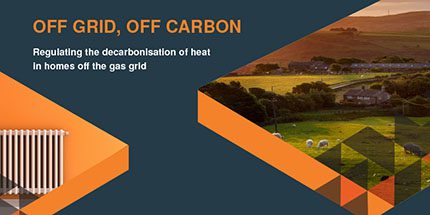 Calling on the government to bring in a 'carbon intensity standard' for the UK to drive down emissions in heating, the SEA report 'Off Grid, Off Carbon: Regulating the Decarbonisation of Heat in homes off the gas grid' followed a consultation with industry stakeholders. It outlines the benefits of introducing a carbon intensity standard for heating within the Buildings Strategy allowing for carbon reduction to be achieved by a combination of means including insulation, installation of new technologies or replacement fuel solutions, depending on consumer choice and situation.
The proposed standard would be administered at industry level and encouraged through a range of enablers to facilitate its introduction including rebalancing fuel duties, customer incentives and a robust enforcement framework. SEA argues that, together, these would complement energy efficiency improvements and encourage greater uptake of insulation and low carbon heating systems in a way that guarantees lower carbon emissions while also maintaining consumer choice.
It is this focus on the customer that ties in with the approach of UKIFDA. Representing a distributor membership that delivers over 70% of the domestic heating oil in the UK and Ireland UKIFDA accepts the need to decarbonize but is also lobbying for a customer focused transition plan emphasizing the need to achieve significant carbon reduction without putting unseasonable measures and costs on off gas grid homeowners which could lead to fuel poverty for many.
Highlighting the SEA report, CEO of UKIDFA Guy Pulham stated; "We are currently digesting the detail but the idea of a customer focused transition plan for oil heating ties in with our own consumer focused blog and our commitment to ready our part of the supply chain for increasing percentages of biofuels in the 2020s.
Collaborations
A collaboration at the start of 2020 between trade associations OFTEC, the Tank Storage Association (TSA) and UKIFDA showcased a future vision for liquid fuels which detailed steps to be taken toward a transition to 100% biofuel to replace heating oil in 1.5m homes across the UK and 686,000 homes across Ireland, reflective of SEA's vision for replacement fuel solutions as one contribution to carbon reduction.
In the light of the ongoing challenge of heat decarbonization Guy comments; "I look forward to working with Sustainable Energy Association on lobbying government to engage on these plans"
Jade Lewis, Chief Executive of the Sustainable Energy Association commented; "This report is a demonstration of how industry can collaborate to tackle some of the greatest challenges ahead of us, and there is no doubt that heat decarbonisation is one of those.
"At a time of great uncertainty is it paramount that regulation is introduced to provide confidence and stability so that investors and manufacturers of low carbon heating systems can scale up investment and production, encourage innovation, and upskill the workforce."
She added: "The SEA is hopeful that the proposals put forward will influence Government plans to decarbonise the UK's building stock and ensure that homes are fit for the generations to come."