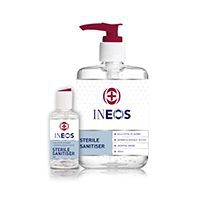 With the country facing a critical shortage of hand sanitisers INEOS, Europe's largest producer of the two key raw material needed for hospital grade hand sanitiser, is to build a UK factory, and one in Germany, within the next 10 days to produce one million bottles of sanitiser per month with product being free to hospitals. 
Concentrating on meeting the needs of front line medical and care services, INEOS, intends to produce both standard and the increasingly popular 'pocket bottle' hand sanitisers and is already talking to retail outlets across Europe. Supplies to NHS hospitals will be free of charge for the period of the crisis with the public being able to purchase bottles through retailers.
INEOS takes its corporate and social responsibilities extremely seriously, its products are essential to the production of essential healthcare products from rubber gloves, to PVC saline drips, syringes, ventilators, medical tubing. Its products purify the public drinking water. It produces raw materials for soap, acetone for aspirin and paracetamol, and its phenol is being used in pharmaceutical analysis essential in procedures necessary to find a vaccine.
Sir Jim Ratcliffe, founder and chairman of INEOS said:
"It is becoming increasingly clear that hand to mouth infection is a significant cause of Coronavirus contagion.  INEOS is a company with enormous resources and manufacturing skills. If we can find other ways to help in the coronavirus battle, we are absolutely committed to playing our part."
For more information please go to our website: www.ineoshandgel.com