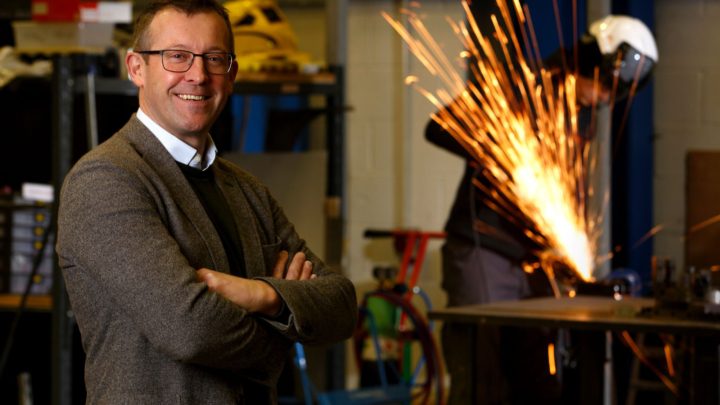 Hampshire startup, Caldera has developed a unique type of heat storage system, which takes cheap on-site solar power and stores it as heat in specially designed cells made of scrap aluminium and volcanic rock.
These cells then deliver heat when required as hot water or steam, the main energy source for many processes in pharmaceuticals, food manufacturing and brewing.
This allows businesses to switch off high-cost gas and electricity and use cheap on-site solar instead.
Save money on fuel bills
Independent analysis by energy consultants, Gemserv shows this system could slash fuel bills by 45%, saving a typical business hundreds of thousands of pounds a year.
The calculations are based on a real-life British food factory using its own on-site solar array, where Gemserv predicted an annual energy saving of £915,000 and a reduction of more than 1,000 tonnes of CO2 emitted per year. Installation of the system could pay for itself in less than six years, according to the analysis.
In June, Caldera was awarded £4.3 million from the UK Department for Energy Security & Net Zero to build a full-scale demonstrator at their Southampton site, where they will showcase the technology.
The company is currently crowd raising on Crowdcube and has already surpassed 150% of their target raise.
Low-cost solar
"Energy bills are a major headache for industry, and in particular the high and volatile price of gas," explains company co-founder and CEO James Macnaghten.
"In contrast, solar power is getting cheaper by the month. Our technology allows factory owners to use low-cost solar electricity which can be stored in super-insulated cells to be used when required."
Caldera has targeted its technology at factories which use industrial steam – which accounts for 31% of all UK industrial energy use.
"Many businesses have not yet realised the huge potential for installing a dedicated solar farm – even where little roof space is available," adds James.
"It's often possible to lease land for a solar farm in the vicinity and run a dedicated cable – known as a 'private wire' – for a kilometre or more to the industrial site. In our case study, the food factory plans a 7MW solar array on land nearby.
"Our system completely bypasses the need to connect to the grid, which can take years, and means the factory owner can generate and use all of their solar energy at cost.
"This transforms the economics of solar power and gives the site owner price certainty over decades, allowing manufacturers to focus on their core business, and not on the price of gas.
"This Gemserv report backs up our own internal findings. We believe the widespread adoption of Caldera's industrial heat storage system would bring significant benefits to many British manufacturers and could have a major positive impact our net zero ambitions," James concludes.
Inside a heat cell
Each heat cell houses a solid core of aluminium-rock composite encased in vacuum insulation which can store heat at temperatures from 200 to 500C.
These modular cells can store this with very high efficiency for hours, ready to deliver heat on demand at temperatures between 80 to 200 C – the sweet spot for many industrial processes.
This allows industrial users to capitalise on super-cheap solar energy, which can be generated on-site (or on land nearby) and stored ready for use when required.