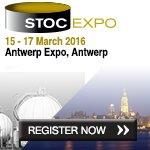 Ensuring visitors get highly relevant local content plus a global perspective speakers will include Karl-Heinz Schult-Bornemann, assistant professor at the Otto-von-Guericke Universitat who will take a look at the global energy outlook and fracking, whilst Earl Crochet, director of business development at Kinder Morgan, will update attendees on terminal operations in North America.

The future of Fujairah as an oil and trading hub will be presented by Muthukrishnan Prabakaran, global head of terminals at Gulf Petrochem. He will also look at the potential for crude storage growth and major refining projects in the Middle East that could impact demand.

Interesting times for the storage market – what next for 2016? will be the topic of Boudewijn Siemons, managing director of Vopak Belgium whilst Charles Smissaert, managing director at Botlek Tank Terminal, will consider whether there is Still room for growth in Europe.

Delivering safety content will be Sandra De Bont, executive director at VOTOB and Mike O'Brien, head of marketing at Newson Gale, who will present the latest European (2015) and US (2014) guidance for preventing fires and explosions caused by static electricity. Ahmet Yavuz, inspection superintendent – tank farm/oil movements at Tupras will discuss Inspection and maintenance planning, exploring the safe operating practices for maintaining tank integrity, tank standard practices and variables, plus the seven steps of tank integrity management systems.

Event manager Nick Powell said: "We attract visitors from 61 countries so we felt that it was important to not only explore critical regional issues but to also provide a global perspective. It's our most comprehensive and international programme yet."

StocExpo 2016 also features a packed exhibition hall, with over 200 suppliers from across the globe using the show to launch products & services into the market.

For more information on visiting the exhibition, booking as a delegate for the conference or becoming a media partner, please call +44 (0)20 8843 8800 or visit the event website – see below and right hand side.