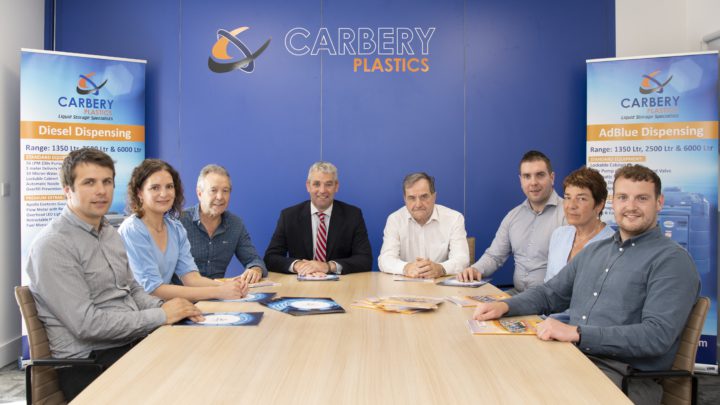 Originally established in 1977 by the McCarthy family, Carbery Plastics Limited is, 45 years later, firmly established as a leading European manufacturer of rotationally moulded storage containers and directly employs over 60 people. Despite this significant growth and achievement, Carbery still remains an independently owned and managed business and the McCarthy family continue to be actively involved in day-to-day operations and to serve the business as company directors.
As Carbery celebrates 45 years in business we hear more about how this storage tank manufacturer reached this point.
The beginnings
The company originally specialised in the manufacture of rotationally moulded, plastic products for agricultural applications initially supplying customers primarily within Munster, southern Leinster and Connacht. However, by the mid-1980s, a growing product range accompanied by growing sales required Carbery to relocate to larger premises in the Clogheen area of Clonakilty, where today it remains a significant employer.
In 1985, Carbery launched its first plastic storage tank, entering a market sector which was to grow in importance and significance for the company over subsequent decades. At the time, a plastic tank was something of a novelty however Carbery tanks quickly established themselves as an environmentally responsible alternative to old-fashioned steel tanks in Ireland and were to spearhead the company's expansion into the UK.
The remainder of the decade saw Carbery continue to grow, to invest and to expand as the business developed a strong presence across Ireland and made its first inroads into the British market.
Growth in emerging markets
The 1990s saw Carbery go from strength to strength, with further investments in new technology and production processes. Significant investments were made in new rotational moulding machinery together with material processing and handling equipment to ensure that, as the new millennium approached, Carbery was ideally placed to capitalise on new market opportunities.
The company also continued to diversify its product base with the introduction of recycling banks and, today, Carbery recycling banks can be found not just across Ireland and the UK, but in many European towns and cities too.
You don't stay ahead by standing still
Entering the twenty first century strongly positioned within its chosen market sectors Carbery refused to stand still and continued to invest in new products and technologies. Computer Aided Design (CAD) software was introduced, dramatically reducing product development time, alongside Finite Element Analysis (FEA) for product testing purposes.
A range of environmentally preferred, integrally bunded heating oil tanks was also introduced and such was the success of the new range, that it was quickly followed by Carbery's market leading range of Fuel Point bunded diesel storage and dispensing tanks.
Today, the pioneering company's product range is focused on single skin and bunded tanks for the safe, secure, storage of AdBlue, diesel, heating oil, liquid biofuels, petrol, specialty chemicals and water.
Celebrating 45 successful years.
Marking the company's notable anniversary Carbery recently welcomed Senator Tim Lombard to its Clonakilty plant. After meeting with the Carbery team, Senator Lombard was given a tour of the company's operations, at its West Cork manufacturing centre of excellence.
Operations director Cal McCarthy commented: "We were delighted to welcome Senator Lombard to our plant, as we celebrate our forty-fifth birthday. As an indigenous, family owned and locally managed business, we've always sought to differentiate our products, upon the basis of both quality and service. That in turn, reflects the talent and dedication of our people.
"Indeed, the success Carbery has enjoyed over the past 45 years, reflects the commitment of our world-class, West Cork team."
It is a testament to the appreciation of the company for its people that Carbery boasts within its workforce no less than 7 family groupings with combinations of brothers, fathers and sons working together in the business. Within the team there are also 7 employees who have been with the company for over 30 years!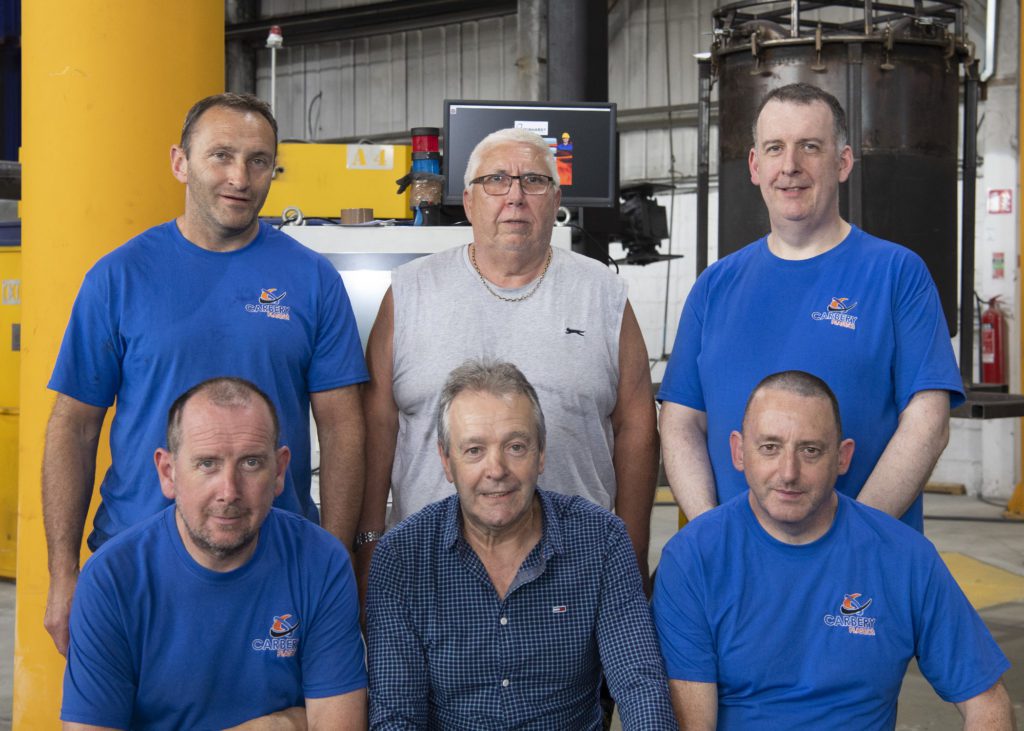 "Recognising you don't stay ahead by standing still, we continually challenge ourselves to identify solutions to problems with the confidence to do things differently," Cal continues. "And, of course, we continually benchmark our products and processes against global standards too. As a result, we were among the first storage tank manufacturers in Ireland and Great Britain to secure EN 13341 approval for our range of heating oil tanks and we hold local certifications too, across all markets in which we trade."
Development and diversification
Recent years have seen continued product development, diversification and new market development. Led by an experienced manufacturing, general management and commercial team, Carbery remains a business committed to continued growth and success within its chosen markets and has made significant investments in its manufacturing and engineering capabilities.
Today, the company is the largest manufacturer of rotationally moulded storage tanks in southern Ireland, with all products designed, engineered and manufactured at Carbery's Clonakilty plant. And, beyond the company's retail range, it continues to develop its contract moulding operations too – satisfying the requirements of a diverse and demanding customer base in Ireland, the UK and throughout the EU.
With over 45 years of experience under its belt, Carbery prides itself on its strong customer focus delivering highest quality products with certainty of performance.
We congratulate Carbery on its 45th anniversary and look forward to hearing about future developments in its liquid storage solutions.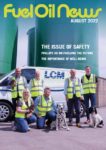 This article originally appeared in the August 2022 issue of Fuel Oil News magazine.
View the magazine