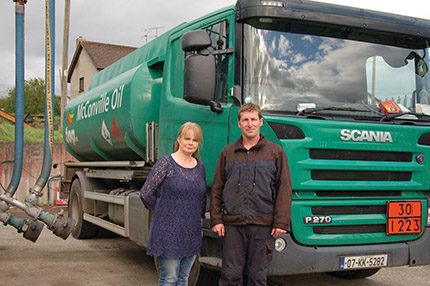 "It was push, push, sell, sell and no-one worried about credit," he says. In such busy times Jerry could have put another tanker on the road but now he is very glad that he did not opt for expansion. "I would be carrying significantly more overheads in a market where volumes have almost halved and there is little or no consumer confidence," he told Irish correspondent, Aine Faherty.

McConville Oil operates just one tanker bought in 2007, which Jerry drives in addition to taking all the orders on the road, backed up by Leon Byrne, a part-time administrator in the office. In operation for 12 years, prior to Jerry's acquisition McConville Oil had developed a reputation for reliability so he retained the name and secured a contract with Top Oil.

The bulk of business is done within a 12-mile radius of its Graiguenamanagh base in Co Kilkenny where domestic home heating oil is the main seller throughout the winter months. Over summer where once there was some road diesel business from construction accounts, Jerry now relies solely on the farming industry and might just work on the basis of a three-day week spread over five or six days. Although rewards are not massive, Dermot reports a good living which he is very happy with.

A few years ago tanks were installed in the yard and investment was made in a bottom loading skid. Now, while there are no capital spending projects in the pipeline, it is hoped that temperature compensation probes will be installed in his lorry before September. At a cost of €700 to fit, it could give a saving of €4,000 to €5,000 per year. In the future, Jerry also hopes to utilise a mobile fuel management system if a cost effective solution for the small operator is available; presently outlay for software would not be feasible.

Since January, like all oil distributors, he has adhered to strict revenue reporting guidelines on the movement of oil. Initially quite a challenge, Jerry now says that despite the extra paperwork involved, it enables him to keep a tighter control on stock movements. He does, however, remain to be convinced that this will meet its intended purpose, to grind fuel laundering practices to a halt.

As many quit giving people credit, Jerry still extends credit to his oldest customers as a form of goodwill for their continued custom. Burned by big players, he has entered into payback plans; one owing a large sum is repaying at the rate of €100 per month. "It's better than fighting with them," he says.

Jerry feels the future of oil is fairly secure, "especially in rural areas where gas is still not an option. Unless it becomes much more expensive, which I think is unlikely. "Most people would revert back to oil if it cost €1000 for 600 to 700 litres, which is about 20% cheaper than it currently is in Ireland. "And I think it could happen," he says optimistically.