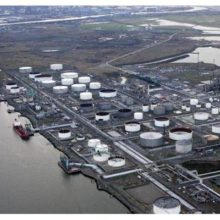 The North Tees facility was already closed when it was acquired by Greenergy in July 2012, having ceased commercial operation earlier in the year following the administration of Petroplus Refining Teesside Ltd. Since taking over at the terminal, Greenergy has undertaken a condition survey and made certain improvements prior to commencing supply.

The company says it now intends to make further significant investments at the site in order to create an integrated supply system for petrol and diesel in the North East and a new hub for its rail distribution network.

Andrew Owens, Greenergy chief executive, said "Our North Tees terminal will complement our existing petrol manufacturing facilities on Teesside, by adding the infrastructure for a new rail head, our own jetty capable of receiving large diesel ships and product interchange between terminal locations."

Other planned improvements at North Tees over the next 18 months include:
Jetty modifications;
A new pipeline to link Greenergy North Tees to other terminals in the Teesside area;
Refurbishment to tankage and road loading facilities;
Enhancements to IT.