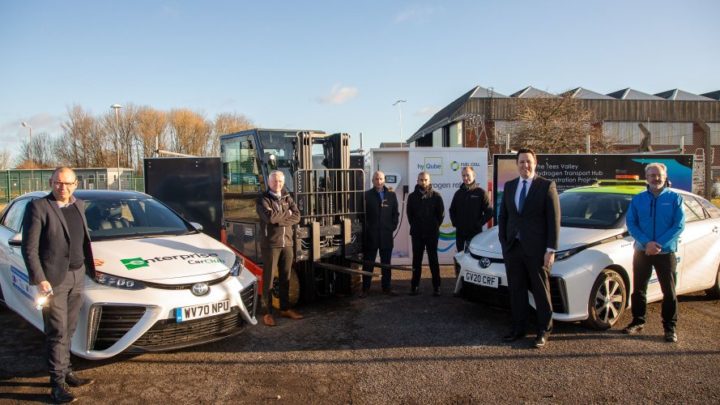 The Transport Secretary has today (2 August) announced two winning projects of the second phase of the competition, encouraging the development of new hydrogen technology to accelerate transport decarbonisation.
Receiving a share of the £8 million funding is a project led by ULEMCo to develop hydrogen-powered, ground-based, airport support vehicles. Based at Teesside International Airport, it will help the airport reach its goal of being net zero by 2030.
Another of the winning projects, led by Element 2, aims to create new hydrogen refuelling stations to provide the infrastructure needed to scale-up the use of hydrogen fuel. Creating four new publicly accessible hydrogen refuelling stations, this funding will increase the total number of UK refuelling stations by 50%. These will be used to fuel a range of vehicles, from airside vehicles to HGVs, including supermarket delivery trucks.
Funding a talent pipeline
Today's announcement also confirms £300,000 delivered directly to colleges in the area, to support upskilling the local workforce and foster a specialised skills base and pipeline of talent, further cementing the Tees Valley's status as the home of hydrogen.
Transport Secretary Mark Harper said: "Hydrogen technology has great potential to decarbonise transport and help grow the economy.
"Today's winners illustrate the expertise the Tees Valley has as a pioneer in developing hydrogen tech. This investment will provide a further boost to the economy, creating skilled jobs and apprenticeships across the North East."
This funding brings the UK closer to decarbonising some of the heavier and more complex vehicles, such as airside operations, which will be essential in reaching net zero. Already used in buses across the country, hydrogen fuel cells create no harmful exhaust emissions. Greater use of hydrogen could help grow the UK economy with a transport system that is resilient to global energy prices, environmentally friendly and could see the creation of thousands of skilled jobs.
Today's funding also marks the continued growth of the UK's only Hydrogen Transport Hub, attracting even more innovation, investment and jobs to the Tees Valley. The competition invited ideas on how to overcome some of the challenges of scaling-up hydrogen technology, such as refuelling on a large scale, and making the region's supply chain greener with hydrogen-fuelled vans and HGVs.
This is the second round of government competition funding for the Tees Valley Hydrogen Transport Hub with the first round having focused on hydrogen-powered vehicle development.
Getting ahead with hydrogen
Tees Valley Mayor Ben Houchen said: "We were one of the first areas to trial hydrogen fuels and this is continuing to pay off as we've been successful in securing this permanent refuelling station.
"Our airport and, indeed, our whole region continue to be at the forefront of the UK's net zero ambitions, and this hydrogen station is another step forward to supporting the cleaner, healthier and safer industries of tomorrow. It backs up everything we're doing in our low-carbon journey, including supporting the production and adoption of sustainable aviation fuel – one of the biggest issues facing the industry right now.
"The aim to have Teesside Airport operationally net zero by 2030 is only the beginning, we're still pioneering offshore, carbon capture and renewable technologies over at Teesworks, to truly cement Teesside, Darlington and Hartlepool as the place to do business in innovative and clean technologies."
Since the Hub was launched in 2020, the Tees Valley region has benefited from millions in government funding and private investment. Recent forecasts have estimated that by 2030 the hydrogen sector could support over 12,000 jobs nationally and unlock over £9 billion in private investment.
Innovate UK executive director for Net Zero, Mike Biddle, said: "Today's announcement of these new projects in the Tees Valley further adds to our significant partnership with DfT to accelerate new technologies to decarbonise transport.
"This includes nearly £300 million of investment from DfT via Innovate UK in transport decarbonisation across maritime, heavy goods vehicles and hydrogen.
"Place-based innovation like this is vital to invigorate local economies like the Tees Valley. These projects are an important investment to decarbonise transport and a boost for local innovation, investment, skills and business growth."