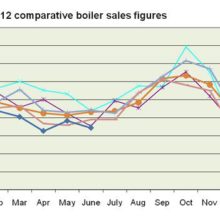 Sales of all oil boilers during this period were at 23,254 compared to 26,590 during the first six months of 2011.

The figures cover all the SEDBUK bands and are based on figures supplied by OFTEC members to the Heating & Hotwater Industry Council (HHIC).

Numbers also showed that sales of all gas and LPG boilers were recorded at 671,435 from January to June this year, which was a 5.9% fall on the sales during the same period of 2011.

The HHIC has called for urgent support for the construction industry which is in a "perilous state", before boiler manufacturers and other related businesses fall victim to the depressed state of the housing market.

Manufacturers have invested heavily in new product development, but remain dependent on a large number of property transactions.