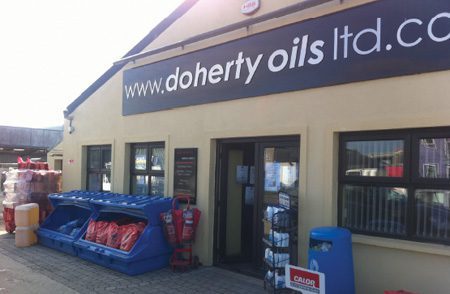 Last winter's weather conditions throughout the island of Ireland were unprecedented with sudden and long-lasting frozen spells – accompanied by thick snow and treacherous road conditions. In the thick of it – literally – were home heating fuel distributors who struggled, but in most cases doggedly persevered to provide a lifeline for customers in some of the most remote and wild locations
"This year, we're getting better prepared," says Patrick Doherty, director of Doherty Oils which operates a fleet of five oil delivery tankers, distributing fuel throughout the Tyrone and Fermanagh areas.
"If we've learned any lessons from last year, it would be to have all of our trucks psv'd and well maintained.
"We've also decided to put our own 40 foot lorry on the road to haul fuel direct from the terminals," he explains. "We have an excellent haulier – Lisburn-based Pettrans – who bring 95% of our fuel at the moment, but in the busy period even they find it very difficult to care for all customers, as any haulier would.
Competitive prices
"We've installed two extra 55,000 litre kerosene tanks and have just got permission to store our own petrol underground, so that we can supply the local filling stations direct from our depot in Omagh. This is all at a cost, so we're hoping for another winter like last year!" he adds. "But our strong relationship with a range of major oil suppliers ensures customers consistently receive highly competitive prices."
Big or small, all fuel distributors throughout Ireland learned important lessons from last year's experience. Topaz – with the largest network of home heating oil distributors in the country, and a fleet of more than 250 tankers – is no exception.
The company is incorporating many of those lessons into its strategic planning for the 2011/2012 winter period. Marketing activity will focus around reminding people to order early, and the company's product offering has diversified to cater for both the worsening economic and weather climates.
Topaz Thermal is a premium home heating oil with a special additive to reduce boiler breakdowns and provide 11 days longer per year from the oil. Emergency 20 litre drums are being made available to purchase from company depots, and small delivery amounts will be available.
"Last winter's weather conditions called for some very timely and crucial response measures from the Topaz Local Fuels team," Adrian Gallagher, Topaz home heat business manager, told Fuel Oil News. "Many customers did not realise that their oil tanks were so low and the increased demand during the cold snaps put pressure on oil companies, meaning many people had to endure the harsh cold while they waited for delivery."
Priority attention
However, the company's sales team realised that some circumstances needed more immediate attention than others. At the time of order, each customer was therefore asked about their level of need, and deliveries were scheduled based upon this information. Pregnant women, people with disabilities, and houses with older people and small children were given priority. Others were asked to wait no longer than 48 hours.
For those who had to wait, the Topaz team delivered drums of 20-50 litres to tide them over until full delivery could be made.  Priority was also given to organisations who deliver essential services to keep the country running in spite of the weather, such as the army, defence forces and the Dublin Airport Authority.
The company's 'need-based' scheduling policy certainly came into play when the Dublin Airport Authority reported that their snow ploughs had run out of fuel, and unless delivery could be made within a few hours, the airport would be forced to close. Even though Topaz Local Fuels were fully booked for 48 hours, they quickly identified and re-scheduled non-urgent customers and delivery was made to Dublin Airport within an hour.
Back at Doherty's; alongside its traditional fuel distribution service, the company is also planning to expand its coal and firewood business, which, says Patrick Doherty, proved profitable last year. "As one of the most progressive fuel distributors in the North West of Ireland, we've made our contingency plans for another winter of freezing conditions, and are ready for anything that's thrown at us!"