Established in 1935, Chandlers Oil & Gas now has six depots – Grantham, Lincoln, Retford, Spilsby, Spalding and Corby.  Started 76 years ago by Des Chandler, Tom Caunt and Joe Pell, today's business is run by Tom Caunt's grandsons, David Hindmarch and Nick and Simon Caunt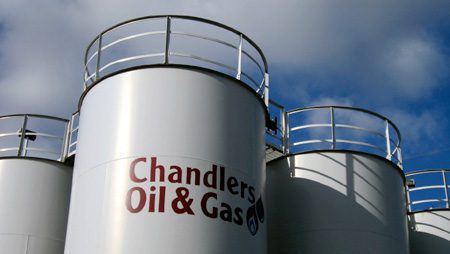 Thirty-four drivers operate the company's 7 articulated tankers and 27 rigids. Serving customers in Lincolnshire, Nottinghamshire, Rutland, Northamptonshire, Cambridgeshire, Norfolk and Leicestershire, they cover an area which extends as far north as Kingston upon Hull and east to Kings Lynn.  Fuel sales are split 40%  domestic, 40% agricultural and 20% commercial with product sourced from terminals at Immingham, Nottingham, Birmingham and Kingsbury.
The majority of depots are fitted with skids and metering from Alpeco; five being bottom loading.  Grantham and Lincoln store 500,000 litres each with the remainder storing around 300,000 litres apiece.   Tank gauging software from Kan'to Instruments has recently been installed and is 'working well'.
Respect for customers and staff
"We like to think that we run a tight ship," managing director, David Hindmarch told FON during an autumn visit to the company's Grantham depot.  "In essence, there are many distributors doing the same job – the key difference is the way in which we each do that job.
"Our focus is firmly on service and in exceeding our customers' expectations.  We genuinely endeavour to give a first class service as without those customers, we're nothing." The company is rewarded by having a 'significantly loyal band of customers'.
Also vital to Chandlers' success is the close relationship which the company has with its staff.  David explained:  "We've worked very hard to create a strong bond between staff and management with relationships built on mutual respect and empathy.  Each and every member of our 60-strong team knows they're an important cog in our wheel, they're kept in touch with what's going on and are involved in management decisions. Good performance is well rewarded.
"For a company to perform well, employing good people is a must – and for this a good wage structure must also be in place.  With well-trained and motivated staff who understand exactly what they're doing and why, a company can't go far wrong."
Marketing and managing the business
Chandlers still has 6 sales people out on the road and spends a considerable sum on marketing.  Advertisements are aired on local radio, and Chandlers sponsors the weather on Lincs FM.  Leaflet drops and advertisements in parish magazines have further enhanced its marketing drive to attract new customers.  Running its own web and graphic design business, Hat Trick Media, helps Chandlers with such promotional activity.
Also worth the investment was Alpeco's i-meter.  "With i-meter tracking on our vehicles, we caught a driver stealing fuel red-handed.  It may have cost £300 a truck but given the high cost of fuel, it's worth it."
With an ordering facility on its Chandlersoil.com website, an increasing number of orders are being placed online.  Previously, a shareholder in Boilerjuice, David said:  "As a national online supplier, I believe that Boilerjuice is still the best offering. It's a good sound business." Chandlers remains on the list of suppliers to Boilerjuice.
"Cash flow can be an issue – strong credit control must be in place – we credit check everyone and have debt insurance with QBE.  Sometimes bad debt does come out of the blue although it's never as a result of not having done due diligence or made checks!  It's a continuing aspiration to have more customers on direct debit and, ideally I'd like to see an industry-wide initiative whereby every domestic customer pays by credit card at point of order."
Addressing industry challenges and maximising our strengths
Like other distributors, in the run up to the publication of its off-grid energy report, David attended meetings with the Office of Fair Trading.  "The point I made was that our market's already very competitive – if crude oil had been 30 dollars a barrel, we wouldn't have needed any discussion.  December 2010 was almost a once in a lifetime occurrence, sadly."
The UK's refining capacity is, however, a concern. "There'll certainly be more competition for product in the future; although the advent of the wholesalers does offer distributors another fuel avenue, together with some interesting price mechanisms enabling us to buy forward, lock in and/or cap prices.  These newer companies are much more proactive then the majors and have given the market an interesting twist."
Speaking about other challenges facing the industry, David highlighted a lack of professionalism historically; the difficulty of extricating a good profit margin and a tendency to drag down the overall margin.
"Certain companies are bereft of aspiration to create profit and that's to the detriment of every other business in the industry.  Costs continue to rise forcing markets to work at unprofitable levels
when compared to those of 10, 20 and 30 years ago.  I think the way some have
priced over the last three to four years showed a complete lack of understanding
of the market.
"Whether an SME or a public company, 95% of this industry could enjoy steady and profitable growth achieved by means other than constantly cutting into margin.  A company with shareholders is usually driven to producing good profits. In acquiring Total Butler, I'm sure DCC's ultimate aspiration will be to generate increased profits as well as increase its market share.   Because Total Butler belonged to an oil major with staff on the corporate career ladder – seemingly  inexperienced in marketing and sales and with no practical understanding of how the market operates – it led to profits plummeting.
"The industry has many well-run businesses – large and small.  The presence of GB Oils has certainly influenced us all.
"The management  of companies such as Watson Petroleum, NWF Fuels and Rix – all good operators – has been key to their success.  Each may have a different game plan and rationale but collectively, they have a responsibility to the industry in the way they perform and market themselves.  Running a business well is not about size; you have to have certain key elements right.  Understanding, empathising and communicating with your customers in a way they like, understand and trust is one of those key components.
"This industry has some extremely talented people but in an industry that constantly tries to fall back on the lowest common denominator – price – such people can be dumbed down.  We all need to strive to add value to the industry that we represent, so that every sale is not dependent on who is selling at the cheapest price.
"With all energies – not just oil – having risen in price over the last 12 months – gas is up 22% and electricity by 13% – let's push our best aspects – heritage, integrity, competitiveness and service levels.
"It's all a bit of a challenge but change brings opportunity and the chance for us to grow our businesses more profitably.  As a company, we're quietly confident and positive about the future.  "And what if you're offered that big cheque," FON asked.  "My office door's always open," replied David  "But there's a conundrum – either the big players will get bigger and we will end up in a price war or, good sense will prevail and the industry will pull prices upwards giving a better return to all; so maybe Chandlers will hang around for awhile longer…."