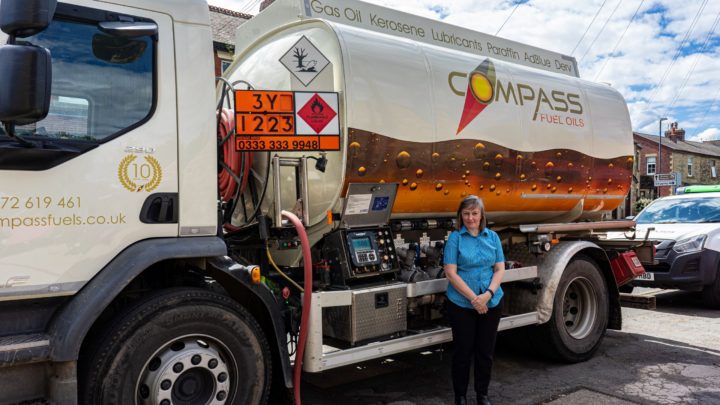 Compass Fuel Oils – delivering 500l of kerosene to a lucky winner!
Compass Fuel Oils, the Lancashire-based fuel distributor, has announced the winner of their recent competition from their first exhibition at The Royal Lancashire Show.
Not only did the competition mark Compass Fuel Oils' inaugural participation at the show, but it also gave a memorable experience to a deserving individual. The lucky winner, Anita Sherwood, expressed her excitement and gratitude upon receiving delivery of her prize.
"I could hardly believe it when I received the news that I had won," said Anita. "I have never won anything before, and to have 500l of Kerosene delivered to my doorstep is truly amazing. I am extremely grateful to Compass Fuel Oils for this incredible opportunity."
Those attending the show were invited to visit the Compass Fuel Oils exhibition stand and submit their details for a chance to win the competition, which showcased the company's commitment to excellence in providing heating oil to the local area.
"We are thrilled to have had the opportunity to participate in The Royal Lancashire Show and give back to our community through this competition," said Marcus Dandy, managing director at Compass.
Congratulations to the lucky winner!
Craggs Energy – sponsors of a charity tractor run!
Craggs Energy, the West Yorkshire-based distributor, is delighted to sponsor the Calderdale Charity Tractor Run 2023.
The much-anticipated event is set to return on the 24th of September 2023. Sponsored by Craggs Energy Ltd, Craggies Farm Shop, Vocation Brewery, and MUD-UK Ltd, it promises to be a fun-filled day for participants and spectators alike, all in support of a great cause – Calder Valley Search and Rescue.
"We are so pleased the Tractor Run has returned this year and, of course, we are more than happy to get stuck in," said David Damary-Thompson, general manager of Craggs Energy. "The search and rescue team are a fantastic set of people who deserve all the support we can give."
To promote environmental responsibility, Craggs Energy Ltd will be carbon offsetting the entire event, reducing its carbon footprint and demonstrating their commitment to sustainability. The Craggs Energy office will be used as the registration point, raffle prizes will be donated, and lots of staff have volunteered to help on the day!
Here's to a successful event!
Exswift Fuels – racing to success
Exswift Fuels, the Essex-based fuel distributor, is proud to be sponsoring racing driver Scott Sumpton for the upcoming TCR season.
CEO Chloe Crofts commented: "At Exswift we love nurturing potential, so sponsoring Scott Sumpton for his 2023 season in the TCR series as part of the Restart Racing team seemed an ideal fit.
"We are incredibly proud of his progress. He was recently selected to join the JAS Motorsport Driver Development programme which sees him hone his skills further out in Italy. He is definitely one to watch!"
The best of luck to Scott for the upcoming season!
LCM Environmental – taking on the Tough Mudder
Lancashire-based LCM Environmental Services Ltd is excited to announce that the team is about to take on the Tough Mudder challenge in support of the SSAFA – the charity that provides lifelong support to the Armed Forces and their families.
Richard Wallace, LCM's CEO, said: "As leader of LCM Environmental, I am incredibly proud of our team's remarkable initiative and drive in attempting the Tough Mudder challenge. Their dedication, teamwork, and unfaltering spirit not only represent our company's culture and values, but also demonstrate the impact we can achieve when we come together with a shared goal.
"This undertaking not only supports a cause that is close to our hearts, but also strengthens our sense of unity and commitment at LCM Environmental. Our team's determination resonates through our business, and reminds us that challenges can be overcome, and positive change is always within our reach.
"We kindly invite you, as some of our industry partners and peers, to support this noble cause by contributing to the SAFFA Charity through our dedicated fundraising campaign.
"Your generosity will mean the world to families facing challenging circumstances and provide much-needed hope and assistance."
If you would like to donate, please visit: https://www.justgiving.com/page/lcm-environmental-1689169659666"
Good luck to the team from all at FON!
Proudly celebrating a decade of driving dedication
New Era Fuels is proudly celebrating a very special anniversary with employee Stuart Fisher, a Class 1 driver who has recently clocked up 10 years working with the Essex-based distributor.
Dan Sefton, head of transport, said: "Stuart has been a pivotal member of the fleet since the day he joined. Ten years later, Stuart is still fully committed to his job, and is a pleasure to work with for both the transport and routing departments. We look forward to many more years with Stuart as our Class 1 driver."
James Hunt, managing director, added a message for Stuart: "Thank you for being on this journey, your years of loyalty, dedication and hard work over the last 10 years have not gone unnoticed."
Congratulations on your milestone Stuart from all at FON!
Par Petroleum – sponsoring the next generation of football stars
Par Petroleum Ltd, the North-East based fuel distributor, is proud and excited to be sponsoring the Herrington Football Club Under 6s team!
Leanne Hardy, managing director, said: "We're thrilled to be able to help Herrington FC Whites and think they look smashing in their new strips. The club started just 3 years ago and has grown rapidly, now operating 18 teams for boys and girls of all ages.
"Thanks to the dedicated coaching team, the young people of our community have the opportunity to keep fit and have fun whilst developing their football skills."
Good luck to the Under 6 squad for the forthcoming season!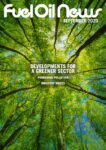 This article originally appeared in the September 2023 issue of Fuel Oil News magazine.
View the magazine