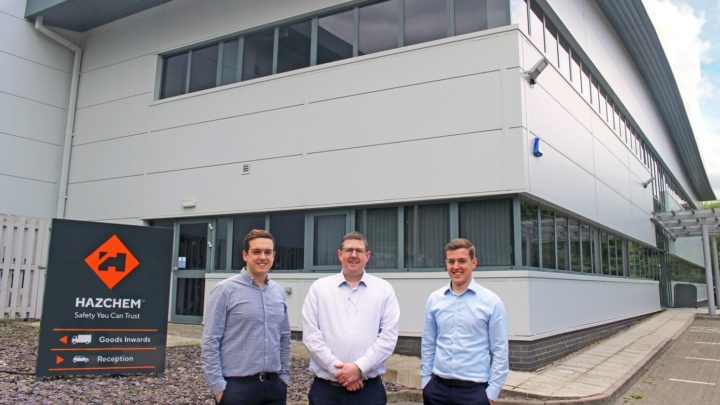 Underlining its commitment to meeting evolving customer needs and accommodating future growth, the company's new facility sees a significant increase in square footage, effectively doubling both warehouse and office space.
The photo shows Marlon Douglass (Sales Manager), Brent Douglass (Managing Director) and Camden Douglass (Finance Manager) outside the new Hazchem premises.
Increasing from 11,000 square feet to 30,000 square feet, the warehouse can store up to £5 million of stock, enabling Hazchem to double its current holding and cater for a larger customer volume, while significantly reducing stock-outs and improving lead times.
Key to growth
Marlon Douglass, sales manager, Hazchem Safety, said: "We are excited to unveil our expanded premises, which represents a significant milestone in Hazchem Safety's journey. The increased warehouse space and stockholding capacity will enable us to meet the growing demands of our customers, improve our operational efficiency, and ensure an even higher level of service excellence.
"It is a key part of our business growth as it allows Hazchem to take on new larger contracts as we support our customers that require a greater volume of PPE solutions for their employees."
Hazchem Safety, with offices and distribution sites in Aberdeen and Brackley, was founded in 1978 and has grown to be the UK's leading supplier of workwear and PPE for hazardous environments within the energy sector. Delivering the capability to handle new contracts from large energy companies, the warehouse expansion creates the opportunity for further growth.
In addition to enhanced warehousing, the expanded premises also improve customer-facing areas with a spacious showroom and meeting room. This investment, that reflects Hazchem Safety's commitment to exceptional customer service, enables customers to visit to explore a wide range of PPE solutions, view samples, and collaborate with the company's expert team to design bespoke garments.