After a court sanction of the deal, which valued Hurricane at £250m, was granted, the directors of the company, with a 100 per cent operated interest in the Lancaster offshore oil field in the West of Shetland basin, resigned and its shares on the AIM market were cancelled.
A natural progression
Describing the deal as 'a natural progression of strategy', the group's CEO Sanjeev Kumar Soosaipillai continued saying it is "a very significant moment in the Group's history and a major leap forward towards achieving our goal of becoming a fully integrated global energy provider."
He added: "Our long-term strategy is to be fully integrated across the oil value chain from upstream to downstream, and today marks the beginning of a new chapter for the Prax Group.
"The acquisition of Hurricane Energy will create unique opportunities for synergies with existing Prax-owned assets, as well as demonstrating our ongoing commitment to building a solid and transformative supply chain to meet the needs of our customers for many years to come."
In its recently published 2022 accounts, Hurricane reported a 10-fold boost in profits from 2021's figures. When the deal was originally announced in March, Hurricane chairman Philip Wolfe said it is expected to "deliver more cash" than shareholders would have likely received from the firm's Lancaster oilfield, and on an expedited timeframe.
Growth strategy
London-headquartered Prax acquired the Lindsey oil refinery at Immingham in 2021 from TotalEnergies and is looking to create "a sizeable upstream business" in the North Sea alongside its downstream operations.
The Group will continue to explore new business opportunities as part of a long-term growth strategy.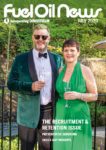 This article originally appeared in the July 2023 issue of Fuel Oil News magazine.
View the magazine