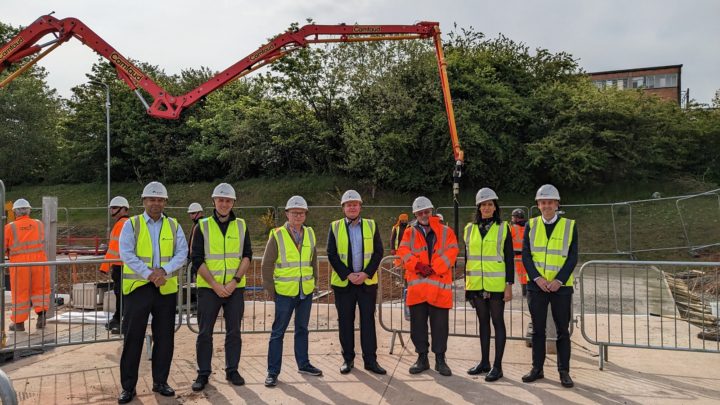 The project has been developed by the Ammogen Consortium, a multi-disciplinary and multi-national team dedicated to driving forward hydrogen fuel supply chains in the UK and worldwide.
Funded by the Department for Energy Security and Net Zero (DESNZ), the £6.7million project is expected to be the world's largest and most efficient ammonia to hydrogen conversion unit of its kind. The facility will use cracking technology developed by H2SITE to derive hydrogen and nitrogen from ammonia, after which the hydrogen is filtered and purified for use as fuel.
The facility is expected to be commissioned later this year.
Speaking about this construction milestone, Alex Goody, chief executive of consortium lead Gemserv said: "Hydrogen is a crucial energy vector in the mission to net zero, and a major market challenge in the ability to transport hydrogen to where it's needed. Ammonia could be that carrier to unlock green hydrogen and production globally."
Symbolic moment
Speaking about the construction James Graham, Divisional CEO for EQUANS UK & Ireland, said: "The laying of the foundations marks an important step as we move into the construction phase of this project.
"It is also symbolic as this innovative project is laying the foundations for the wider hydrogen economy and the path towards a Green Industrial Revolution. We look forward to continuing working with our partners to deliver a truly revolutionary step in the path to net zero carbon."
Going forward, project partners Gemserv, Equans, H2Site, Tyseley Energy Park, Yara and the University of Birmingham estimate that over 97,000 jobs and £16bn GVA could be delivered in the UK through early investment in cracking technologies that enable the use of ammonia as a hydrogen carrier. The consortium is actively pursuing opportunities for investment in order to roll out further sites in the UK.
Professor Martin Freer, Director of the University of Birmingham's Energy Institute said: "It has been a pleasure to celebrate this construction milestone today and we look forward to completing the commission of this world-leading facility later this year."
Image shows, l to r, Azhar Juna, Project Director, Gemserv, David Horsfall, Director, Tyseley Energy Park, Artur Makewski, Research Fellow, University of Birmingham, Alex Goodey, Chief Executive, Gemserv, Chris Pouncey, Construction Manager, Equans, Suki Masana, Marketing Manager, Gemserv and Martin Freer, Director, Birmingham Energy Institute, University of Birmingham.