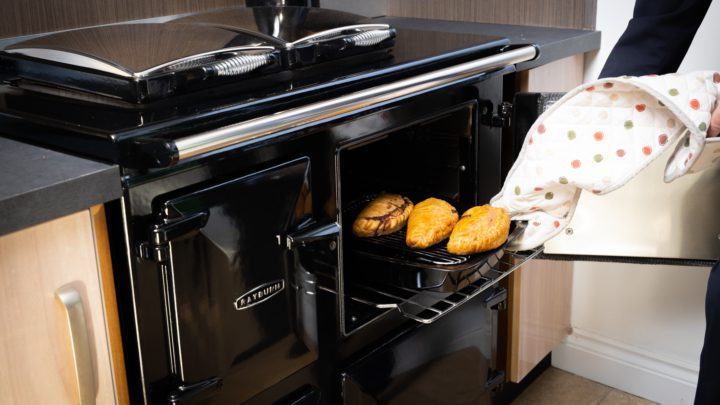 Put to the test last week, when the directors of Cornwall-based fuel distributors Mitchell & Webber invited UK industry leaders to a low-carbon, HVO-heated pasty lunch at their Scorrier headquarters, the Rayburn Heatranger has been specially designed to run on hydrotreated vegetable oil (HVO).
No compromise
Carl Moon, national sales manager for Rayburn who was visiting Mitchell & Webber's showroom commented: "At Rayburn we are looking ahead to a greener future. We are so pleased that the team at Mitchell & Webber have installed one of our brand new HVO-ready Rayburn Heatrangers in their showroom ready to show their customers that there is no compromise on efficiency or effectiveness when it comes to HVO."
The new models, which are available to purchase now, have been especially manufactured by Rayburn to be able to run on HVO out of the box – with an immediate reduction in carbon emissions of 88%. The low-carbon fuel, made from certified waste fats and oils, can be used to replace conventional heating oil and has been classified as sustainable by the International Sustainability and Carbon Certification, meaning that it doesn't contribute to deforestation.
As rural areas, Cornwall and the South West have large numbers of homes and businesses that are reliant on oil-fired systems such as Rayburns for both cooking and heating. Mitchell & Webber director John Weedon commented: "It's hugely exciting to see such a well-established and iconic manufacturer as Rayburn bringing out an appliance which is HVO ready, and we'd like to welcome one and all to our showroom to see it in action."
Moon continued: "As the UK government plans to phase out the use of conventional heating oil, we need to be ready to use other energy sources and we think that HVO offers a clear way forward – which is why we've updated our Heatrangers to be HVO compatible. And we're sure that people in Cornwall, in particular, will be relieved to know that you can definitely cook your pasties using HVO!"
A place for HVO
The industry leaders were gathered at the distributor's headquarters for an update on the progress of the national HVO trials in which Mitchell & Webber, in partnership with industry bodies UKIFDA and OFTEC, is testing the effectiveness of HVO as an alternative fuel to conventional heating oil.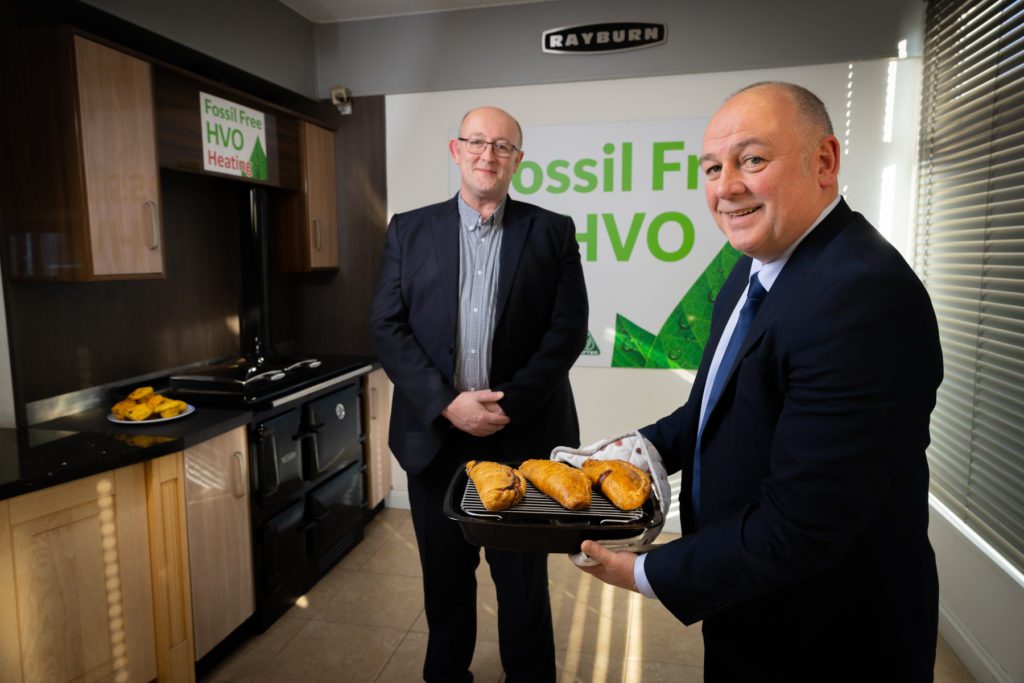 Ken Cronin, CEO of UKIFDA, commented: "The work Mitchell & Webber are doing is showing that dramatic reductions in household carbon emissions can be achieved simply by changing the type of fuel you use. We are delighted to see the new Rayburn models are HVO compatible and it is a testament to the central place we believe HVO will have in the switch to greener energy solutions in the coming years."
Mitchell & Webber was the first company in the UK to trial the new fuel, which is estimated to save the average home 5 metric tonnes of carbon emissions per year. Since 2020, the company has converted over 50 appliances in Cornwall to HVO, including a church and a school. To date the trial has been incredibly successful in gathering evidence to demonstrate to the government that HVO is a viable alternative to standard heating oil.