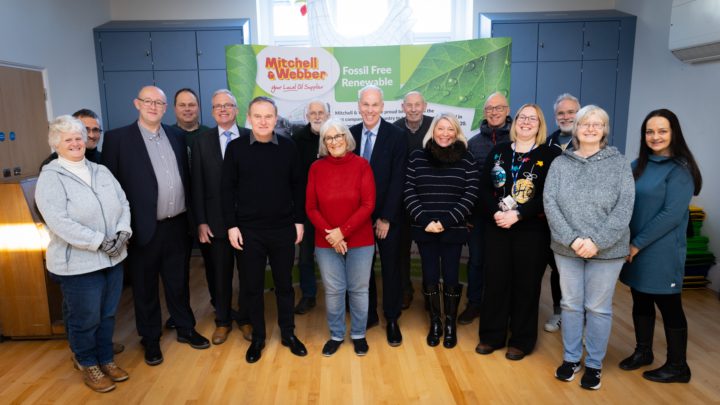 Local fuel distributor Mitchell & Webber is supporting the homes and businesses in Kehelland to trial the fossil-free oil replacement as part of a National Demonstration project led by UKIFDA and OFTEC. Mr Eustice met with village residents and industry leaders to find out more about the trial.
Speaking at the event at Kehelland School – a 130 year-old building that has already been converted to run on HVO – Mitchell & Webber's director John Weedon said: "Kehelland is unique as it has the most boilers converted to HVO in the UK, so we're delighted that George Eustice MP is here to see first-hand how quick and easy a HVO conversion is, and how much impact it can have in the fight against climate change."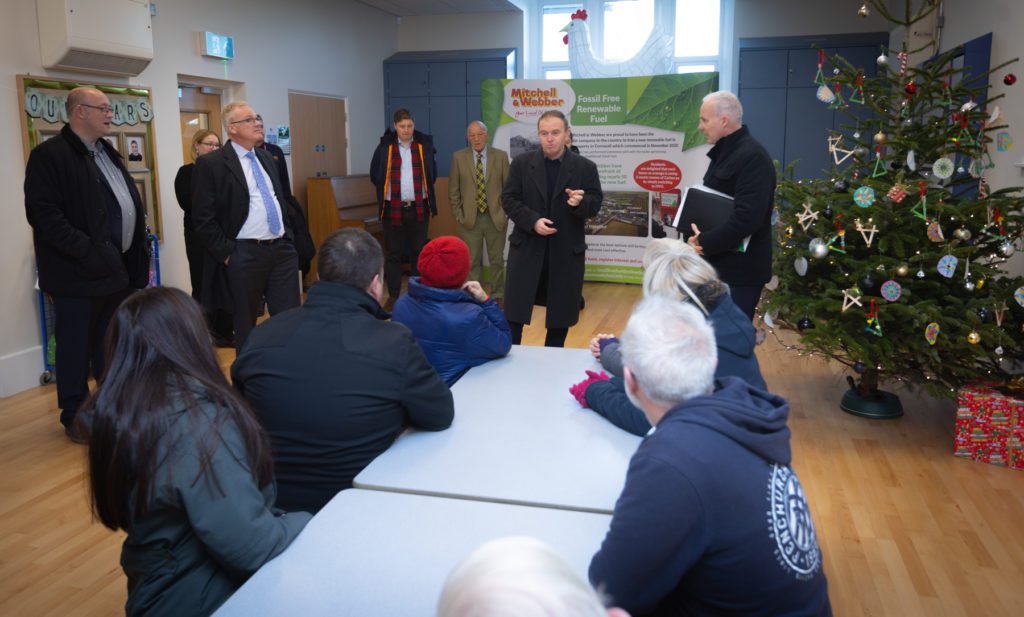 HVO can be used as a direct replacement in conventional oil-fired systems with a quick and simple £500 conversion that can be completed as part of a normal service – and immediately reduces carbon emissions by up to 88%. Made from certified waste fats and oils, HVO has been classified as sustainable by the International Sustainability and Carbon Certification.
Leading the way
Mr Eustice said: "It was great to visit Kehelland Village recently to hear about how Mitchell & Webber's new fuel is helping families to heat their homes. It is vital that we look to new, greener technologies to heat our homes if we are going to be able to stay on track to hit net-zero by 2050, but this is a challenge in rural areas, which often rely on oil boilers.
"Finding a way to allow them to convert their boilers at reasonable cost to a fuel with a lower carbon footprint may well be part of the solution in the medium term. So, I'm very pleased to see that my constituency is leading the way with this nationally-leading trial of HVO."
Effective and affordable
John Weedon commented: "The rigorous testing we're doing as part of this trial is gaining evidence that demonstrates the viability of HVO as a fossil-fuel free alternative to oil. Thousands of our customers across Cornwall and the South West will have to change their oil-fired heating systems in the not-too-distant future, and that's why we're doing this industry-funded trial – because we want to show the UK government evidence that HVO is a simple solution that is both effective and affordable for our communities."
Recent research has shown that worries about the cost of installing new low-carbon heating systems are a major barrier for consumers. David Biggs, a homeowner in Kehelland, has a standard oil-fired boiler that has been converted to run on HVO. He said:
"HVO is a great option for our home and we're so pleased we made the switch – we're saving nearly five metric tonnes of carbon every year as a result! We wanted to reduce our carbon emissions but the cost of installing a heat pump would have been very high for us. The simple switch in fuel was so easy, and we've had brilliant support from the team at Mitchell & Webber."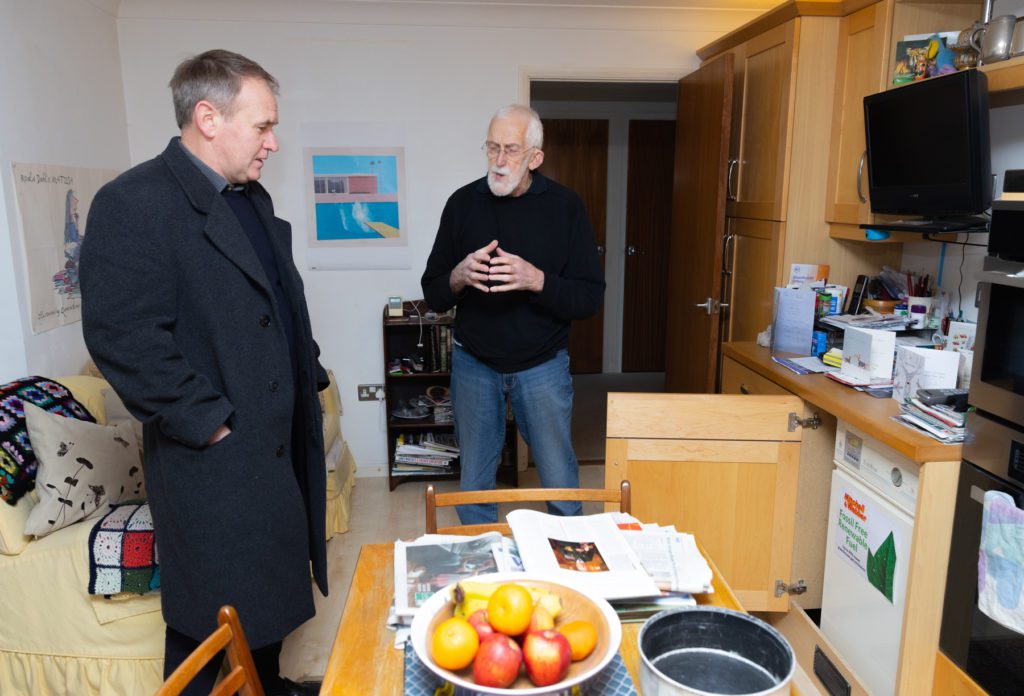 Headteacher Ellie Watkins said: "Because of our school's age and construction, we just weren't going to be able to make the insulation changes needed for other low-carbon heating systems to be effective – both from a cost and disruption perspective. So, when Mitchell & Webber alerted us to this opportunity, we signed up immediately. They've supported us every step of the way and we're really pleased to be able to push on with decarbonising our building."
Need to take HVO seriously
Ken Cronin, CEO at UKIFDA, who was also present, said: 'We're delighted to see the strides that the team at Mitchell & Webber are making in testing the efficiency of HVO as a low-carbon alternative to standard heating oil. This is incredibly important work, and we hope that the UK government will recognise that HVO offers a low-cost, low-disruption and reliable solution for oil-fired properties."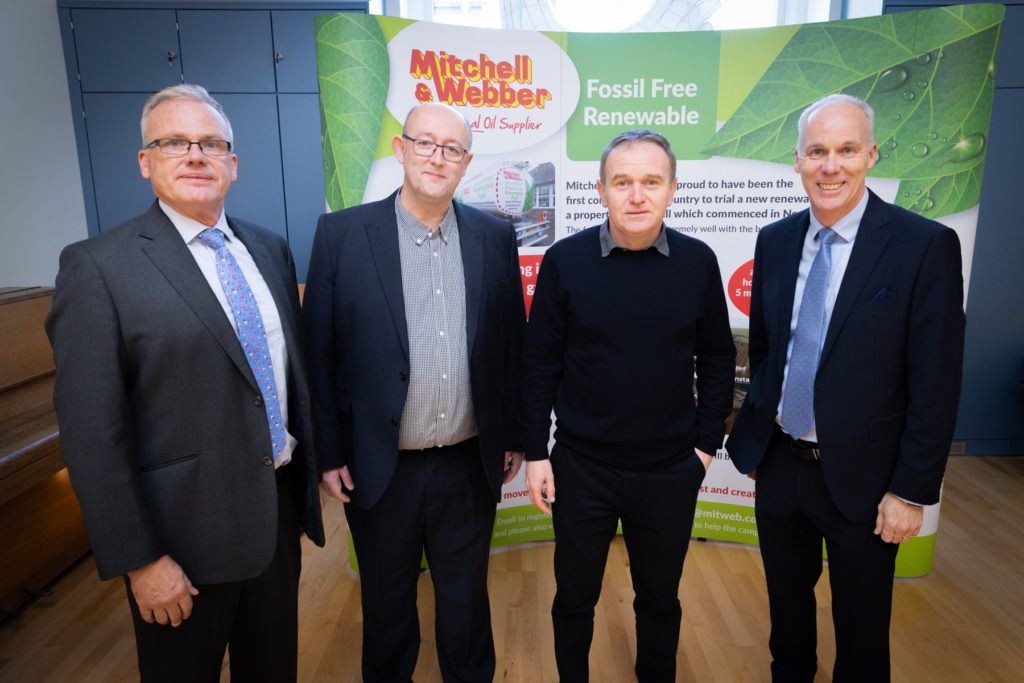 "We strongly believe that HVO is the way forward for properties currently using oil-fired systems in Cornwall and across the UK, and we are calling on Mr Eustice and the UK government to take HVO seriously as an alternative fuel and invest in it".
Mitchell and Webber is participating in the HVO demonstration in partnership with trade associations OFTEC and UKIFDA, as part of the Future Ready Fuel campaign. The industry is self-funding the project.