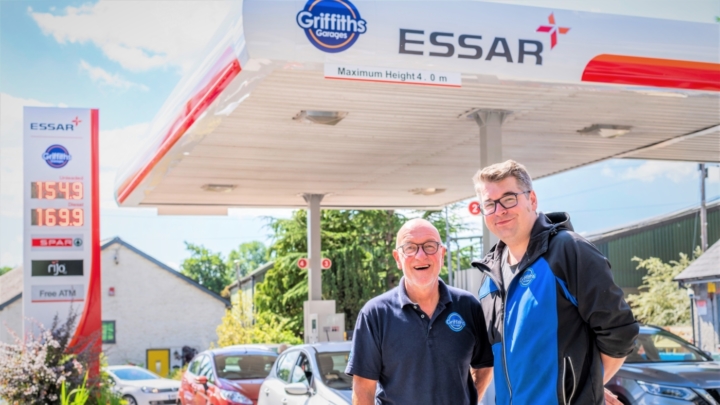 Griffiths Garage, a 97-year-old Shropshire village fuel retailer, has secured a contract to boost its fuel supply for the next five years after signing a 3.2 million litre deal with Essar Oil UK.
The partnership will provide the business with a reliable, UK-based fuel provider and clearer mechanisms to give it a competitive edge on pump prices. Griffiths plans to boost the volume of fuel it handles on its site and invest in the first-class customer service it offers its community.
Griffiths is a family-run business that has operated in Leintwardine, near Ludlow, since 1925. Before branching out into fuel retail the firm built agricultural pumps on the site.
Leveraging competitive prices
As one of only six refineries in the UK, Essar is able to leverage its manufacturing strengths to provide quality products at value prices direct to dealers like Griffiths rather than through third parties.
Alex Griffiths, at Griffiths Garage, said: "Competitive prices and leading customer service have run to the heart of our operations for nearly a century. By partnering with Essar, we'll be best placed to build on these foundations and continue to do so for the foreseeable future.
"The decision to work with Essar was an easy one. Feedback from our customers on the quality of the product has been fantastic to date and we've developed excellent relationships with James Hughes and his team that will be crucial to navigating any challenges the next five years throw up."
Carlos Rojas, head of commercial at Essar Oil UK, said: "We're committed to doing all we can to ensure we provide market leading service and value to our dealers. That's exactly what Griffiths will get. Our team has worked tirelessly to build a strong relationship with the business that will stand us in good stead to support it going forward."
An interesting retail plan
As well as increasing the footprint by recruiting dealers to the brand, a recent announcement revealed a shift in focus for the fuel producer. Essar Oil UK is seeking sites to lease – either from existing forecourt owners, or service station developers – as it aims to boost growth of the brand around the country and increase its presence in the direct retail sector.
"We are very keen for dealers to come on board, but our focus has shifted," explained Carlos Rojas, who joined the company last October as head of marketing and logistics.
He explained that the company is developing a proposition where it leases sites which are then run by a commission operator and talked about a "very interesting retail plan" which will help highlight the Essar brand to UK motorists.
"It will also give certain dealers an opportunity to lease out their site, in situations such as if they want to retire or do something different; they don't want to sell up but can be guaranteed an income.
"We feel the strength of the company – the refinery behind the lease – is a winning proposition for a dealer who wants to lease his site."
The company has been growing its retail network since the end of 2015 and currently has 72 dealer-owned and operated (DODO) sites. Its aim is to reach around 400 branded sites within the next four years and become a nationally recognised brand.
There are already about eight sites in the pipeline, moving to the lease model. One of those is a new-to-industry site, near Preston which should be open by the beginning of October.