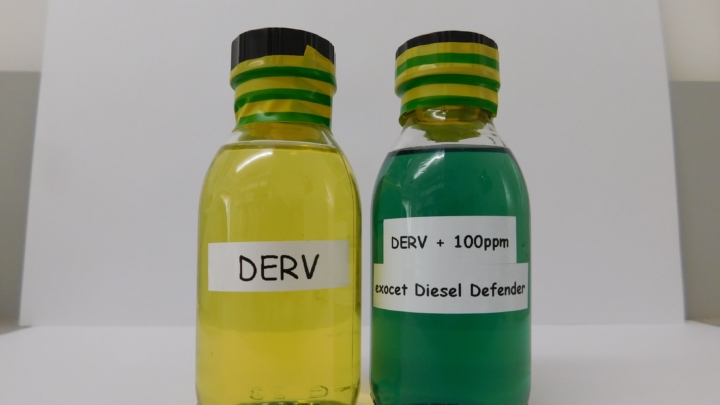 Julia Mansfield, technical manager, spoke with Margaret Major, group managing editor of Fuel Oil News, to explain how this led to the launch of a new product: exocet® Diesel Defender (xo1922bd) and how this marker solves the problem.
Background
"When the reform of red diesel and other rebated fuels entitlement was announced by the UK Government in late 2021, many of our fuel distributor customers and construction site owners began to contact FAST asking for an anti-theft marker for white diesel," Julia explains. "As the fuel on most construction sites would soon look just like the fuel in most workers' vehicle tanks and the industry wanted an anti-theft deterrent.
"We had 4 months to market a product, which sounds straight forward and, according to the fuel standards, BS2869 and BS EN590, commonly used in the UK, 'fuels can be dyed' and 'The use of dyes or markers is allowed'. But the Statutory Instrument – The Hydrocarbon Oil (Marking) Regulations 2002, section 14, item 3 states, 'No substance calculated to impede the identification of any marker may be added to any oil or bioblend'. It gets complicated.
"Most people think that rebated fuel, red diesel, is just that, diesel with a red dye, but it is much more complex. Each time a new marker is developed for rebated fuels, instead of replacing the previous one, the UK has chosen to add the new one. Therefore, at my last count, UK red diesel currently contains (I may have missed one or two):
Solvent red 24 – dye
quinizarine – chemical marker
Euromarker – solvent yellow 124 marker dye, turns purple in roadside marker test
Accutrace S10 – chemical marker "So, to satisfy the Hydrocarbon Oil
(Marking) Regulations 2002, 14 (3), any new anti-theft marker dye may not impede detection & identification of quite a lot of different chemicals. FAST was dutiful to ensure that our product met the regulation because failure to do so would put the end user, not FAST or the supplier, at risk of prosecution by HMRC, and we don't want to compromise any of our business values.
"FAST worked patiently with our supplier who tried and tested a number of contenders to satisfy the regulation. The complexity of the mixture of dyes and markers meant that a few candidates were tried and shelved.
After many tests and report writing, we had a suitable anti-theft marker dye that met the criteria of the marking regulations and was finally manufactured, bottled, and delivered to customers on 16th April."
The product that met all the requirements was launched as exocet® Diesel Defender and is a liquid anti-theft marker dye for UK non- rebated fuel, typically known as white diesel, road diesel or DERV. So how does it alleviate the concerns raised?
Benefits
Billions of litres of fuel are stored all over the UK at numerous commercial sites. This fuel has a value of millions of pounds and is therefore extremely vulnerable to theft. It can be stolen from outside the organisation or, more shockingly and more commonly, from within the organisation.
Julia highlights the concerns: "Since 1st April 2022 many businesses are no longer able to use rebated fuel, known as red diesel or marked gas oil, for their operations and so the stored fuel now appears identical to that bought for personal use and puts stocks of white diesel at a higher risk of theft.
"exocet® Diesel Defender is a liquid blue dye that will colour white diesel to produce a green fuel and act as a deterrent to thieves.
"Tank stickers can be supplied on request to advertise that the fuel has been dyed to prevent theft."
Features
exocet® Diesel Defender contains Dyeguard®673K technology which has been notified to HMRC with a technical report of compliance to satisfy Regulation 14(3) of the Hydrocarbon Oil (marking) Regulations 2002 which states:
"No substance calculated to impede the identification of any marker may be added to oil"
Therefore, the marker:
causes no issues with identification, quantification, and classification of marked rebated fuels within mainland UK
is notified with HMRC
does not cause interference with statutory markers
has a unique chromatic profile which is distinct from statutory markers and does not impede their measurement
And fuel containing the product:
although visually similar to the Republic of Ireland tax rebated fuel, can be readily tested, using the roadside (Euromarker) test, to confirm that it is not ROI tax rebated fuel
will not give false positive results on any roadside tests used in the determination of statutory markers applied to tax rebated fuels in the UK
and any statutory markers applied to tax rebated fuels in the UK will provide correct results when tested by law enforcement agencies
exocet® Diesel Defender has been demonstrated to comply with Regulation 14(3) of the Hydrocarbon Oil (marking) Regulations 2002 and is permitted for use in non-rebated UK DERV.
The treatment ratio is 200ml of additive to treat 2,000 litres of fuel.
Where and when is the product used? Typical applications are white diesel for use in construction equipment, cooling or heating units in road and rail transport, airport vehicles, forklift trucks, electricity generation and heating for commercial premises to deter theft of fuel and prevent significant financial loss of operational investment.
It can be used:
To demonstrate importance of operational investment on site
To demonstrate that fuel use is being closely monitored and can be traced
If there is a fear or suspicion of theft by external persons or internal staff
With each fuel delivery
With stored fuel already an increasingly valuable asset and the added impact of the removal of the red diesel rebate, it is good to hear how FAST, a specialist supplier to the community has worked quickly to offer distributors a way to help customers protect this valuable commodity.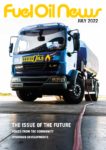 This article originally appeared in the July 2022 issue of Fuel Oil News magazine.
View the magazine