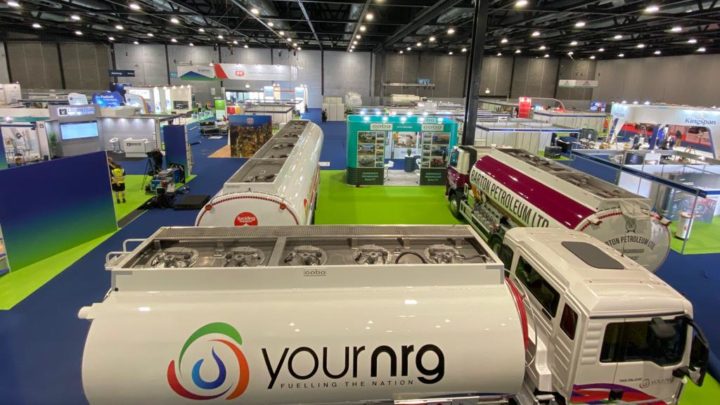 Sponsored by Phillips 66, EXPO 2022 welcomed back liquid fuel distributors, bio-energy companies, refineries, tank, pump and fuel-related organisations as well as commercial support services including software and insurance businesses.
Commenting on the event, UKIFDA CEO, Ken Cronin, said: "It was great seeing everyone together in one space once again. Our 'Back for the Future' theme was spot on for the occasion and we've had some fantastic feedback already."
He adds: "There is definitely still a place for live, in-person events like this where industry colleagues and suppliers are able to share latest innovations and thought leadership – it felt there was a real ground swell of change, especially when it comes to driving the future of the liquid fuels industry forward."
Four successful forums
The 'Back for the Future' themed exhibition had four forums with an exhibition, conference, app and dinner all contributing to the overall success.
The 'Exhibition' hosted a packed hall with some exhibitors reporting record numbers of visitors to stands with good quality leads to capitalise on.
Also well attended was the 'Future Fuels Conference', held in the EXPO Conference Theatre, sponsored by Crown Oil. A total of 18 industry-leading speakers took to the stage hosting a wide range of seminars across the two days. There was particular interest in the UKIFDA and OFTEC Demonstration Project roundtable discussion as well as how the future fuels landscape is shaping up, especially in terms of government policy and pricing mechanisms."
The EXPO App delivered outstanding engagement with encouraging levels of activity across the community board, image sharing and messaging with many meet-ups arranged. The App will remain open for one month so everyone can continue to use it for networking and information purposes.
Well-received award dinner
One of the real highlights was the EXPO 2022 Reunion Dinner and Awards Ceremony, held on the Wednesday evening, which celebrated the industry's innovation and talent. Attendees were treated to a guest speaker for the night, the enlightening Conor O'Shea who is currently the Director of Performance Rugby for the RFU and who certainly got everyone thinking differently.
Award winners announced at the Reunion Dinner were:
Driver of the Year 2022 (sponsored by OAMPS)
Winner: David Willcox of the WP Group
With the runners up: Chris Donaldson of Oilfast and Krzysztof Malik of Certas Energy.
Green Award 2022 (sponsored by Oilshield)
Winner: Oil 4 Wales
Runner-up:
Fuel Additive Science Technologies
Innovation Award 2022 (sponsored by Fuel Oil News)
Winner: Eliminox
Runners up: MechTronic and FoxInsights
Young Person of the Year 2022 (sponsored by UKIFDA and presented by guest speaker, Conor O'Shea)
Winner: Hannah Ward of Certas Energy
Runners-up: Ben Ellins of Watson Fuels and Flynn Abbot of Allan Stobart Lubricants & Fuels.
Depot of the Year 2022 (sponsored by Pen Underwriting)
Winner: Barton Petroleum – Leicester Depot
Runners-up: NWF Fuels – Lincolnshire Fuel Depot and Certas Energy – Holton Heath Depot
UKIFDA Membership and Events Manager, Dawn Shakespeare, said: "Congratulations to all our 2022 Awards winners and a huge thank you to all the delegates, exhibitors and speakers for making it such an informative few days. Thank you also to this year's overall event sponsor – P66, to Crown Oil for their sponsorship of the conference, to S & P Global Commodity Insights for sponsoring the reception and to Aon, for the dinner. Many thanks also to AMCS, Reynolds and Commercial Fuel Solutions for your sponsorship. We very much appreciate your support."