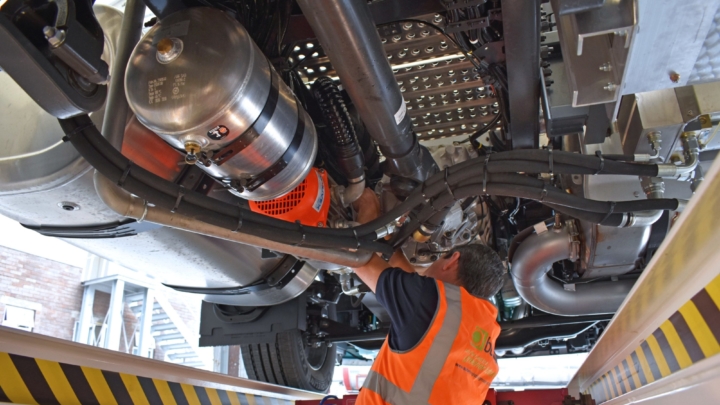 As automation increases across the industry, Liz Boardman talks with suppliers to the sector, as well as their customers, to hear more about what products have come into play over the last year and how they are helping distributors and their customers to save time and money and also enhance safety in 'Industry Analysis' from May Issue.
Back-office bliss
Back-office systems, specifically designed for fuel distribution companies to facilitate order receipt, stock allocation, trip planning, reconciliation and invoicing, are big news according to Gordon Hyland, sales director, TouchStar Technologies. The company provides data collection, mobile computing, access control and onboard retail solutions to the industry, including its flagship mobile application, Fuelstar.
"Often companies will have developed paper-based systems for this, but over many years, we're finding that the majority of fuel distributors are using some kind of driver application and ruggedised tablet device. This is always a significant investment, but it clearly offers good pay back from an efficiency, accuracy and safety perspective. Some companies with larger fleets will also use a dedicated route optimisation tool. This helps ensure minimum distances are driven while the fleet is delivering.
"Fleet size/cost is one of the most expensive elements of fuel oil distribution so anything that can be done to enforce standards and add efficiencies, creates savings. Since most operators now have systems like this, it's seen as necessary to keep up with the competition, particularly where end-customers have a choice of provider."
Darren Priddey, Fuelsoft's national sales manager agrees: "The uptake of fully integrated web ordering systems has continued to see major growth over the past 18 months, and we're in the process of upgrading all our web customers on to the latest release of our web integration. With our integrated solution, customers can place an order on a distributor's website, and this will feed into the back-office software, be scheduled and transferred to the in-cab computer. No tickets need to change hands and drivers don't need to go back to the office to pick up orders. As well as saving time and money, this has helped keep valuable social distancing measures in place."
The company recently completed the second phase of a development project with Lightyear, an accounts payable (AP) automation tool which automates the data-entry from supplier invoices and puts them into a digital approvals workflow, saving AP teams up to 80% of their time.
"This second phase links into our stock reconciliation program allowing the automation of stock receipts with supplier invoices," explains Darren. "Integrating Fuelsoft with Lightyear provides real-time, accurate accounting data within the Fuelsoft platform, and means that users can collaborate with team members, accountants, bookkeepers and suppliers with the digital approvals process."
"Distributors are looking to eliminate paper, respond to customers quicker, get paid faster, optimise driver time and retention and gain total control of the delivery process," adds Paul Foley, one of the founders of Dreamtec, a software company that's already seen huge demand for on-truck computing and meter tracking technologies in 2022. "There's plenty of turmoil in this industry so having transparency on the business system and making every drop count, is key for growth and profitability."
Driving diversification
At WCF, advanced technology is changing the way the company works, as general manager, Gemma Hogg describes: "Digitalisation is what makes diversification possible. The fundamental change to our business has been the introduction of CODAS and TouchStar.
"TouchStar is known for practical and effective business solutions, using mobile computing technology to eliminate paperwork and streamline the flow of information between drivers and back-office teams. Since implementing the system, we've seen a number of benefits including better visibility on what, when and where fuel has been delivered. Our processes have become more efficient and automated, including back-office stock reconciliation, driver paperwork and safety checks. We've been able to plan better and improve our service to the customer with a greater degree of accuracy and compliance.
"CODAS is modular, so you start with the core product and add options which bring the most value to your business, from prospecting, customer and sales activities, fuel card management, scheduling and routing, purchasing and stock control, to a full financial suite, supported by a variety of mechanisms. It's fully integrated, data needs only to be entered once to be available for all subsequent processing, and financial information can be traced back to source transactions with drill- down facilities and integral analytical tools. The two together have revolutionised our business."
Fleet maintenance solutions
It's not just back-office systems that are being transformed by the introduction of digital technology, tanker fleet maintenance has also benefitted.
"A move away from paper records with an asset management system synchronised with mobile devices provides a completely new level of visibility on the status of each vehicle," says Patrick Tandy, managing director, Freeway Fleet Systems. "This provides fleet managers with a much greater insight into the status of individual vehicles.
"Freeway is an end-to-end solution which automates everything from driver safety checks and all workshop activity to compliance, stores, purchasing and fleet management analytics. It's ultimately about improving the management and competitiveness of the business.
"As well as computer automation in the workshop, operators want greater connectivity. This applies to the interchange of data from internal systems, such as fleet operations and accounts, but also external suppliers, such as dealerships, the DVSA, vehicle and parts suppliers. More recently there has been demand for connectivity with vehicles, with links to telematics and onboard sensors."
Preventing fuel contamination
Electronic metering systems that protect and prevent against fuel contamination when delivering multiple products are another advance in automation that is proving popular with distributors, as Mechtronic's commercial director, Brad Wilkie explains: "As new fuel products arrive on the market, there are more variants within the line change procedure. Moving towards an electronic metering system that automatically controls and performs the procedure, removes the onus from the driver."
The company's OptiMate electronic metering system, which celebrated its fifth anniversary this year, continues to revolutionise the industry. The system features a self-draining manifold and automatic processes so that drivers do not have to return to their vehicles.
The system has been enhanced by the arrival of OptiConnect – a new wireless remote control which supports and enables the complete management of the OptiMate delivery process. Drivers can manage the delivery process while remaining at the point of delivery.
"No other system is proven to deliver more," comments Brad. "OptiMate can offer metered hose, bulk and fixed gravity deliveries via one metering control system, ensuring the complete protection of your valuable fuel load."
Kettlewell Fuels uses OptiMate across its fleet. Co-owner and director, Janet Kettlewell is clear about its advantages: "We know that the OptiMate system can accommodate all fuel types. It supports and automatically performs a line change during the fuel delivery process and removes the need for the driver to calculate a line change manually, particularly beneficial when carrying mixed fuel loads. Drivers can continue with their deliveries safe in the knowledge that they are supplying clean fuel to customers."
Distributor-led digitalization
One distributor that's not just reaping the benefits of technology but also taking the lead when it comes to innovation is Rory Clarke, managing director, J.R. Rix & Son. "Something that's been on my agenda for a while is automated routing. With the technology available today, satellite navigation etc, it should be possible to make routing quicker, easier and more efficient with a computerised solution (although you do still hear some horror stories)."
The company is working with CODAS to develop the next generation of routing software.
Tank technology
At EA Projects, managing director, Simon Whibberley, is continuing to see growth in sales of automated tanker loading and electronic tank gauging systems. "Fuel price increases have made products a valuable commodity and this has created a surge in thefts. It's a natural progression to use technology to try and measure, meter and monitor, fuel stocks to combat this. The systems we sell do exactly that. Our anti-theft systems for fuel tanks have been extremely popular in the last year or so and very successful at catching people in the act. We've now rolled out our iSentinel Theft Alert System across several customer depot networks."
It's the same at Kingspan Energy Management Systems. The company believes distributors can drive improvements in operational efficiency and increase profitability by encouraging customers to install telemetry monitoring on their tanks e.g., the Watchman range.
"Data from smart telemetry devices is now being used by FOD customers to reduce their delivery frequency and optimise routing," says Nick Hawkins, Kingspan's commercial director UK & Ireland. "It cuts travel time and left-on-boards and also improves vehicle fleet efficiencies, helps with customer retention, and lowers the company's carbon footprint."
Boilerjuice introduced the Hastel Smart Guard fuel monitoring probe in 2019 to facilitate the remote monitoring of heating oil. "The device is provided by Hastel Limited, and a proprietary system integrates the data into our ordering processes and customer communication," says CMO, Tim Buckman. "We wanted to fully automate life on heating oil for customers by tracking fuel levels and sending them a delivery when they're low, as well as providing them with useful data such as their live fuel level and consumption on a simple-to- use app."
Fuel ordering without fuss
Automation is making it easy for customers to order fuel and proved invaluable at the height of the pandemic.
Distributors are loving Mabalive, an online service from Mabanaft, which allows them to view live ex-rack fuel prices, place orders and track deals. It works seamlessly across all devices allowing customers to manage their account even when away from their desk.
"The number of customers using Mabalive has increased year-on-year since its inception," says Clare Charlton, inland sales manager. "Last year 250m litres of fuel were purchased online. We know that customers like using Mabalive because it saves them time and makes it quick and easy for them to buy fuel. It also enables them to proactively manage their trading account – with real-time reporting – from lifting at the terminal through to final invoicing.
Over the pandemic Mabalive came into its own. "People working from home found it helpful to buy fuel and manage deal administration online, without having to call or email.
"This continues to be relevant as hybrid working is becoming standard business practice. Having access to their account details at the touch of a button is a huge advantage for customers."
One customer commented: "Mabalive is a market leading system. It is simple to use and saves so much time. With regards to physical deliveries into our network, our operations team can see all confirmed deliveries and volumes at the touch of a button, which is really useful. I'm more interested in seeing a snapshot of activity, and the dashboard gives me just that. It gets a big 'thumbs up' from us."
Collaborative working
As we move into an age of digitalisation, it's good to see how suppliers are actively working with distributors to produce new solutions and deliver greater time and financial efficiencies.
We'd love to hear from distributors who have adopted new technology and would like to share their experiences – whether positive or negative. Get in touch with liz@fueloilnews.co.uk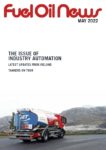 This article originally appeared in the May 2022 issue of Fuel Oil News magazine.
View the magazine